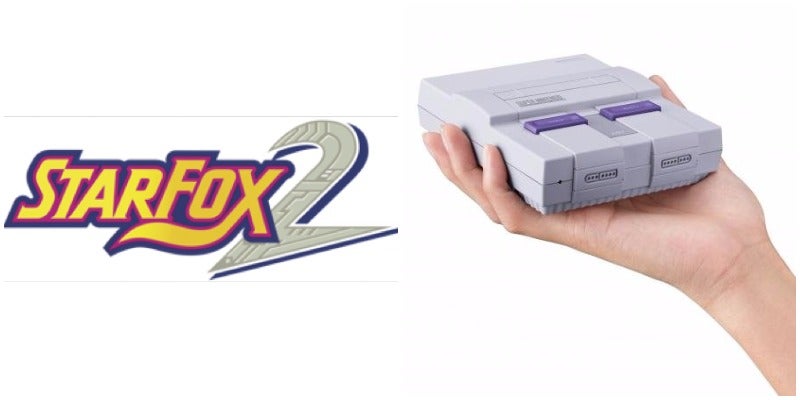 Nintendo announced that the SNES Classic will come with the previously-unreleased Star Fox 2. Were you surprised? Imagine how the game's original programmer Dylan Cuthbert feels. He told Kotaku via email that he found out with everyone else when the news broke.
[Images: Nintendo]
"It made my day," Cuthbert said. He certainly seems pleased Star Fox 2 is finally getting an official release, adding, "It's bloody awesome!"
During the 1990s, Q-Games founder Dylan Cuthbert cut his teeth at Nintendo, programming the first Star Fox, which did come out, and the sequel, which did not. A playable version of Star Fox 2 was shown in 1995 at the Winter CES, but the finished game vanished into the ether.
Original StarFox 2 development team (1995) #SFC #SNESClassic pic.twitter.com/iCQKUEHxZu

— Ninty Memories (@NintendoMemo) June 26, 2017
According to Cuthbert, Star Fox 2 was canned because the PlayStation and the Sega Saturn had upped the bar for 3D graphics. "Our older retro form of 3D just didn't cut it anymore and Nintendo didn't want to raise comparisons," said Cuthbert. "I agree that strategically (if not emotionally) it was the correct decision. But now our older retro form of 3D is the new cool kid on the block, it's perfect timing!"
Cuthbert isn't being brought back in to tweak any of his original programming, but he imagines that Nintendo is honing it one way or another. But if he were able to improve Star Fox 2's programming, Cuthbert has some ideas about what he could better. "It was a pretty cool engine and had a lot of features," he said. "I'd expand the scripting engine we had to allow more complex expressions. I did this for the next engine I wrote for Blasto on the PlayStation and expanded the scripting engine heavily in that direction with some great results."
After working with Nintendo and Sony, Cuthbert founded Q-Games, a Kyoto-based studio famous for its polished and enjoyable PixelJunk games. Decades later, the experience of making Star Fox has stuck with him. "Working with Nintendo heavily influenced the level of detail at which we iterate on ideas," he said. "We don't have the luxury of 'Mario Club' as it used to be called, the QA and feedback department at Nintendo, so we try to emulate that as best we can. Working at Nintendo gave me that goal in the first place, [because] I saw the process up-close."
But is it weird to see a game you programmed in the mid-1990s coming out this year? "Totally weirded out and totally psyched," said Cuthbert. "I mean, I had completely given up on the chance that it might come out. I spent two years of hard work making it and loved every minute. Finally people get to see all the little cool tweaks and things, all the touches and special ideas we threw in there. This game had so much experimentation at the start and that really shows in some of the encounters you'll come across."
The frame rate might not be a smooth 60 fps, Cuthbert said, but he explained that Star Fox 2 changes with each play. "I hope people don't think they cleared the game with just one playthrough! In that sense, it is a very unique game."