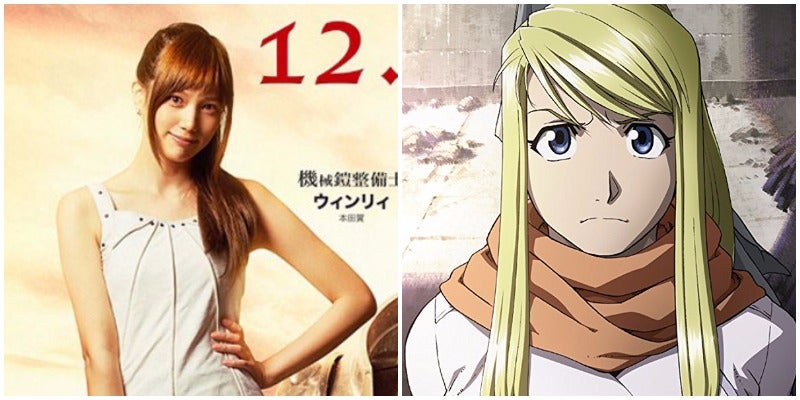 In Fullmetal Alchemist, the characters Edward Elric, Riza Hawkeye and Winry Rockbell all have blond hair. But in the upcoming live-action film, only two of them do. Winry, instead, has brown.
[Image: Warner Bros. Japan. | Matome Naver]
Here's how Winry's locks compare.
ウィンリィ金髪なはずなんだけどなぁ…。 pic.twitter.com/Tv06TB1Y6L

— 雨流@7/18鷹の祭典参加 (@eamaj22) July 13, 2017
And how it looks in the movie:
は!?ウィンリィ金髪じゃないのかよ??似合わないと思ってたけど黒髪のまんまなのかよ?かわいいけどそうじゃないんだよ… pic.twitter.com/g7wBbKJg0J

— 會津 (@aizu_1221) July 12, 2017
Some fans seem baffled. Why only change one of the characters with blond hair to brown?
I wonder why they didn't give Winry blonde hair in the live action when Ed and Riza do (???)

— aillemac (@aillemac316) July 12, 2017
We kept Ed and Riza blonde, but changed Winry's hair color? Okay FMA movie. ?

— Bizcooitz (@Bizcooitz) July 14, 2017
WINRY HAS BLACK HAIR IN THE FMA LIVE ACTION MOVIE WHAT IS THIS BLASPHEMY

— ♡ (@nikoleeeng) July 14, 2017
I just noticed: why is Winry's hair auburn??? What.

— miya @ ??? (@yanumii) July 14, 2017
The first time i saw FMA posters i was like "where's winry??" lol winry with brown hair is a big FAIL.

— I'm like bribri (@yunnuya) July 13, 2017
Okay but like... they gave Rita blonde hair. Edward has blond hair.

WHY TF DOES WINRY HAVE BROWN HAIR?

— ✿ᔕᗩEᗰ✿ (@StudiousRaven) July 13, 2017
Wait... Winry is totally wearing her outfit... But the hair is indeed different?

— Cece? [HIATUS] (@cecevy) July 12, 2017
Perhaps the filmmakers thought Winry having brown hair would be a way to make her stand out in the movie?