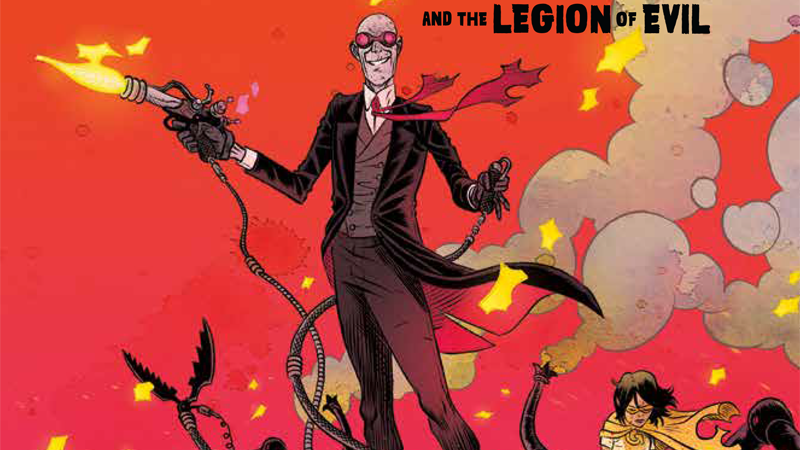 Jeff Lemire and Dean Ormston's Black Hammer series has spent the past year wowing us with its weird take on the golden age of superheroes, following the lives of a group of heroes banished from their home due to a multiversal crisis, and how they adapt. But now its strange, small world is about to get a bit bigger.
Image: Sherlock Frankenstein and the Legion of Evil #1 cover by David Rubín.
Just as Dark Horse has already helped expand the world of Hellboy into the wider "Mignolaverse" of related stories and characters, the company hopes to do the same for Black Hammer, starting with Sherlock Frankenstein and the Legion of Evil. The new spinoff from Lemire with art by David Rubín is set around the framing device of Lucy Weber, investigative reporter and daughter of Black Hammer, back in Spiral City exploring just how the heroes mysteriously vanished. "One question I kept asking myself while working on Black Hammer was 'What happened to the bad guys when all these heroes disappeared?' What do the villains of Spiral City do when there are no more heroes left to fight?" Lemire said in a statement provided to us. "I also wanted to see more of the early days of Black Hammer's daughter, Lucy Weber. So this new four issue series, illustrated by David Rubin, will answer these questions and also dive deeper into Lucy's life."
Sherlock Frankenstein and the Legion of Evil #1 cover by David Rubín.
But it isn't just Lucy who will get a spotlight in the new series. Sherlock Frankenstein will also delve into the past of the strange villains Lucy's father and his fellow spandex-clad compatriots once called their greatest foes, helping to flesh out the world Lemire has been crafting for the past year of Black Hammer comics. "This first of a number of planned companion series to Black Hammer also puts Sherlock Frankenstein front and center," Lemire continued. "Sherlock is Spiral City's greatest villain, and also the love interest of the long lost Golden Gail. As readers will discover, his history spans back to the dawn of the age of super heroes, and by investigating Sherlock's life, Lucy will also uncover the secret history of Black Hammer and Spiral City!"
Sherlock Frankenstein and the Legion of Evil #1 is set to release on October 18. In the meantime, Black Hammer fans can get a look at this cool SDCC-exclusive print illustrated by Lemire himself, featuring Black Hammer in an homage to Frank Miller and The Dark Knight Returns, also making its debut here: