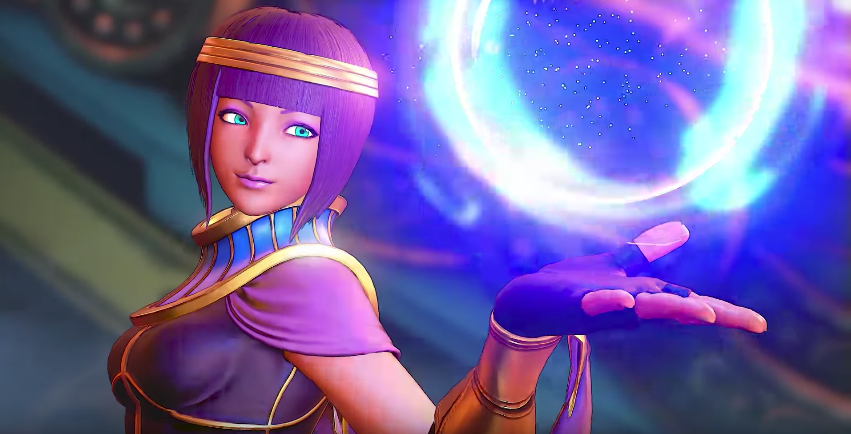 It isn't everyday that the way a character saunters is interesting enough for players to take notice. With Street Fighter 5 character Menat, they're doing just that.
[Image: Street Fighter | YouTube]
Fortune teller Menat was just released in SF5's second season of DLC. She has an excellent gait.
Menat Walk Animation pic.twitter.com/LcO1rVXico

— HiFight (@HiFightTH) August 29, 2017
See? So good.
Menat walk is more powerful then the taunt.
This will provoke instant reaction. pic.twitter.com/1m5zO0fjBy

— Kobra_47 (@Kobra_47) August 29, 2017
Yo this walking animation is pretty sweet #menat pic.twitter.com/Mcv1JNEF5Y

— Ismael ⬇↘➡ ? (@Isuma_BM) August 29, 2017
menat's walk cycle animation. She step pic.twitter.com/AVWvLoLimu

— rekka (@rekka236) August 29, 2017
I love Menat's sassy walk so, so much ?

— Hello Cute Life (@hellocutelife) August 30, 2017
LRT Menat's walk animation makes me smile. I may have to dust off my SFV and try her out.

— ULTRA MOON ? (@Moond0ggie13) August 30, 2017
this is the best walk for any character ever oh my god i love menat https://t.co/RZz1KdoLzB

— Pixel (@PixelSSB) August 30, 2017
Waiting for the last character which is Zeku (guys master) Menat is slow and feels like Dhalsim to me. Not my type. Love her walk though.

— Dayze B (@Dayze213) August 30, 2017
The way she fights does look cool.
Okay. l love her. Menat is life. @StreetFighter pic.twitter.com/V4htfpLWxW

— ShinNaraku (@ShinNaraku) August 30, 2017
Reinstalled SFV because Menat looked like a fun combo video character.

Was not disappointed. pic.twitter.com/SYmQi8rBfa

— Thulius (ツリアス) (@NotThulius) August 30, 2017
Menat can avoid Hadouken with her taunt https://t.co/7nPOb0ImnW pic.twitter.com/LXa9CLVU62

— HiFight (@HiFightTH) August 29, 2017
AEGIS REFLEC— I mean... *Belly dances* #Menat #MENATLAB #SF5 pic.twitter.com/zD52twtpDl

— EH|DreamKing (@TheKingOfDremes) August 30, 2017
I am already loving Menat's V-trigger conversions and I've barely scratched the surface pic.twitter.com/wR8B28vMyH

— Chariot (@ChariotDaGawd) August 29, 2017
Some pros are already giving her thumbs up.
Menat is ???? #Menatlab #teamrazer #MonsterEnergy pic.twitter.com/HsNSj0QfEV

— RΛZΞR Xian (@XianMSG) August 30, 2017
I am 100% playing Menat! Capcom did a really good job with this character! OMGGGGGGGG pic.twitter.com/PiiBL0ZyES

— Echo Fox Justin Wong (@JWonggg) August 27, 2017
And finally...
I've got 5 bucks for the first person to do Menat's walk animation IRL and post it on twitter. pic.twitter.com/xC9NBe9naf

— Ben Chandler (@meansaltine) August 29, 2017