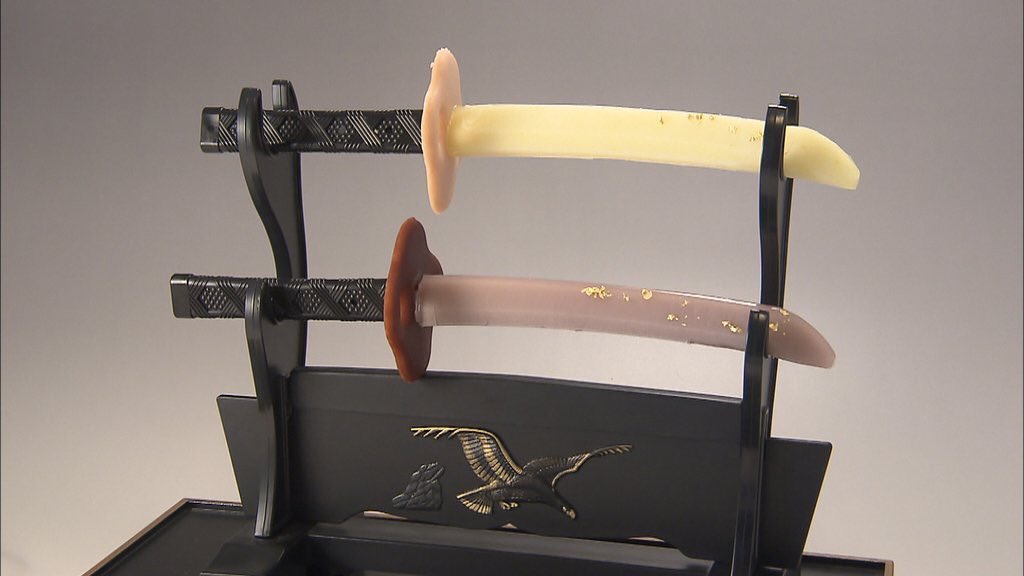 [Image: Neku]
The city of Seki in Gifu Prefecture has long been famous for sword-making and high-quality kitchen cutlery. Now, as Togech points out, it's becoming famous for ice cream katana.
The basic idea was from a high school student, and according to Asahi Digital, the city's youth made that a reality. A local Japanese confectionary chef makes the ice cream treats, which cost around ¥1000 ($12) and come in bean paste or Japanese citron flavour.
The sword's handle is plastic, but the guard is chocolate-covered cookie. The swords are coated with kudzu starch, which slows the melting process.
日本刀アイス、冷えておるぞ。#日本刀アイス #工場参観日 #関サービスエリア @katanaicecom pic.twitter.com/6ONFCIXzsp

— 日本刀アイス【公式】 (@katanaicecom) August 25, 2017
先日、先行販売された岐阜県関市の新名物「日本刀アイス」。味は上之保ゆずとこしあんの二種があるぞ。次の販売はいつ頃になるか?楽しみだな! pic.twitter.com/kyNsPbSxIO

— 関武将隊KUMOAGEHA (@sekibushoutai) June 20, 2017
Though leaving them on a sword stand for a long time is probably a bad idea.
ゆっこちゃん✨
関市にゆっこー!!

※OK戴
KATANA ICE
日本刀アイス
関の新名物!#日本刀アイス pic.twitter.com/cHKzmsoB6o

— 流浪民 uıɯnoɹnɹ? (@ruroumin) June 18, 2017
( 」゚Д゚)」<こちらが「日本刀アイス」になりまーーーーーす!!

( 」゚Д゚)」<「刃物のまち 関市」の新たな名産でーーーーーす!! pic.twitter.com/yNQU82QbLH

— 音久@岐阜県関市の眼鏡屋ami店員 (@neku07) August 22, 2017
Currently, the swords are only made in small qualities and on sale locally in Seki, a city worth visiting if you are into katana, whether they're made of Japanese steel or ice cream.
お母様の運転手になり、刃物を見に関へ。ちょっと前にTLで見掛けた日本刀アイスを発見!!なぜか金箔つき(っ'ヮ'c) pic.twitter.com/yW8vN1vDeG

— あやめちゃん改 (@ayamewiz) August 25, 2017
「日本刀アイス」CMしてる関武将隊@sekibushoutai カッコイイ!! pic.twitter.com/w2cltkphMK

— 音久@岐阜県関市の眼鏡屋ami店員 (@neku07) June 18, 2017
[Togech]