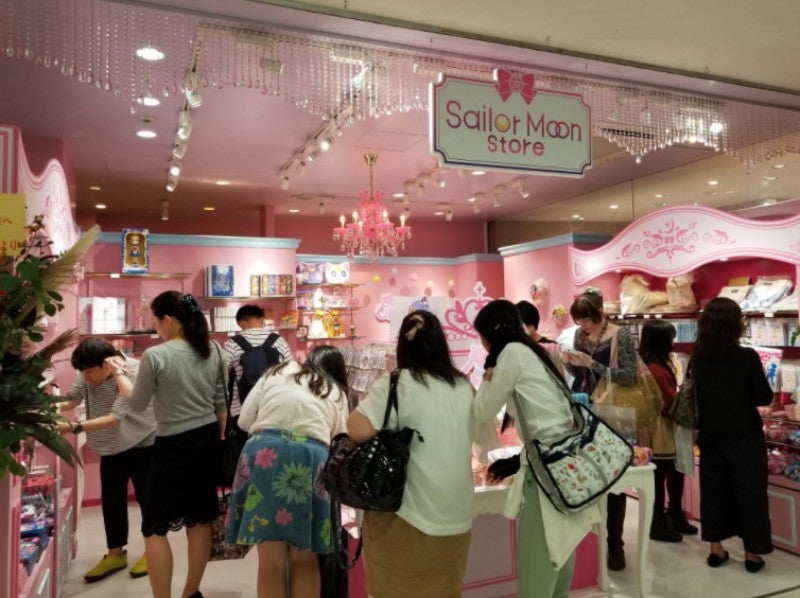 Until now, the only Sailor Moon stores in Japan have been temporary pop-up shops. That's changed with the country's first permanent Sailor Moon store opening in Tokyo's Harajuku.
[Image: aayu6160]
According to The Japan Times (full disclosure: I am a columnist there), the store opened this weekend, selling an array of Sailor Moon goodies.
"Because more goods have been released since the 20th anniversary, many fans were requesting a permanent store," a Toei Animation spokesperson is quoted as saying. And that is what they got!
Couldn't make it to the Sailor Moon Cafe, but I was able to stop by the Sailor Moon Store (Harajuku La Foret, 1.5F)! Neat stuff for fans! pic.twitter.com/GCHsmv6rC5

— Mark Julio (マークマン) (@MarkMan23) September 24, 2017
セーラームーンストア着きましたー?!! pic.twitter.com/mGYLQzPsop

— ジルファ(GILPHER) (@Gilsailles_68) September 25, 2017
本当セーラームーン好きだわ。
セーラームーンストア幸せ空間だった。
歴代OPED挿入歌流れてるし、めっちゃキラキラしてるし。
あと外国からのお客さんも多かった印象。国を越えて愛されてるなぁ✨ pic.twitter.com/FktJxh8YqH

— かえで@PEF愛知神奈川千葉東京 (@pearl109sea) September 25, 2017
カフェで買ったものとラフォーレ原宿にできたセーラームーンストアの風景(*≧艸≦)

ラフォーレ原宿のストアは出直します( ˙-˙ ) pic.twitter.com/w0xziyrzfo

— あゆ@メモデフ (@aayu6160) September 25, 2017
セーラームーンストアきた!!やばい可愛いが詰まりすぎてる!!! pic.twitter.com/gIGY3qkrNz

— りょー (@nachitasu_rock) September 25, 2017
【写真追加72枚】先行発売&限定グッズがいっぱい❣️❣️❣️世界初☆オフィシャルショップ『#セーラームーンストア』がついにラフォーレ原宿にOPEN????? 詳細はコチラ→ https://t.co/1foy0YRBUL pic.twitter.com/RfnZ5e1rYf

— Street Girls Snap (@sgs109com) September 24, 2017
セーラームーンストア、乙女のパワー詰まってた。きらっきらだった。#セーラームーンストア pic.twitter.com/tQlTzb8bov

— うり。 (@uryan) September 23, 2017
✨本日から✨世界初☆オフィシャルショップ『セーラームーンストア』がついにラフォーレ原宿に9/23(土)OPEN?????<取材レポート>写真72枚→
https://t.co/IUveI70drN pic.twitter.com/oQHVLY4z0J

— Street Girls Snap (@sgs109com) September 23, 2017
夢の空間に行ってきました。
セーラームーンストア、オープンおめでとうございます。
セーラームーンの空間が常設であるって素晴らしい\(^-^)/
ずっと続くといいな。 pic.twitter.com/90cOzitLNd

— ナナ (@moon4149) September 23, 2017