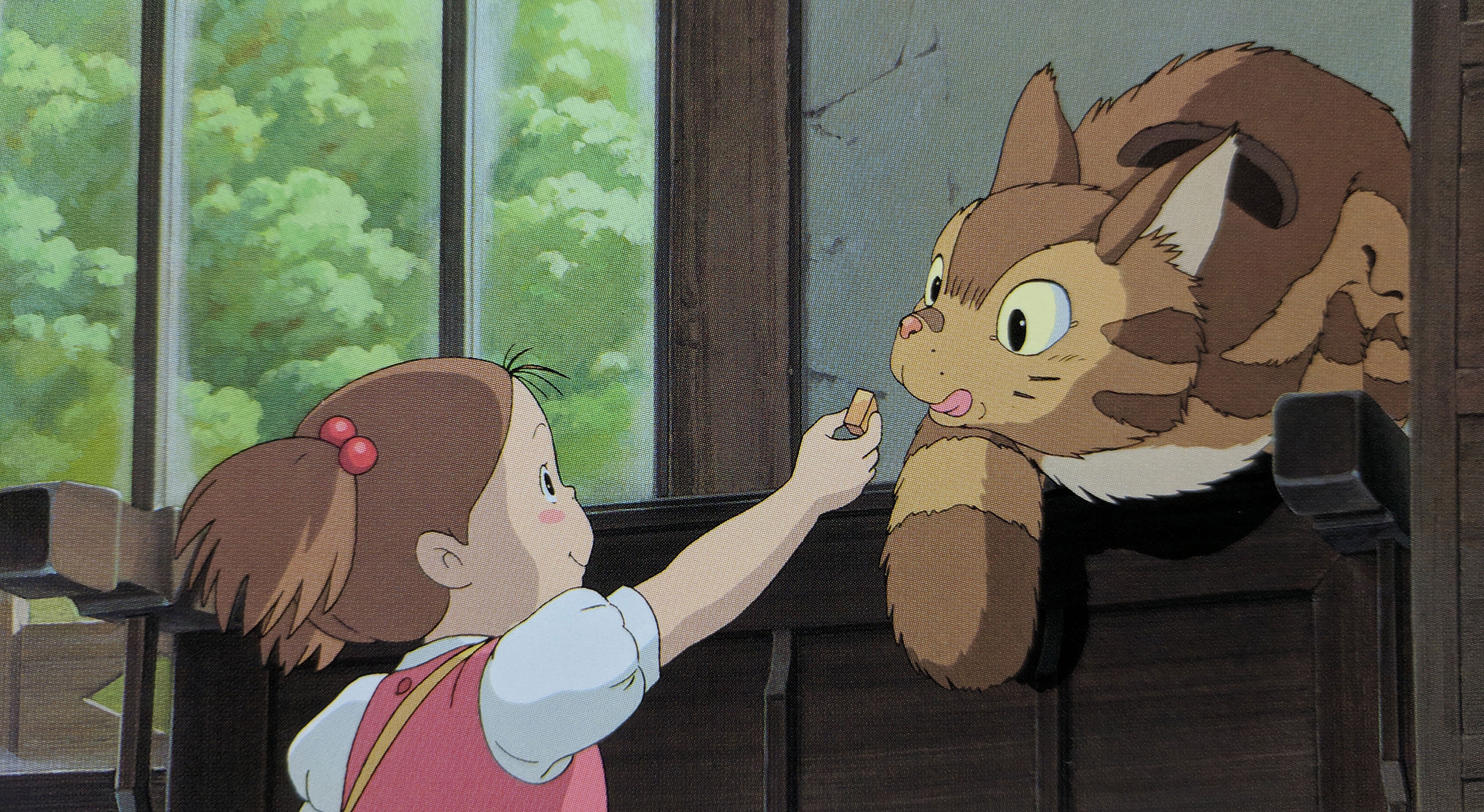 Did you know this? Maybe you did! It's called Mei And the Kittenbus. The nearly 14-minute film has never received an official theatrical or home release.
[Image: Studio Ghibli | Ghibli Museum]
As Otaku News points out, images from the sequel recently were posted on Twitter, getting retweeted over 67,000 times. 
トトロの続編『めいとこねこバス』を知ってる人ほとんどいない説 pic.twitter.com/p37x2Kpgwc

— とある (@33kitta) October 10, 2017
Twitter user Toaru is polling folks to see how many had heard of this sequel. As of writing, 14 per cent had, while 86 per cent had not. Below, 知ってた (shitteta) means "I knew," while 知らなかった (shiranakatta) means "I didn't know."
気になるのでアンケ。
日程が合えばジブリ博物館で見れます!

— とある (@33kitta) October 10, 2017
Hayao Miyazaki wrote and directed Mei and the Kittenbus, which takes place after My Neighbour Totoro and features a younger Catbus. Mei's voice actress, Chika Sakamoto, also returned for the short. 
Besides Whisper of the Heart spin-off The Cat Returns, Studio Ghibli isn't one for doing sequels, making this short an interesting entry in the studio's filmography.
めいとこねこバスのパンフも買えたー。観たいー。 pic.twitter.com/4IVUuvck0c

— 清香 (@nonkey_sayaka) October 5, 2016
『めいとこねこバス』ぎゃんかわすぎてブックレット?買ったんで、みなさん機会があれば是非みてください!
私は次土星座に行くときは『星をかった日』が観たいですノナくん!!!!!神木くん!イバラード!!! pic.twitter.com/FcE9iKUVfA

— レニ (@lenni_6) November 4, 2016
めいとこねこバスのねこばあちゃん
知ってるやつ少ないよね#映画で印象に残っている猫 pic.twitter.com/0iFmkMZGkI

— 鬼穿 (@oniugat) November 23, 2016
Mei and the Kittenbus was first shown at the Ghibli Museum in 2003, and the movie continues to be shown there. It's apparently only been screened twice in the US.
今月(今日まで)のミニ映画は
「めいとこねこバス」

ジブリ美術館の中の映画館でしか見られない作品なのですが、トトロ好きな人には絶対に見てほしい!
私も何度も見てるけど、全然飽きない。

宮崎さんの発想力って凄い…!って感動します。 pic.twitter.com/RSEIdgcQCI

— あっこ@謎修行中 (@__no_a__) May 14, 2017
『めいとこねこバス』意外と知られてないんですね? 三鷹の森ジブリ美術館で今年は2017.11.1(水)〜30(木)の期間上映されるみたいです? 13分43秒の短編ですが小さな劇場の雰囲気も合わせて楽しいのでおすすめです。 pic.twitter.com/EvMLhOSzFR

— miii/デザフェスD157・158 (@tronc_miii) October 11, 2017
If you are keen to see this short, good news. Mei and the Kittenbus will run from November 1 to November 30 at the Ghibli Museum. You can visit the official English site here.