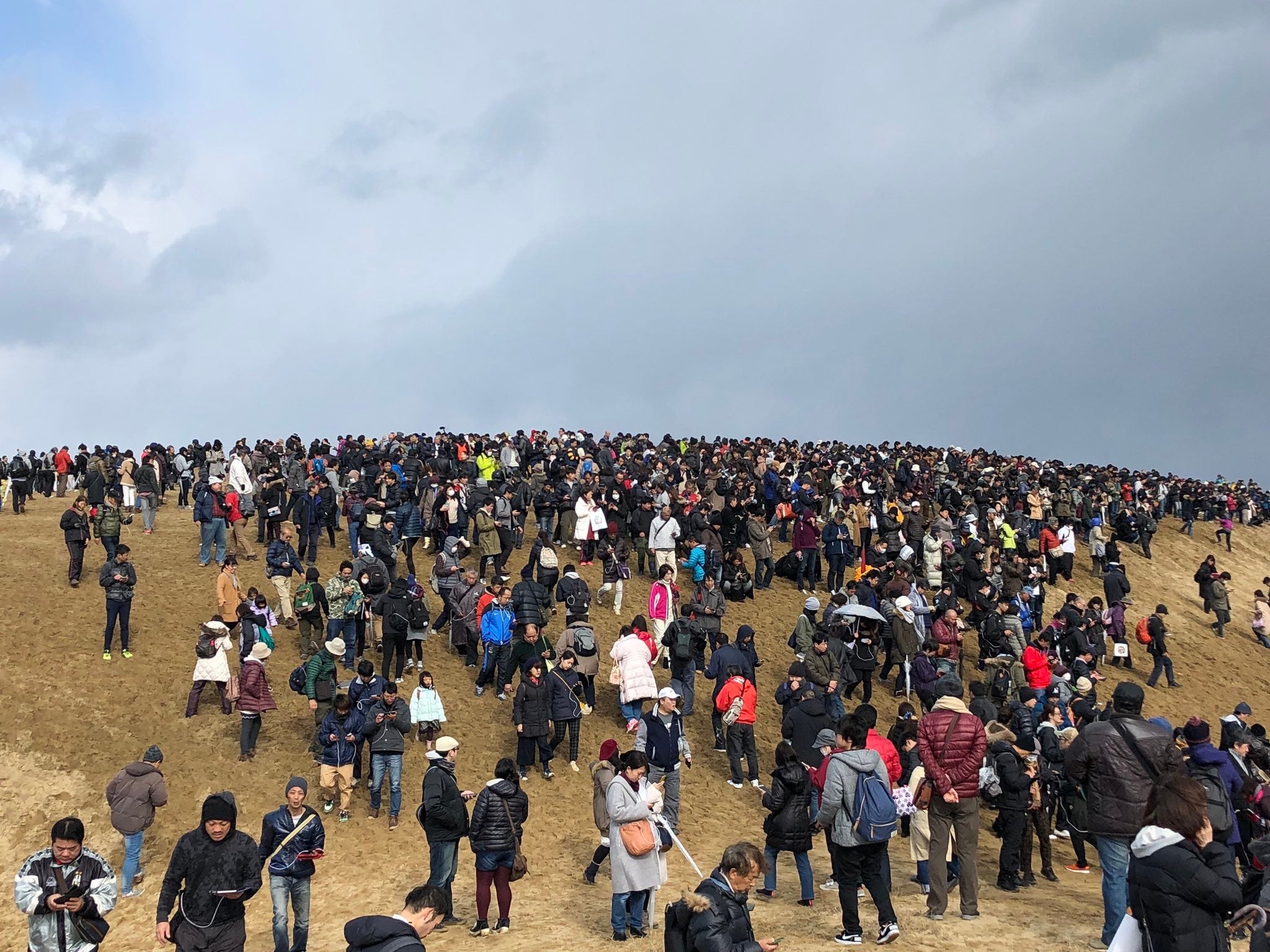 When Pokemon GO launched in Japan (and, well, everywhere), hordes of folks were playing it. The numbers of active players has dropped, but the game still has a dedicated following.
[Image: ttkz_Helios]
Of course, Japan isn't alone. The game is still played and enjoyed by people all around the globe.
From November 24 to November 26, there was a Pokemon GO Safari Zone event at the Tottori Sand Dunes in Tottori Prefecture, Japan. (Similar Safari Zone events were held in Europe in September.)
According to IT Media, the Pokemon GO Safari Zone drew 87,000 people over the the three-day event in Tottori and was an economic boon for the area.
Have a look at the festivities.
鳥取砂丘、バリヤードが壁張るどころか人が壁になってる!!ヤバイ!! pic.twitter.com/KqNNvOdCEK

— せれん (@cele_juge) November 24, 2017
鳥取砂丘、ポケモンGO初日の午前中でこのありさま❗笑

これはヤバイ。。。ww

出店も長蛇の列です‼笑 pic.twitter.com/EG7VAuCwn7

— マツタク (@takuyaMaTu14) November 24, 2017
鳥取砂丘に8万7000人 ポケGOイベント大盛況 - 日刊スポーツ https://t.co/KpztWPSo8L #ポケモンgo pic.twitter.com/z0aYzddJHF

— ポケモンGOいいね (@pokemongoiine) November 27, 2017
ポケモンGOと言うより人間GOになってて草 pic.twitter.com/ExuFVVtCQc

— とつかぜ (@ttkz_Helios) November 24, 2017
鳥取砂丘のとっとりGOオープニングセレモニーで知事登場#ポケモンGO #とっとりGO #鳥取GO pic.twitter.com/U39h9qsePu

— じょーたく™:12/2〜6@LA (@jo_taku150) November 24, 2017
ポケモンGOでにぎわう鳥取砂丘(白目) pic.twitter.com/KYirMa9t8n

— ヤバ新 (@JuNTi827) November 24, 2017
ニュースでまたまたポケモンGO!
鳥取砂丘イベント3日間で約9万人、経済効果は10数億円との事で…リリースから1年以上経過してますが凄まじい人気!!!!!!#PokemonGo #ポケモンGO pic.twitter.com/TLPs0xpwTn

— ヒノッチ (@hinopika) November 27, 2017
本日より26日までPokémon GO Safari Zone in 鳥取砂丘開催中です!たくさんの人で賑わっておりますが、天候が不安定ですので防寒、雨具をお持ちの上お越しくださるようお願い致します。交通情報に関してはとっとりGOのサイトに随時更新されますので、ご確認くださいね!https://t.co/aPvwepDqdq pic.twitter.com/6EwCdEhuVM

— Pokémon GO Japan (@PokemonGOAppJP) November 24, 2017