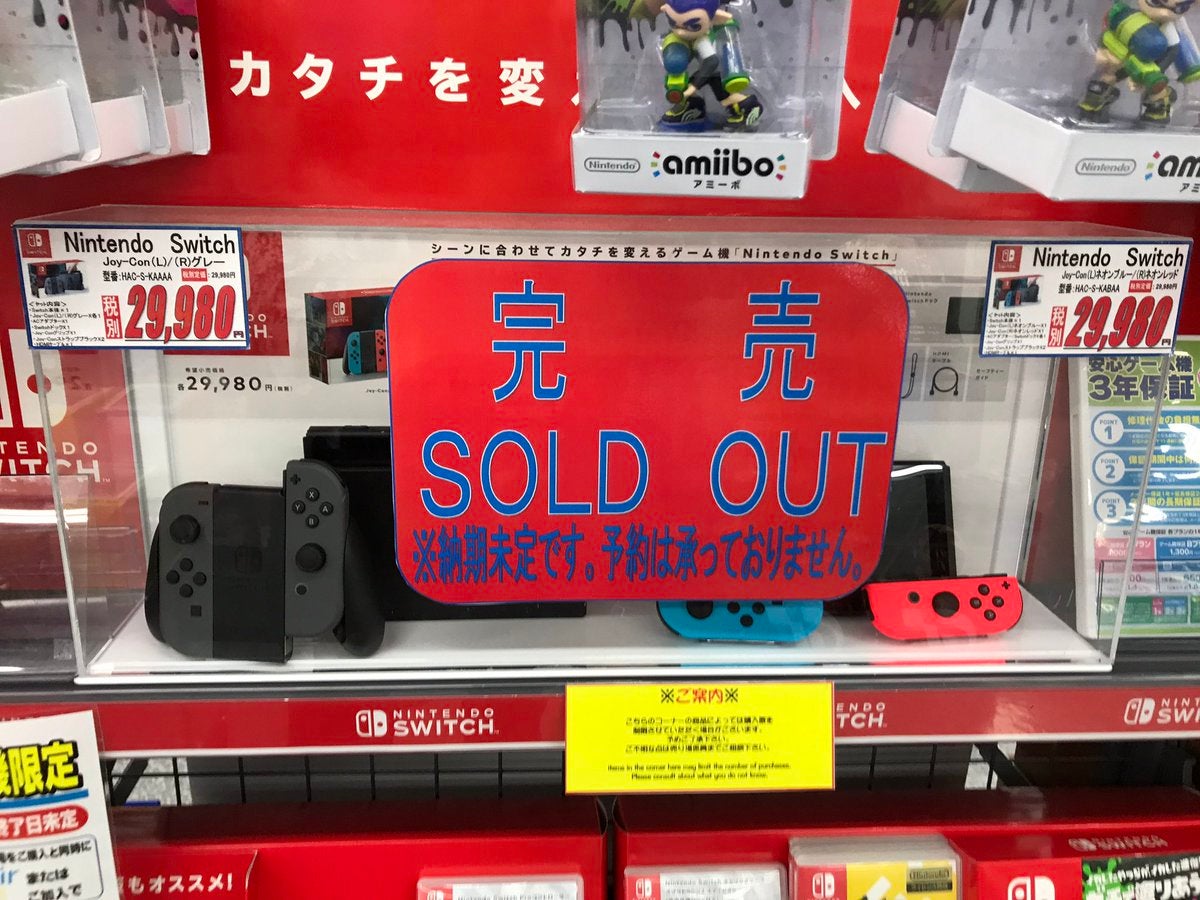 When will the Nintendo Switch sellouts end in Japan? Who knows. It's November, and the console is still hard to get in many places.
[Image: _rxsxy]
Last week, the Nintendo Switch topped the Japanese sales charts, moving 84,593 units (in comparison, the PS4 was the second-best seller at 23,613 units). 
ヨドバシ梅田なう
Switchてに入るぞー
こんだけ在庫ある#ヨドバシ梅田 #任天堂SWITCH pic.twitter.com/2CDUKUxuiY

— β郎 (@Betaro_20th77) November 17, 2017
This was yesterday at the Yodobashi Camera in Osaka's Umeda, but people are reporting that this store sold out within hours. Yesterday, Nintendo shipped out the console to multiple retailers and cities across Japan.
So yes, shops are getting the Switch in stock, but it's flying off the shelves and, as you can see below, displays are covered in notices that read 完売 (kanbai or "sold out") or 売り切れ (urikire or "sold out").
These photos are from the past few weeks.
Still sold out pic.twitter.com/iLz2yJdwAq

— Gaijinhunter (@aevanko) November 17, 2017
switchは売り切れだけど、スーファミクラシックは売ってた#仙台 #ヤマダ電機 pic.twitter.com/IXZ3cexE85

— レイン@はてなブログ (@rain_yutoricat) November 5, 2017
新宿 ヨドバシ スイッチ 売り切れ pic.twitter.com/VGUnMabMmV

— 334らすべがす (@334lasvegas) November 5, 2017
バイトおわってずっとマミーとswitch巡りしてたけどずっと完売の文字しか見れなかった笑 pic.twitter.com/bdfFHQ8SId

— りゅーじ⊿@七瀬単推し (@ryunanase525) November 5, 2017
スイッチ通常販売
ネオン5個あり
グレー、マリオセットは売り切れ

北海道帯広フレスポ pic.twitter.com/ZGa6Sbi7Qv

— いすむす (@isthmus0726) November 2, 2017
やった!!Switchがある!!
↓
↓
レジに並ぶ
↓
↓
目の前の方がSwitch購入し、完売。

うわぁぁぁぁぁぁぁぁぁあ
号(┳◇┳)泣 pic.twitter.com/Msx54X0RWl

— ❁おもち❁ (@tkdh8) November 3, 2017
有楽町ビックカメラのSwitchは完売です。 pic.twitter.com/2R996667sU

— ぽむ@キャス用アカ (@pompompoc) November 4, 2017
一応見てきた
Switch完売祭り
ガセネタに注意⚠ pic.twitter.com/Aa0ALzOCCa

— R:S:Y(らっしー) (@_rxsxy) October 27, 2017
昨日に続き今日もswitch発見。
昨日分はさすがに売り切れのご様子。 pic.twitter.com/TpgldS068T

— george (@george_sitappa) October 27, 2017
渋谷東口ビックカメラ、任天堂switch販売中!ただ今20番!(^o^)#switch #マリオオデッセイ pic.twitter.com/v4DbPrsExo

— msjessiewang (@msjessiewang) October 27, 2017