I'm sitting here, looking at a screen that's way too tall, waiting, seconds turning into minutes, just so I can log into Windows. Thank god I didn't have to cold boot. Five minutes later, when my laptop finally approaches a functioning state, I reach down to move the mouse cursor over the Slack icon only to be greeted with a bare patch of hard black plastic – then I remember my 11-year-old Thinkpad doesn't even have a touchpad.
This isn't going to be nearly as fun as I thought. Do I even try to install Photoshop? Screw it, let's go nuts. But before getting any deeper in this wasteland of retro tech, let me backup and explain how I got here.
Last month, the ThinkPad celebrated its 25th anniversary, marking the day back in 1992 when the original 3kg ThinkPad 700 burst on the scene with a sleek-for-the-time design, a marvellous 10.4-inch colour screen, and that iconic little red nub smashed between the G and H keys. Ever since, IBM and later Lenovo, which bought IBM's PC division 2005, have been making some of the most dependable laptops on the market.
Twenty-five years is a long time for any brand to survive, but in a sector like tech, the ThinkPad line is downright ancient. Over the years, the ThinkPad has evolved and adapted to the times while still retaining an identity in an increasingly faceless computer landscape.
So when Lenovo asked me if I wanted to check out the commemorative laptop it created to celebrate the ThinkPad's 25th anniversary, I said, "Why not?"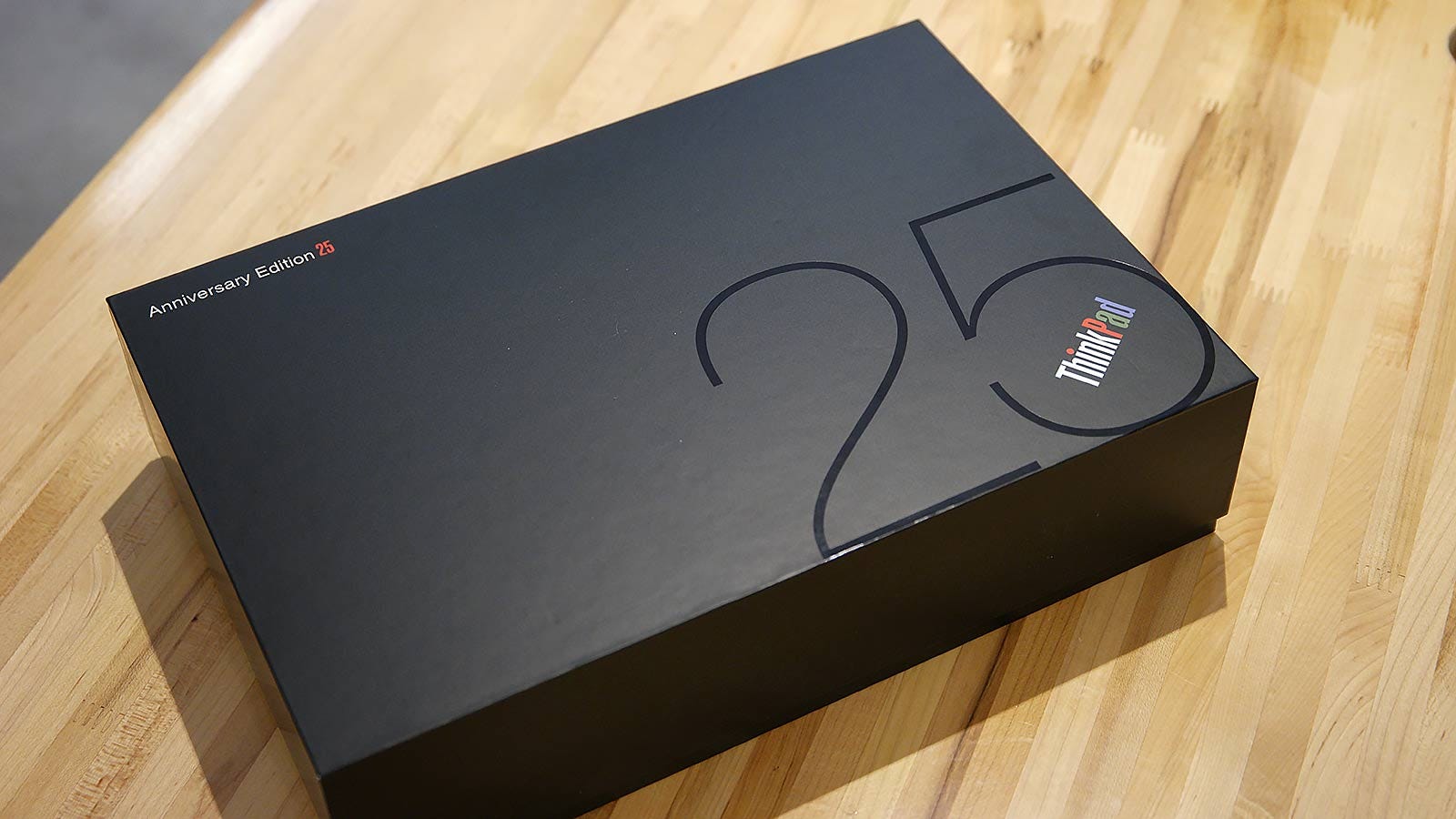 The box for the ThinkPad 25 might be the best thing about the whole package.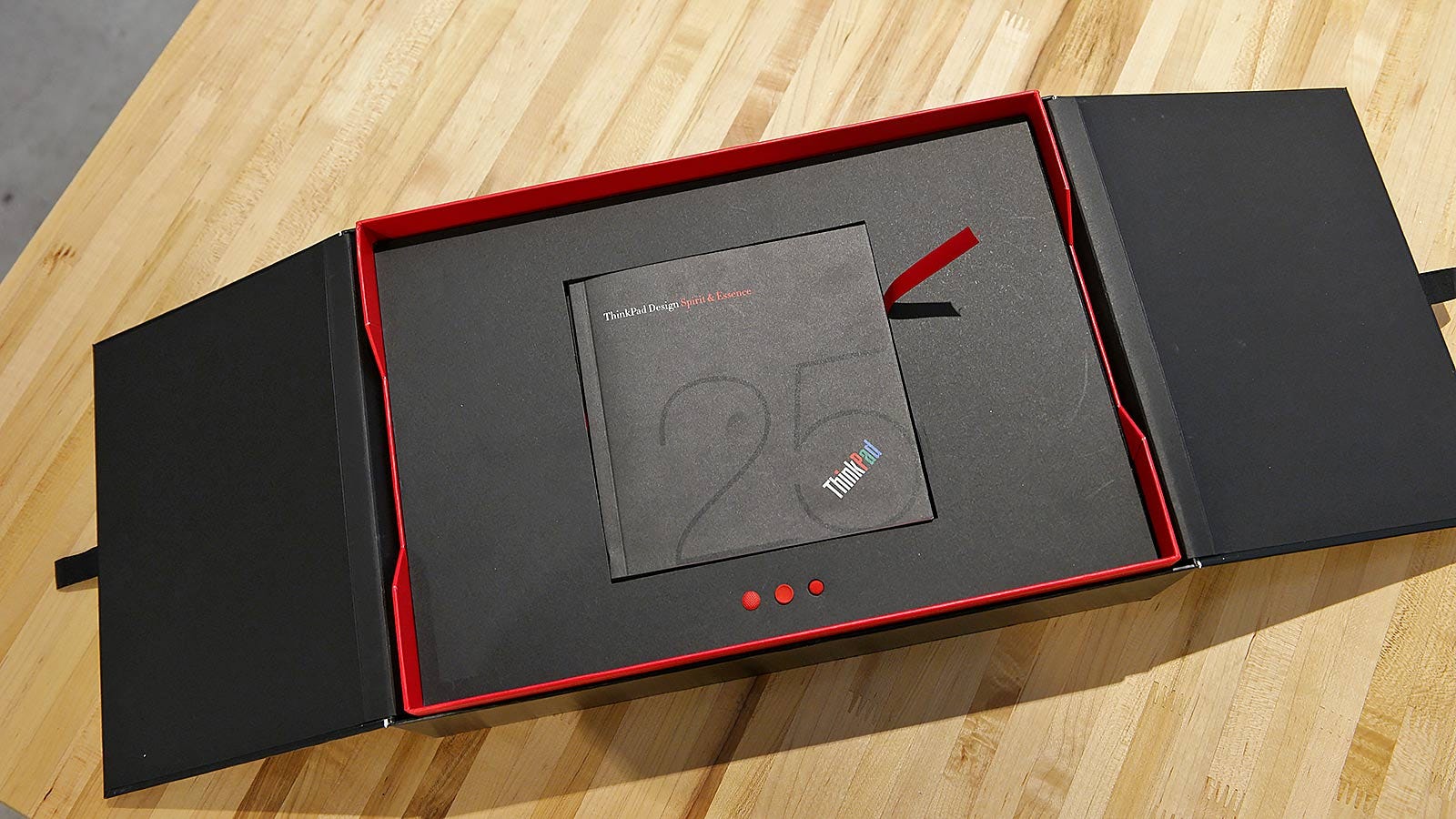 It open up like a bento box as a nod to original ThinkPad's design, and has three extra Trackpoint nubs and a commemorative book.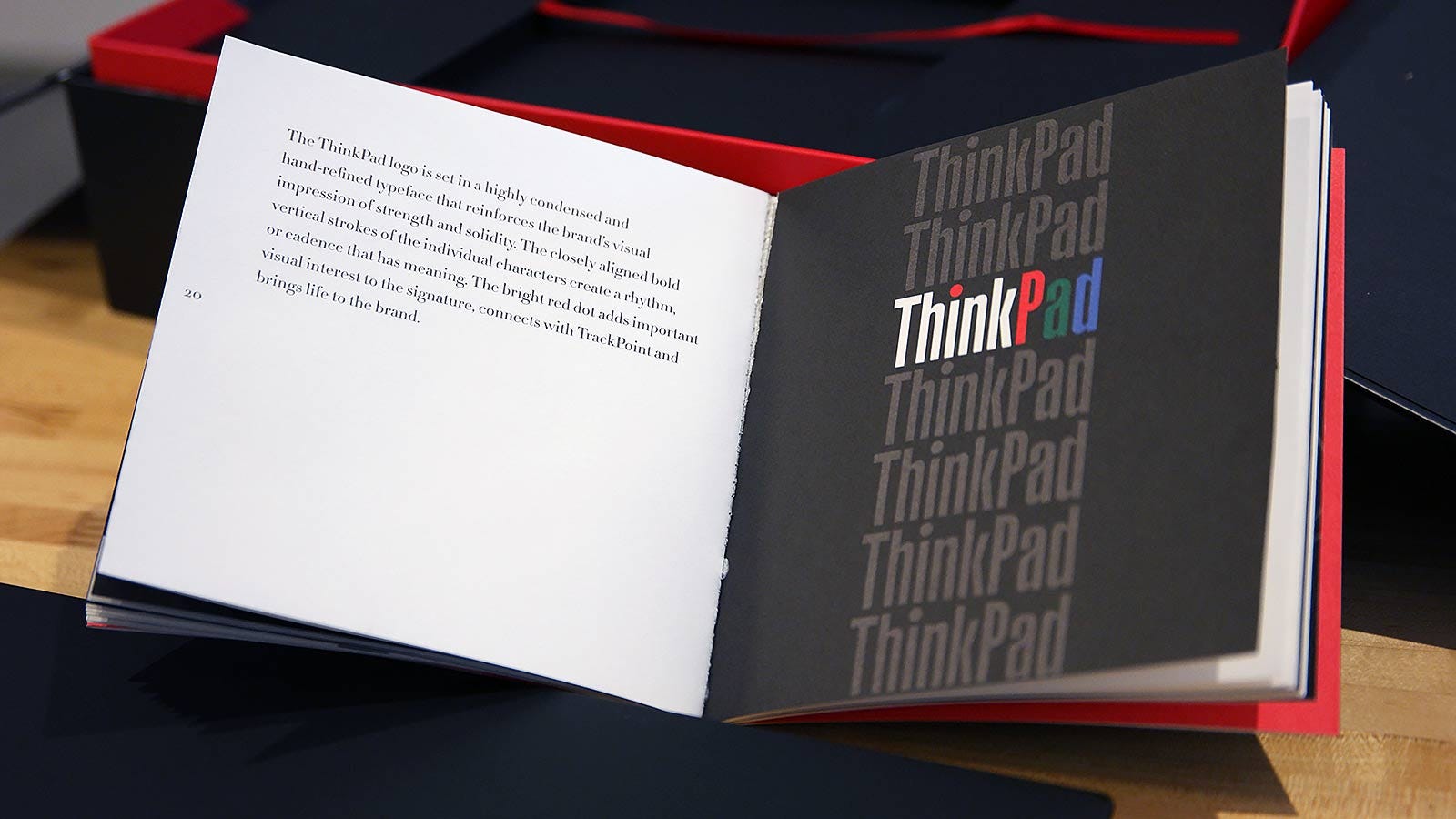 The bright red dot brings life to the brand? OK.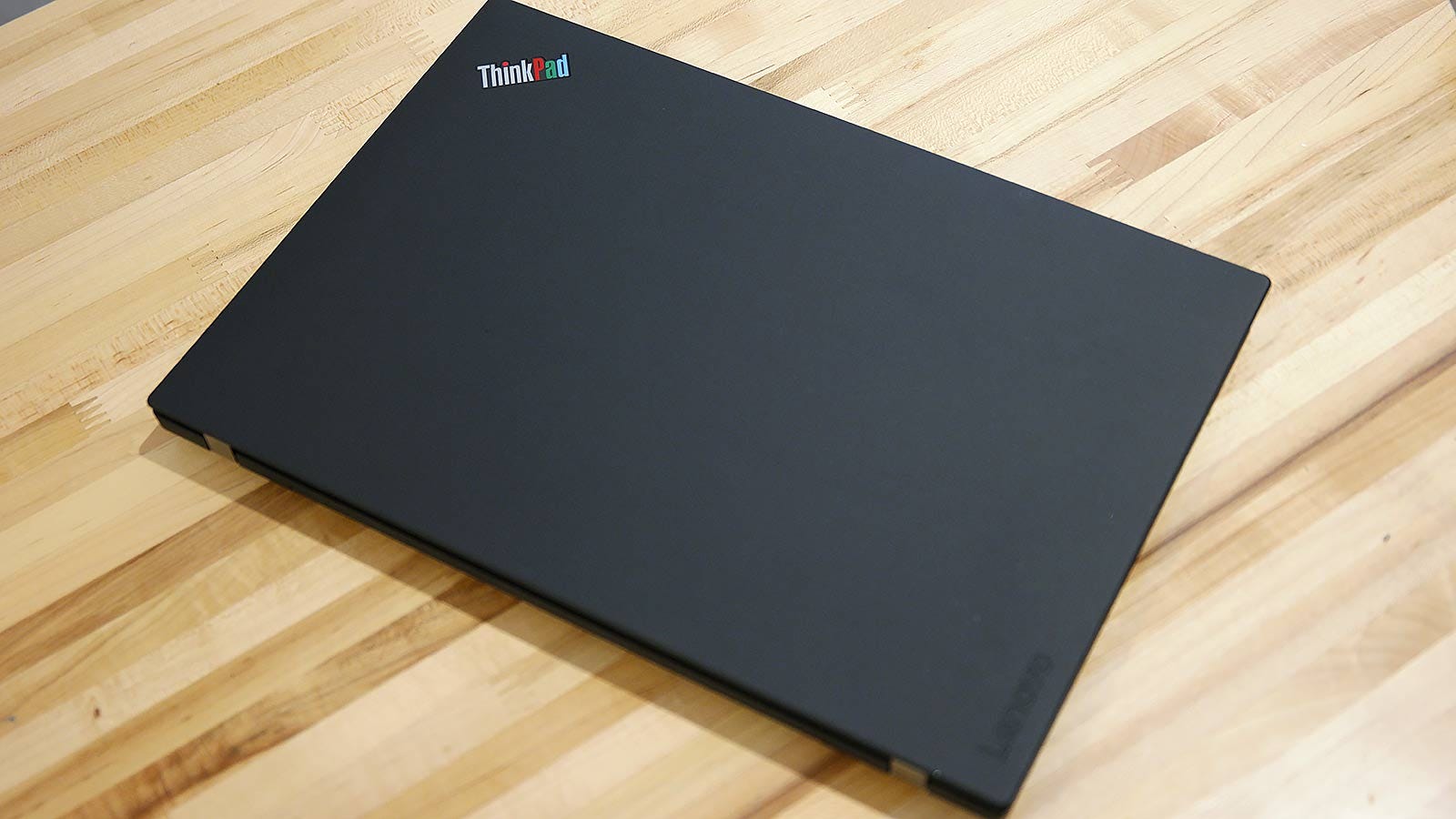 And here's the ThinkPad 25. Surprise, it looks like every other ThinkPad, except for the brightly colored retro badge.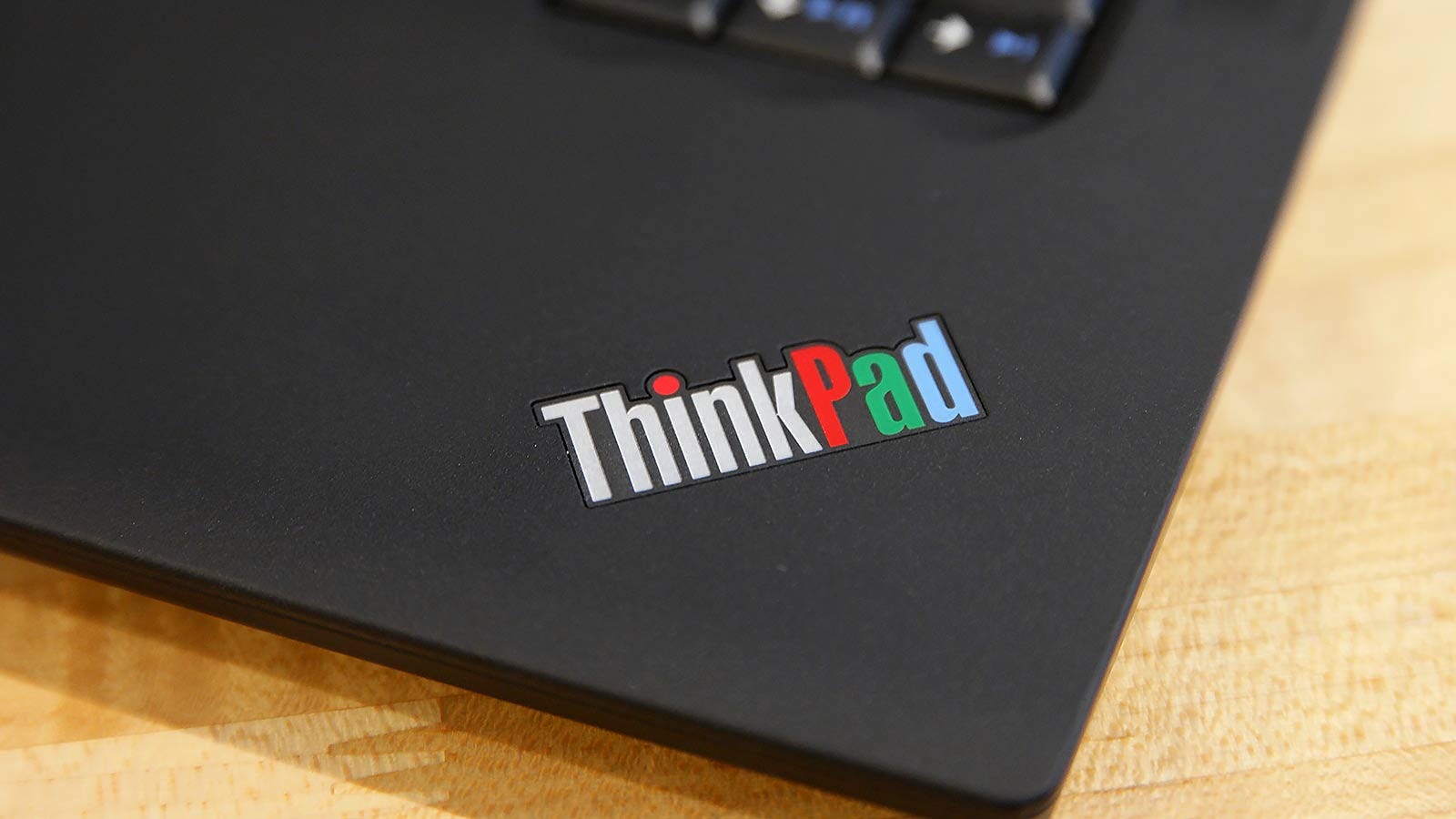 Here is it again on the ThinkPad 25's palmrest, although unlike the one on the lid, the 'i' in ThinkPad doesn't light up.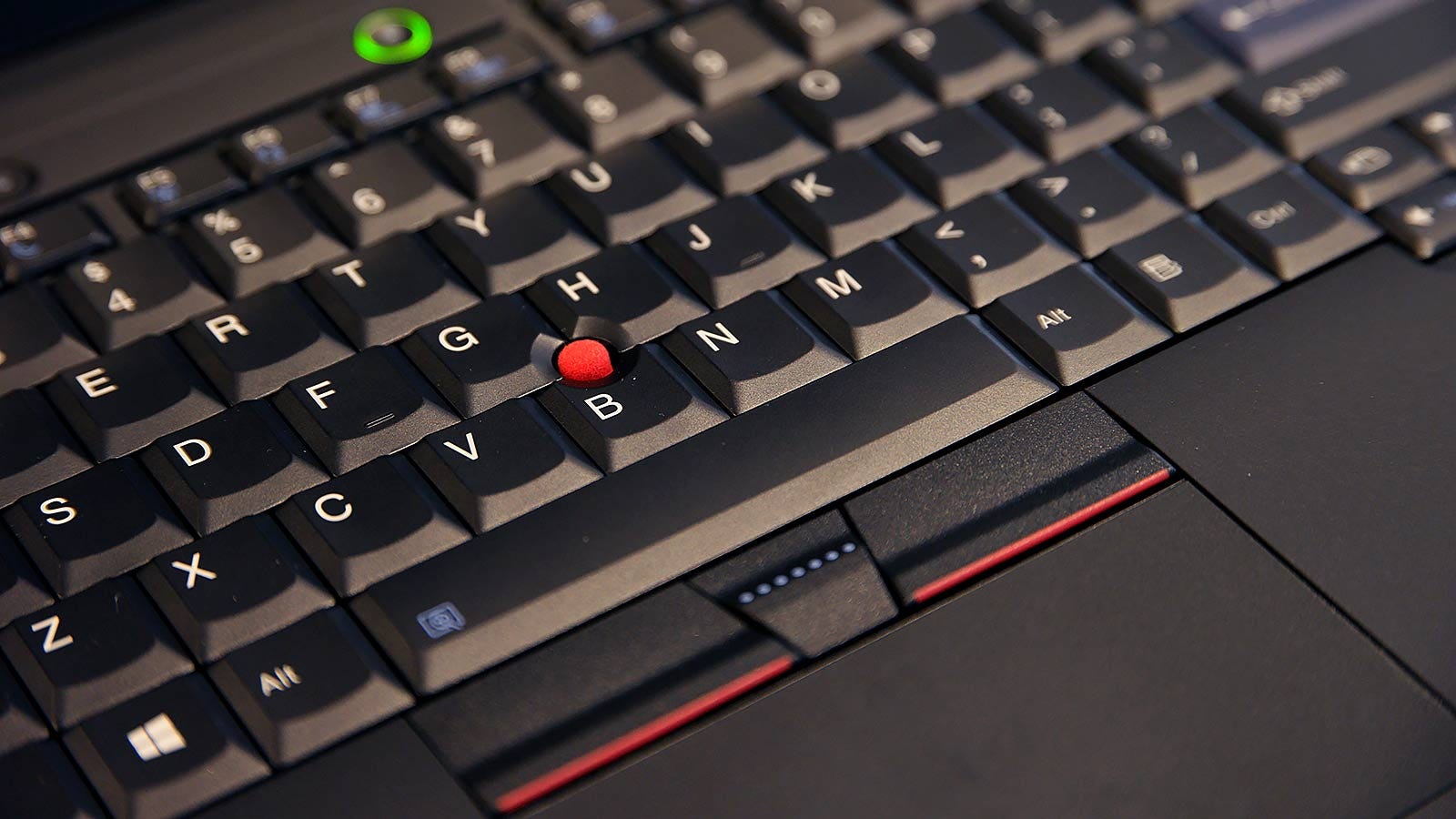 Now say hello to one of the ThinkPad's most iconic (and my most hated) feature.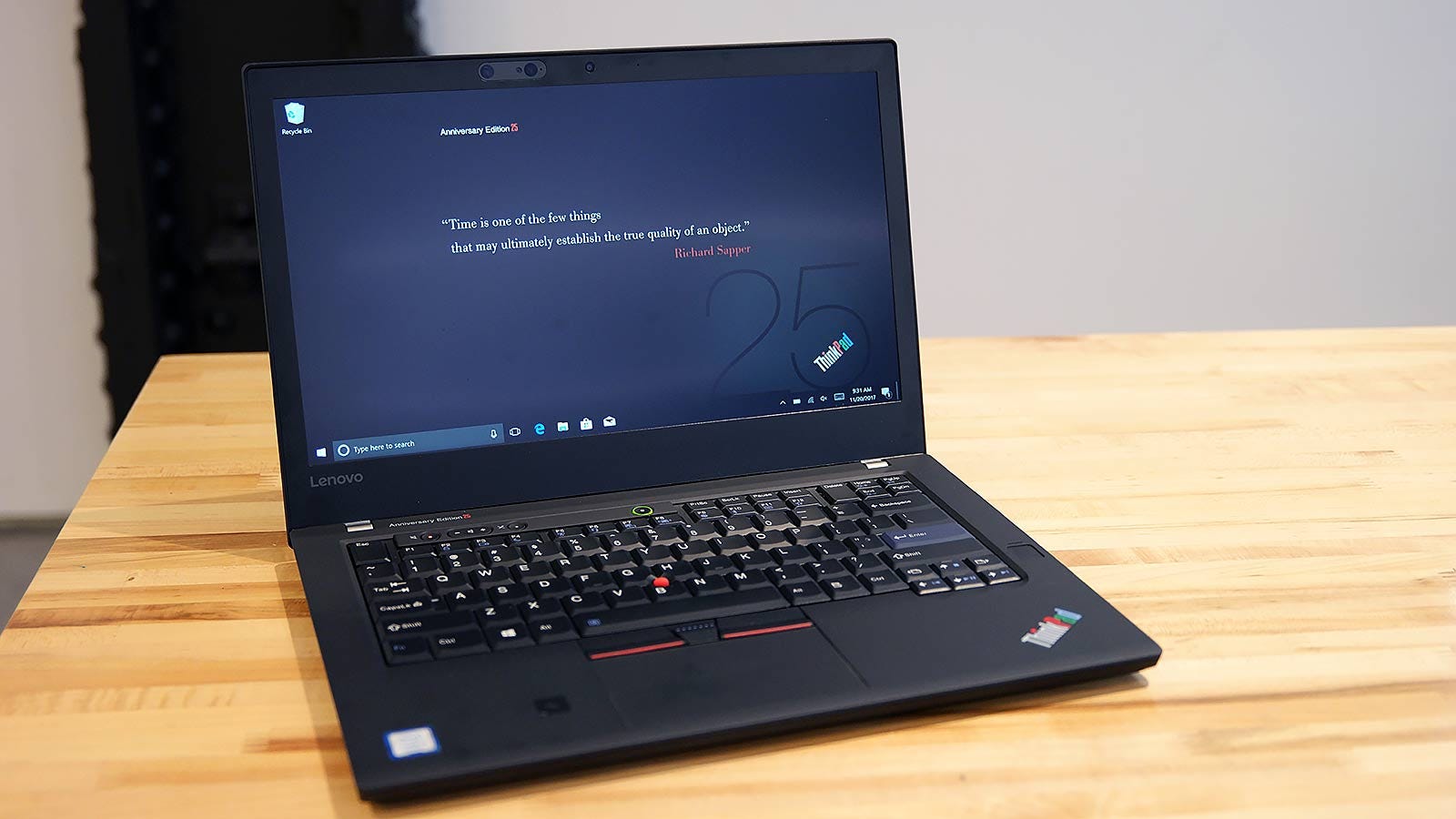 'Time is one of the few things that may ultimately establish the true quality of an object.' So inspiring.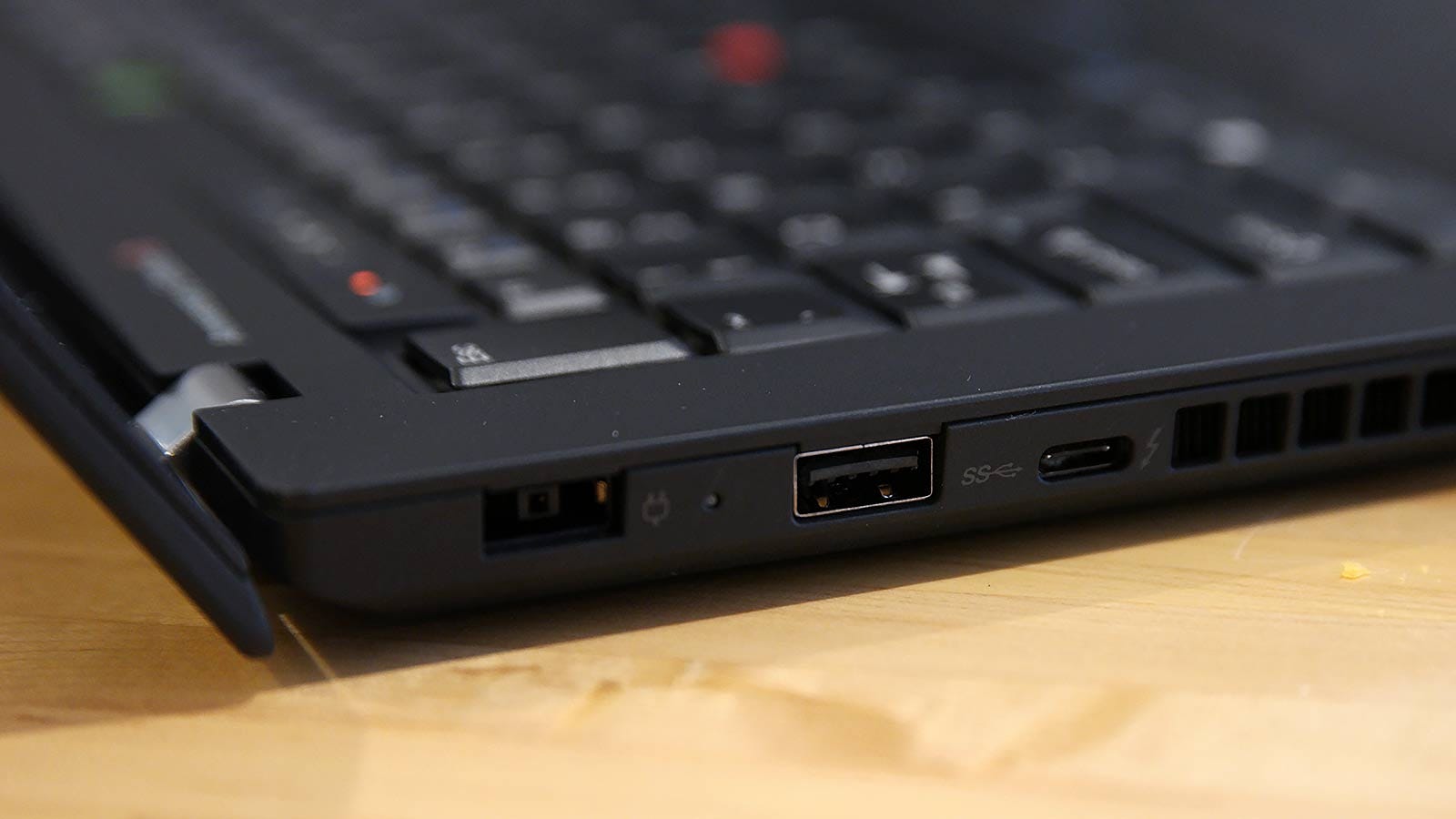 Hey, but at least we get modern ports. The ThinkPad 25 even has Thunderbolt 3.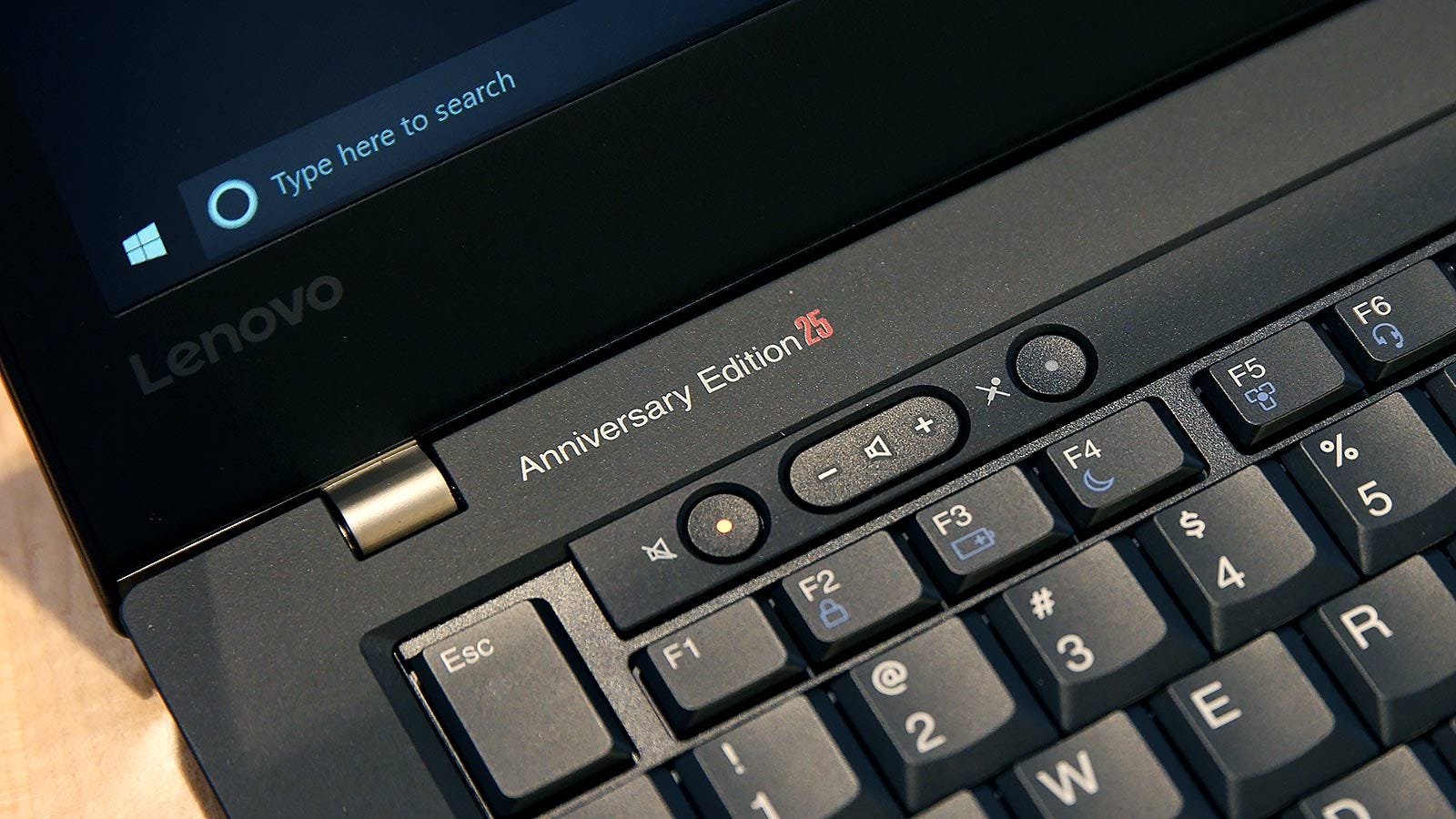 Another nod to nostalgia is the return of hardware audio controls and a dedicated row of function keys.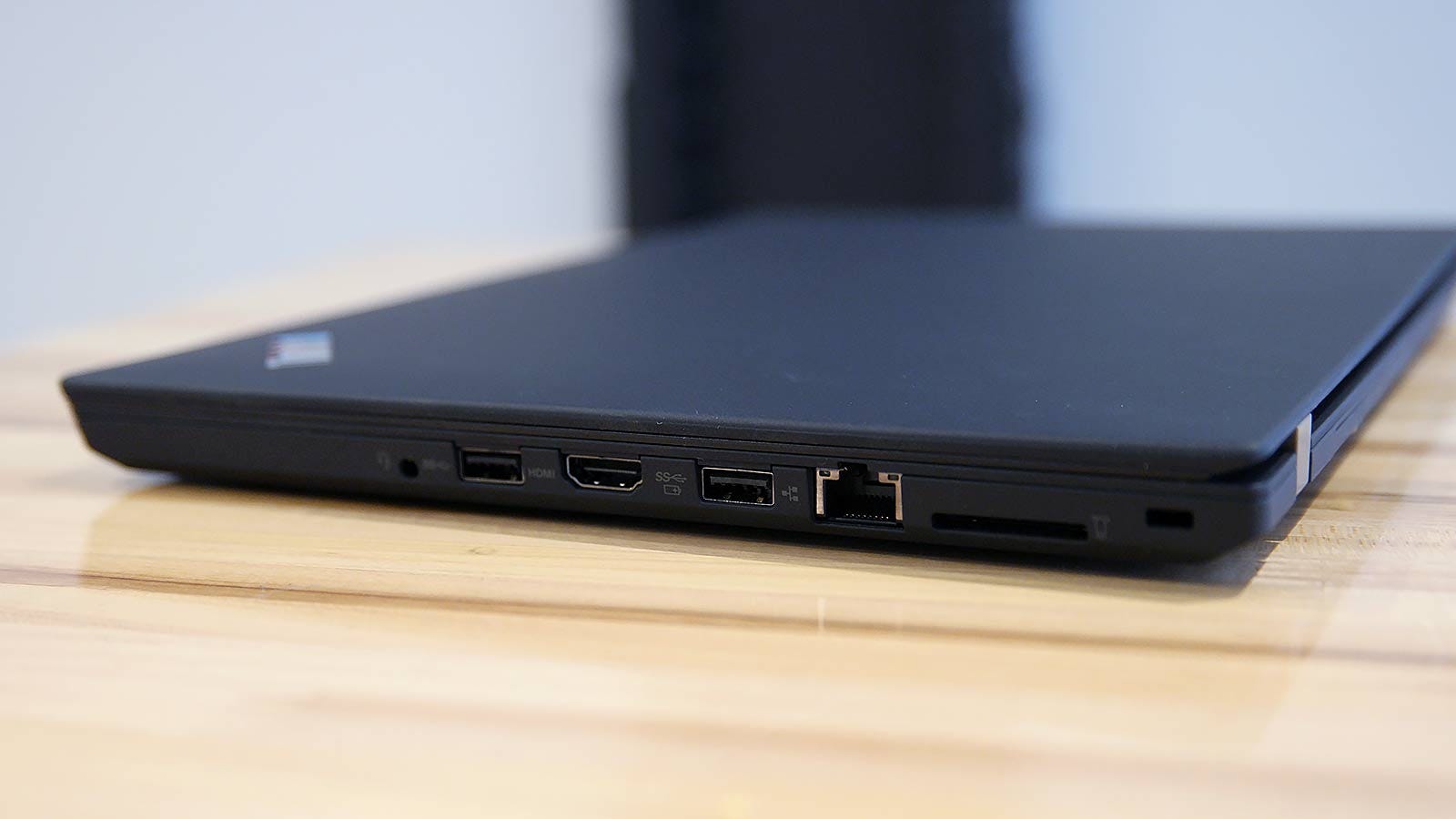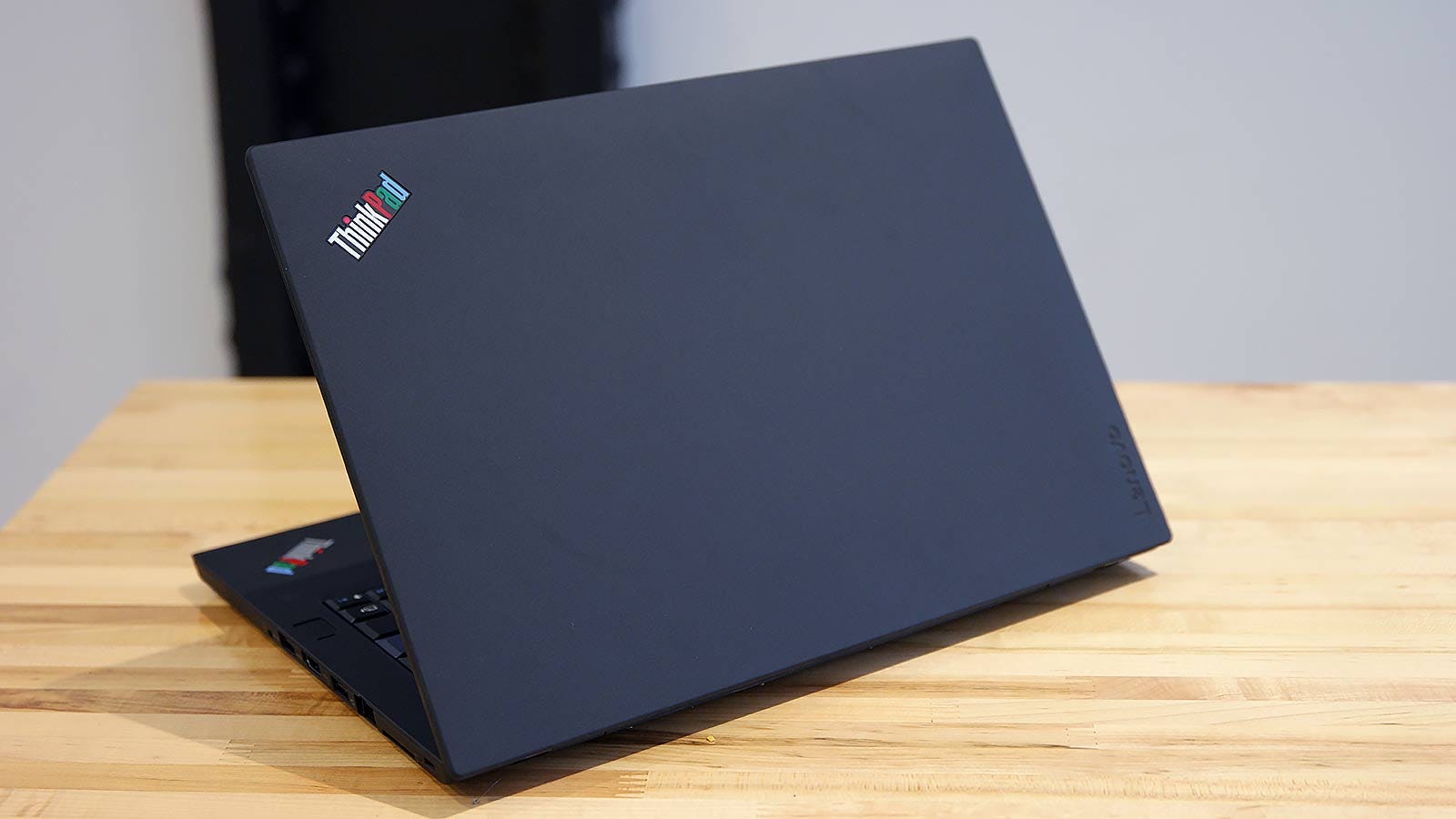 Some may call it boring, but I still appreciate the ThinkPad's understated design.
Then it arrived, and like the reaction of a child who got Megablocks when they asked for LEGO, my feelings shifted from delight to disappointment. Don't get me wrong, this celebratory ThinkPad is a fine machine. It has that classic ThinkPad charcoal grey body, a nice matte widescreen display with touch support, an Intel Core i7 CPU, and even an Nvidia 940X GPU for a little extra graphics power.
But at its core, it's really just a regular 14-inch ThinkPad T470 spruced up with some extra bits of coloured plastic and a bonus row of scrunched up function keys and audio controls.
In fact, the cardboard this thing came in has way more personality than the computer itself, thanks to its bento box-inspired package design, an included 25th anniversary picture book and three bonus Trackpoint nubs – each ribbed with a different texture for your pleasure. But as something to celebrate the road this venerable computer line has travelled over the last two and half decades, it felt lacklustre.
So I decided to go and find a genuine old-arse working ThinkPad and use it as my primary PC for a couple of days as way to celebrate the occasion properly.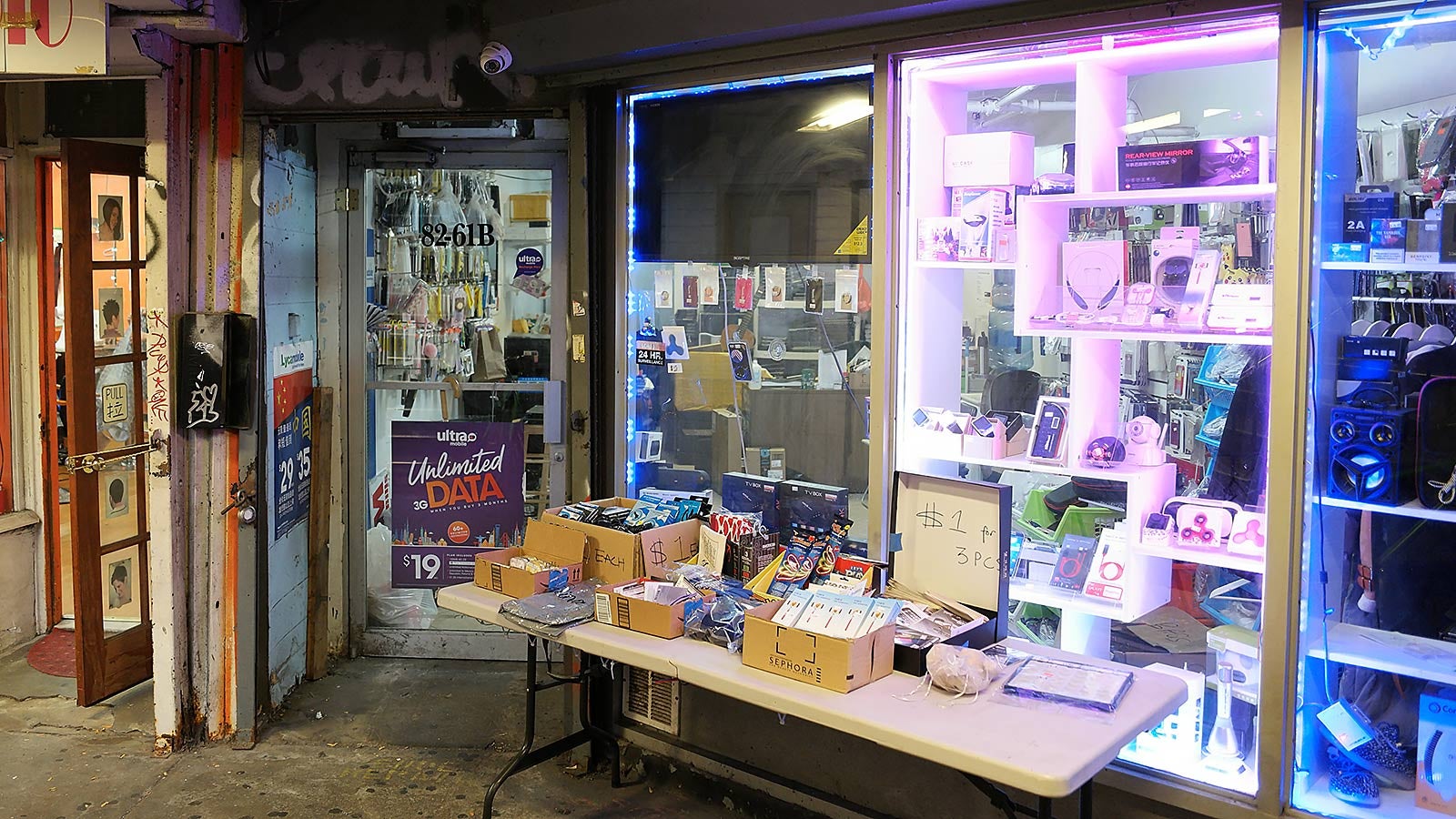 This sketchy shop was a goldmine of outdated laptops, but they were completely sold out of ThinkPads.
The first stop on my journey was Craigslist, the natural home for useless and outdated tech. To my surprise, the computer section was littered with listings for gently used ThinkPads, from an almost 20-year old ThinkPad 600 launched back when IBM was still in charge of the brand, to a newer, but still relatively mature ThinkPad 1171 from 2002.
But it seemed like every time I reached out to a seller, they replied only to let me know the ThinkPad I was looking for had just been sold. Now sure, I could have turned to eBay and rolled the dice, but I wanted an old ThinkPad now, and I wanted to check it out and make sure it was in working order before I paid for it.
Starting to feel a little desperate, I reached out to a no-name computer reseller located inside a dingy tunnel of the Elmhust Avenue stop on the R train in Queens. I was hoping to pick up a 2007 ThinkPad T61, and despite calling to confirm that the store actually had one in stock, less than a day later when I showed up in person, they were sold out.
The shopkeeper tried his best to interest me in one of several old Dells or HPs that were piled up 15 high around the shop.
But I wanted a ThinkPad. Eventually, Max dragged out the only ThinkPad he had left, a non-functioning 2004 T42 that needed at bare minimum new RAM and a hard drive. But I didn't want to leave empty-handed, so I forked over $US15 ($20) (cash only, please) with dreams of fixing it up myself.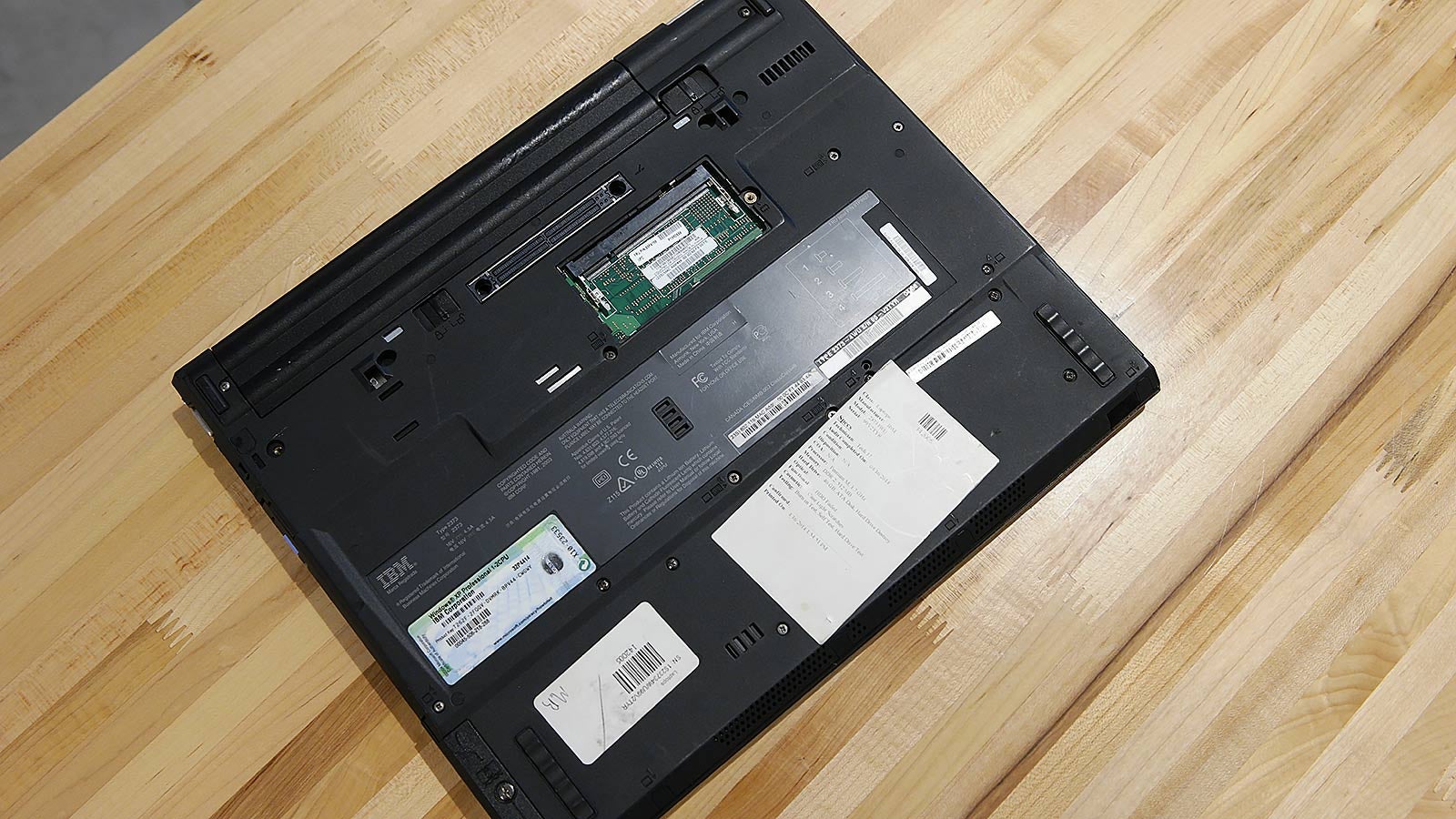 Even after finding new RAM, HDD and a suitable power adaptor for the decrepit T42, I still couldn't bring it back to life.
The power of Google search then directed me to the folks at Computer Overhauls, a slicker shop in the shadow of Penn Station. It turns out they had a listing for a ThinkPad X60 from 2006 for the bargain price of just $US69.95 ($92).
While the X60 was made after Lenovo took over the business from IBM in 2005, it was still sufficiently old and seemed perfectly suited for what I had in mind. So after calling to confirm that they did indeed have the machine in stock, I rushed over to pick it up. Now I had two old ThinkPads to screw around with.
Unfortunately, despite finding a suitable power cord and replacing its guts, my $US15 ($20) ThinkPad T42 recovery project just wouldn't come back to life. As for the X60 – that thing was marvellous. It's weird and clunky and brought me right back to a time when Daniel Powter and Bubba Sparxx were still cranking out top 100 hits.
Back in the day, the X60's 8-cell battery promised a whole five hours of life, but I had a hard time seeing past the way the removable bulk sticks out behind the machine more than 5cm. Worse, its bumpy, uneven bottom causes the laptop to constantly tilt and rock, even when its sitting on a flat surface.
Then there's its awkward centrally mounted hinge that rotates 360-degrees. The X60 is a relic from a time before people had really figured out how a two-in-one was supposed to function and what one was supposed to look like.
When it came out, the X60 wasn't just your average 12-inch workhorse. It was a super premium $3649 machine that CNET rated four out of five stars, Laptop Mag gave it a 4.5, and NotebookReview adored it.
That's over $4630 in 2017 money, and more expensive than a fully loaded MacBook Pro with Touch Bar or Surface Book, and over $1000 more than a second-gen ThinkPad X1 Yoga, which in many ways is the X60's spiritual successor.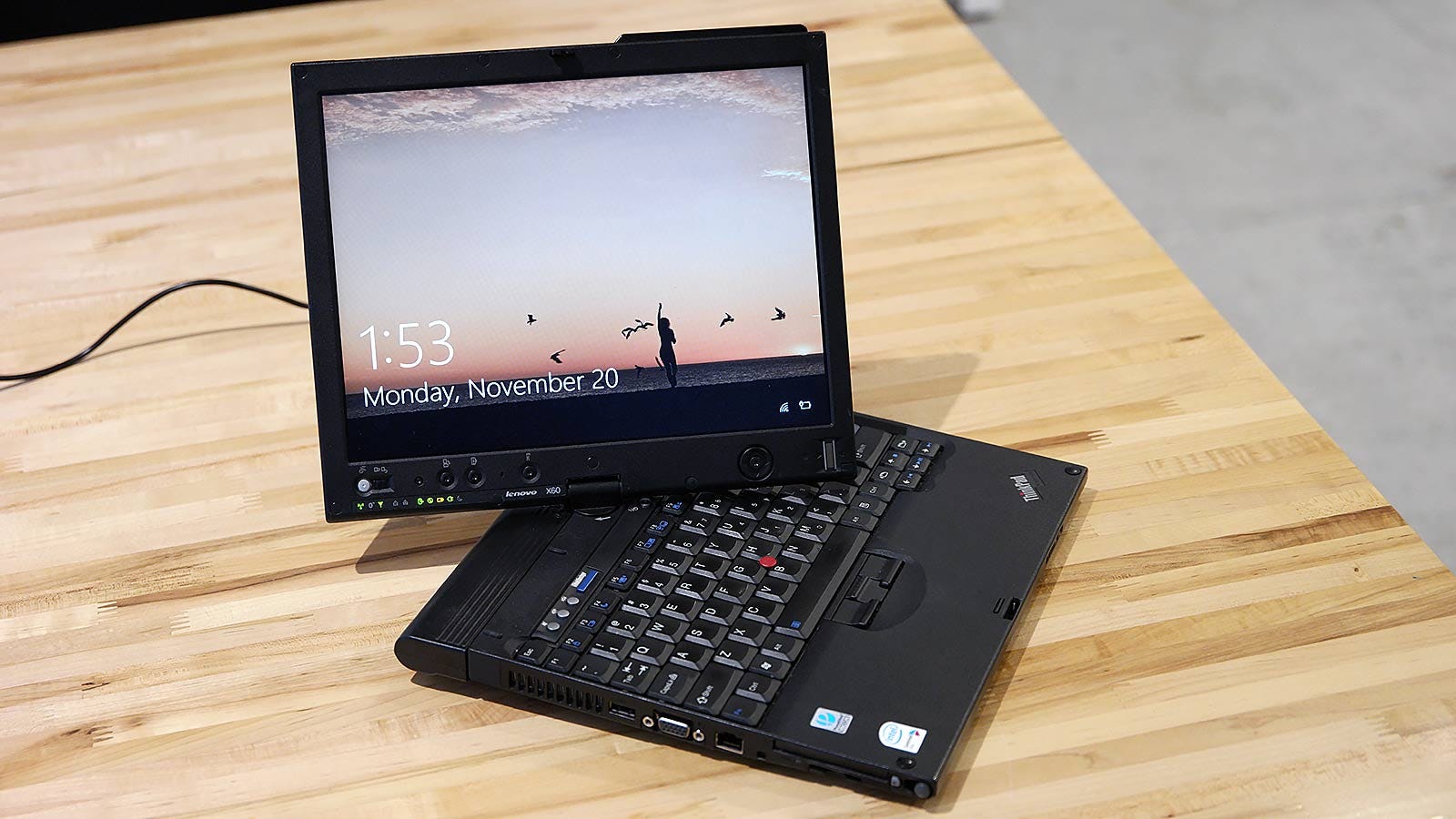 The ThinkPad X60 is gloriously awkward.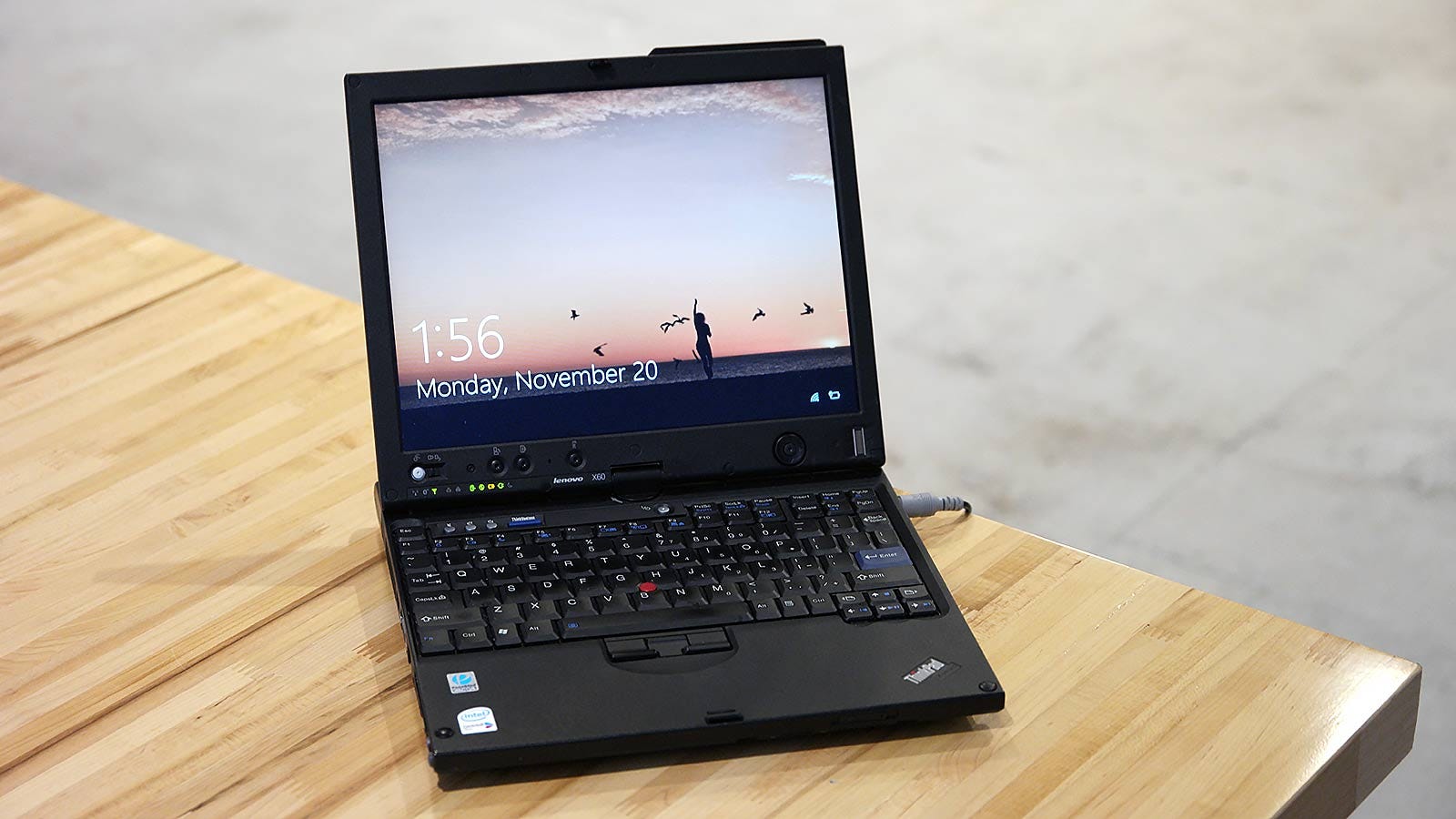 Look how tall and ungainly that 4:3 display looks.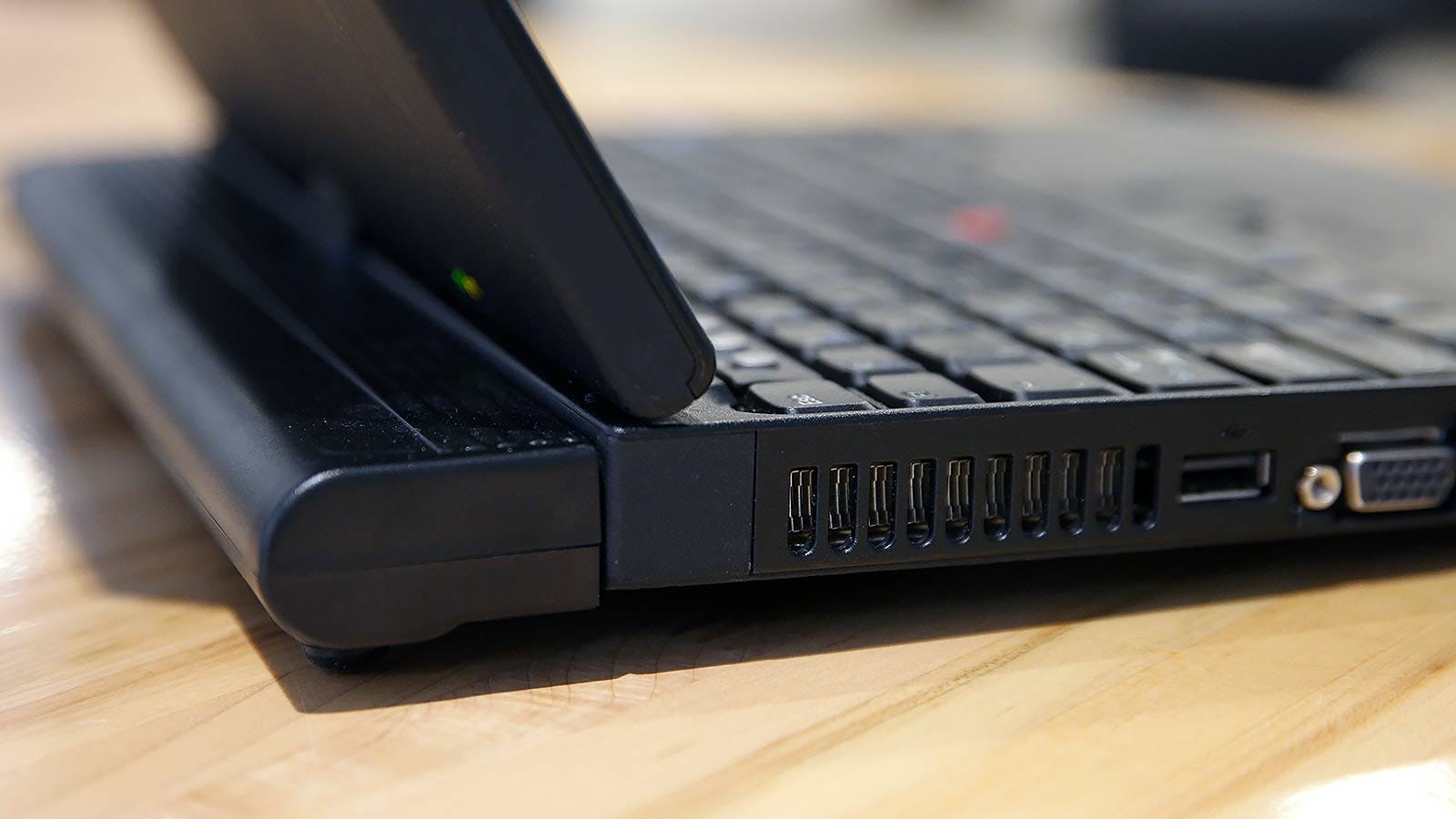 On top of sticking out way past the end of the system, that extended battery also causes the X60's to wobble, constantly.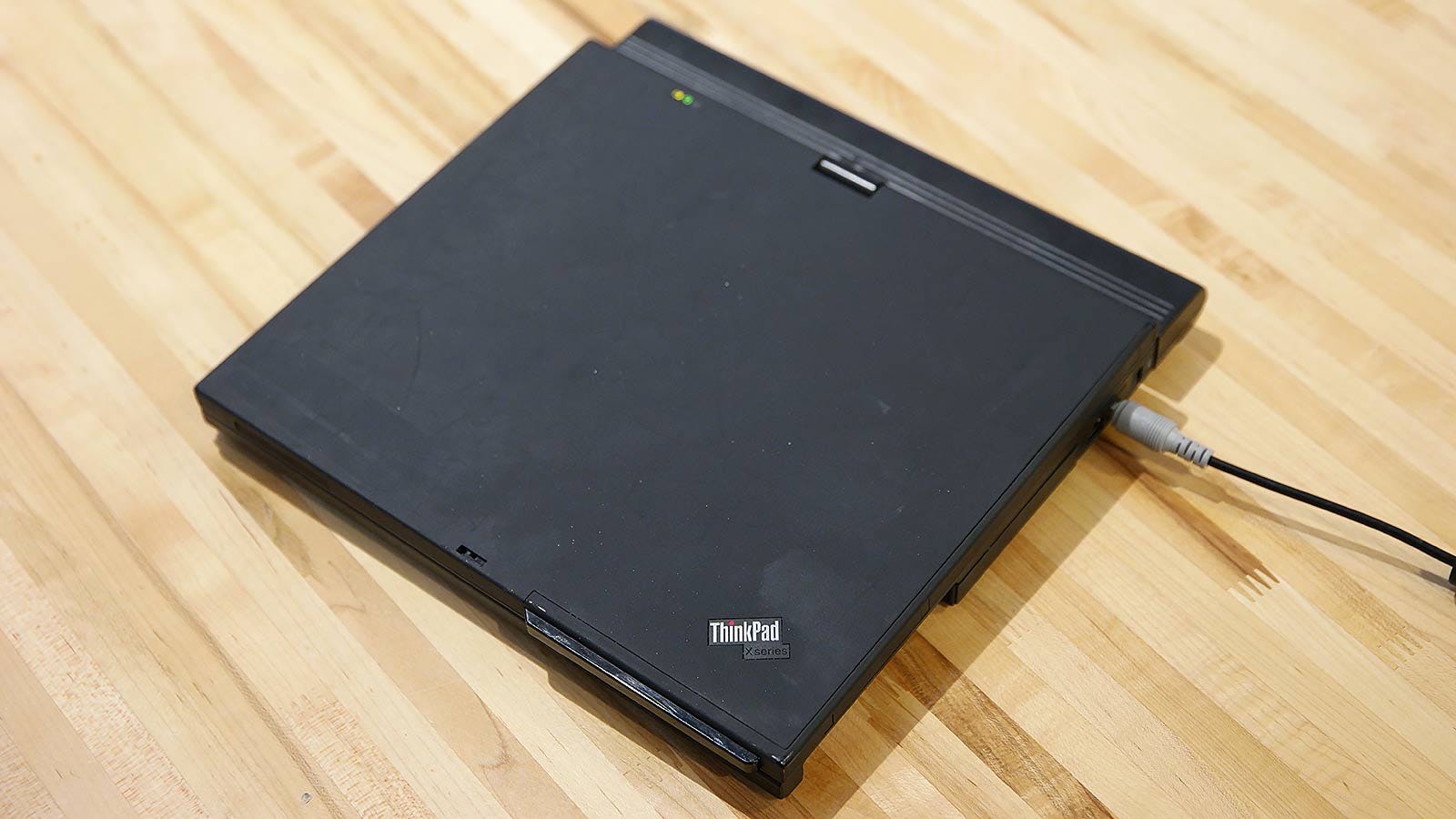 A few scratches and stains, but this thing is still unmistakably a ThinkPad.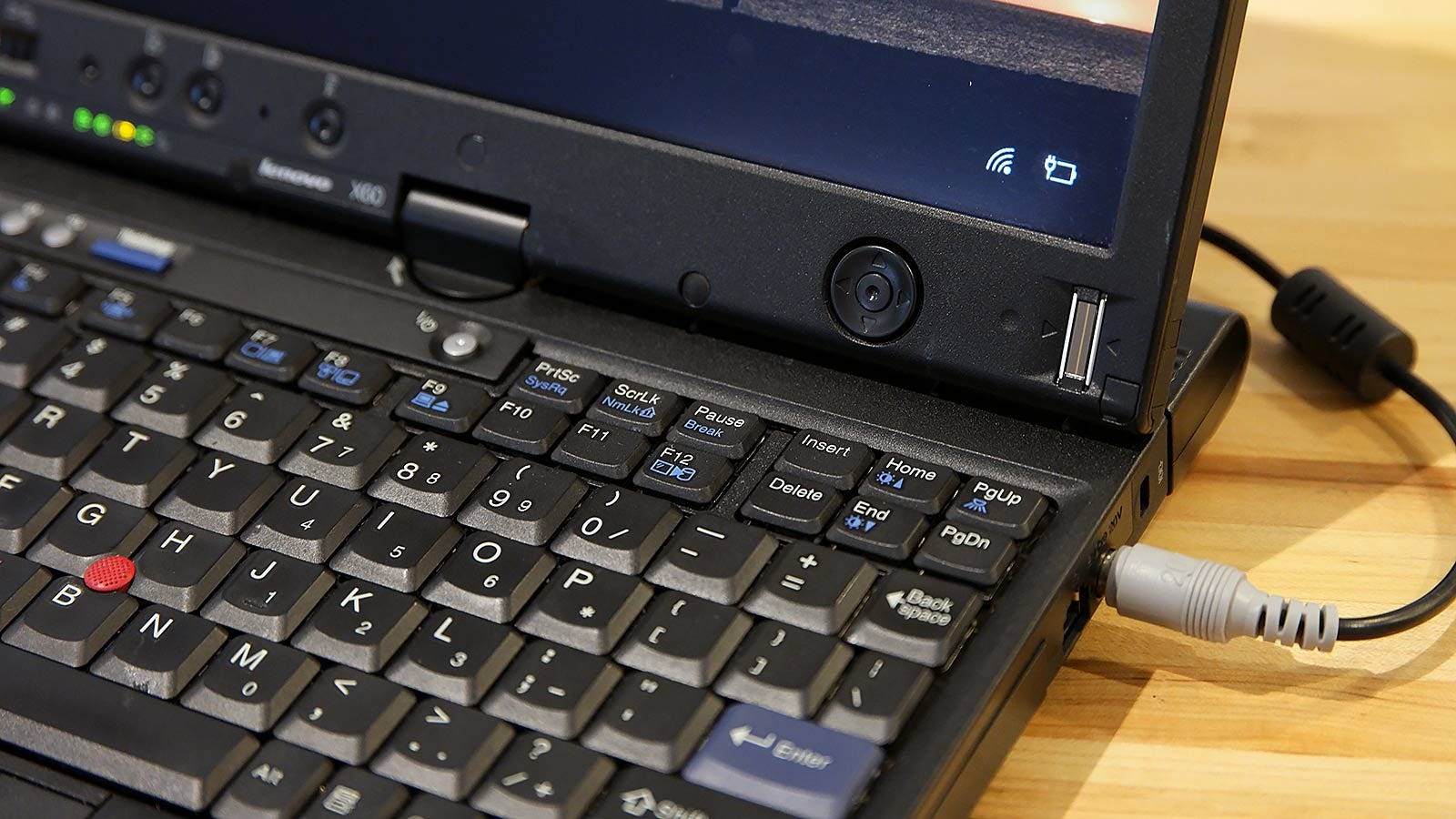 The X60's d-pad and fingerprint reader may as well not be there, because they are utterly useless.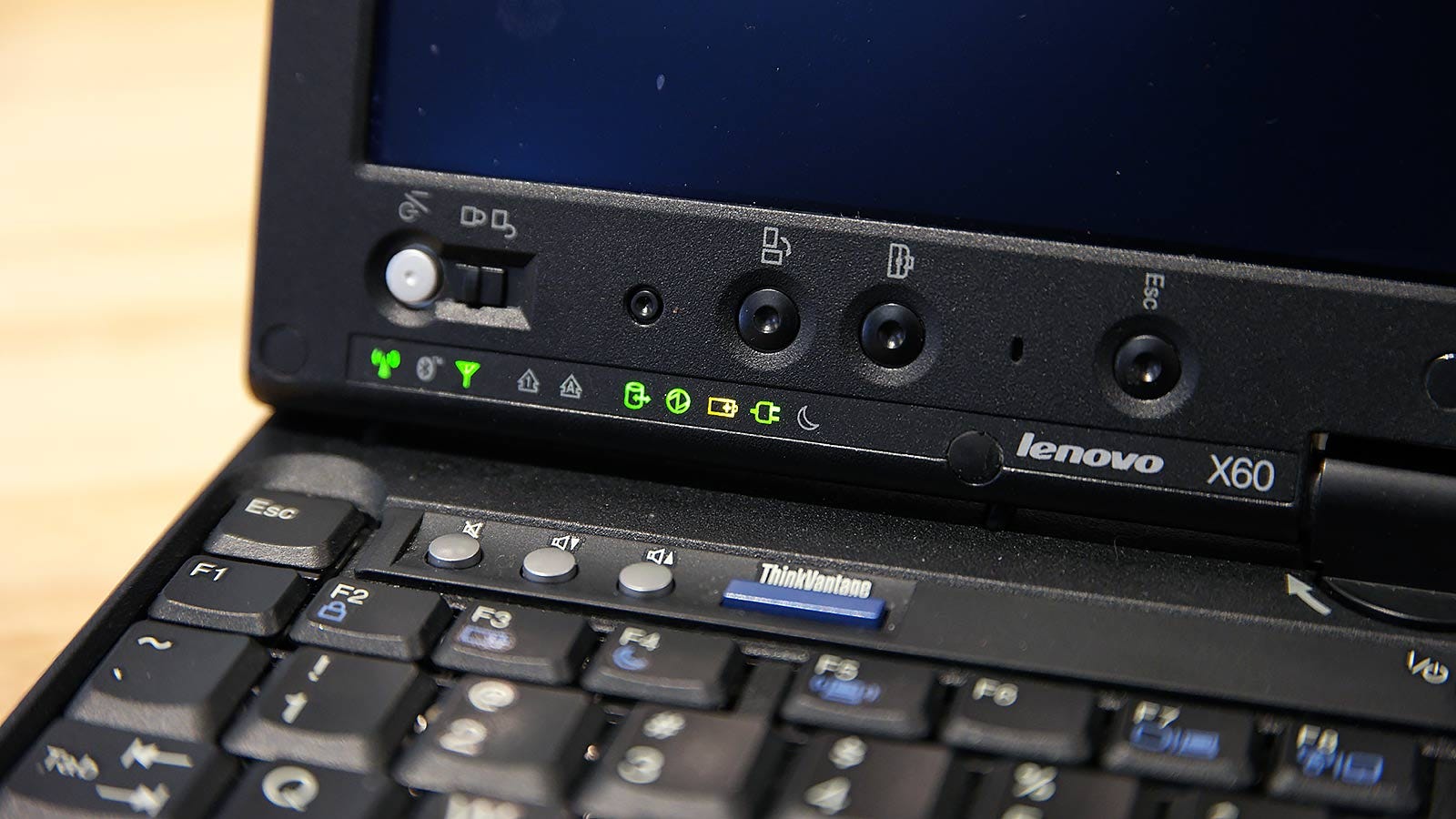 The sheer number of tiny icons and indicator lights reminds is nuts. It feels like being teleported into an episode of Stargate.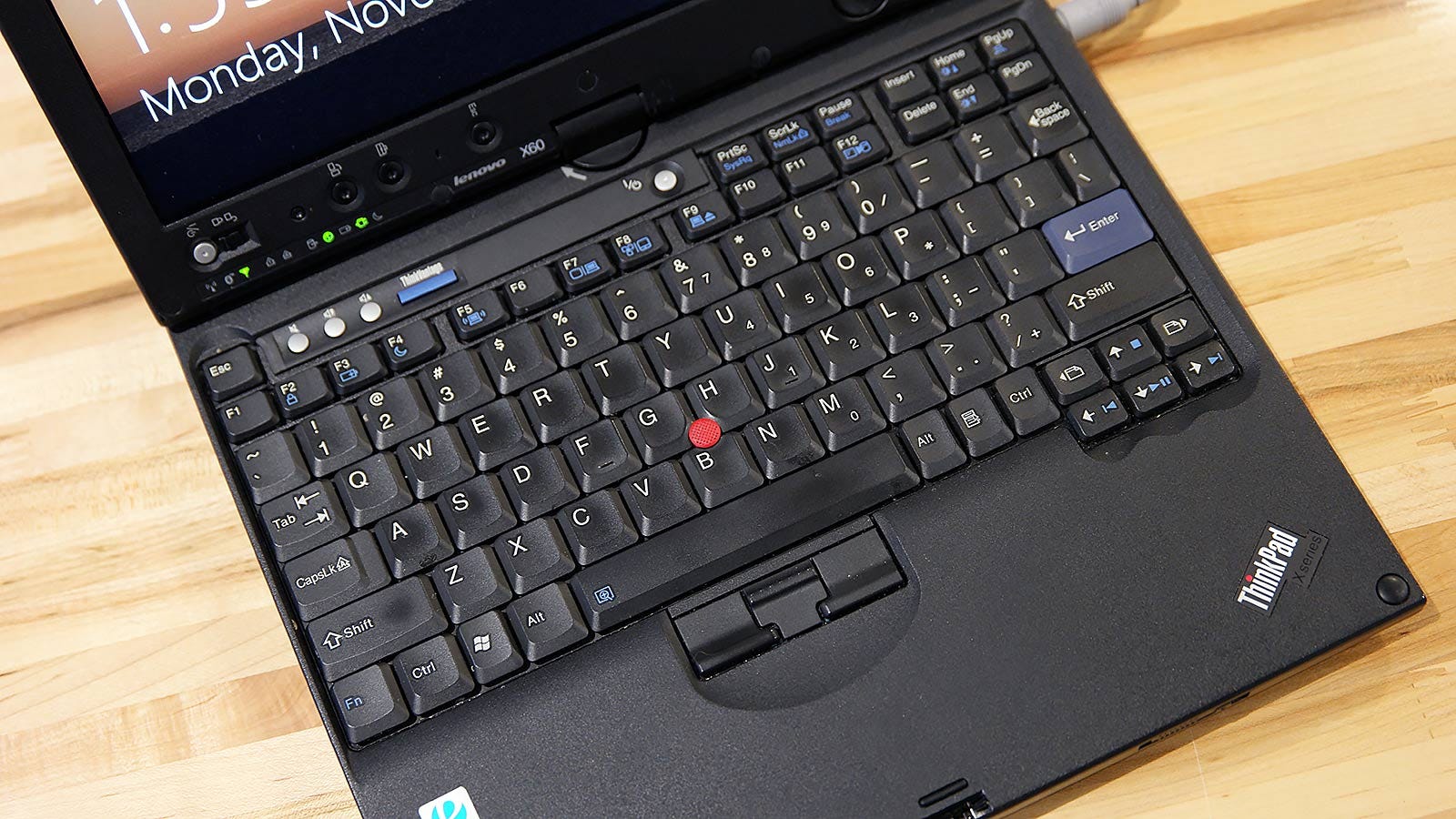 Despite some obvious wear, the keyboard still feels great.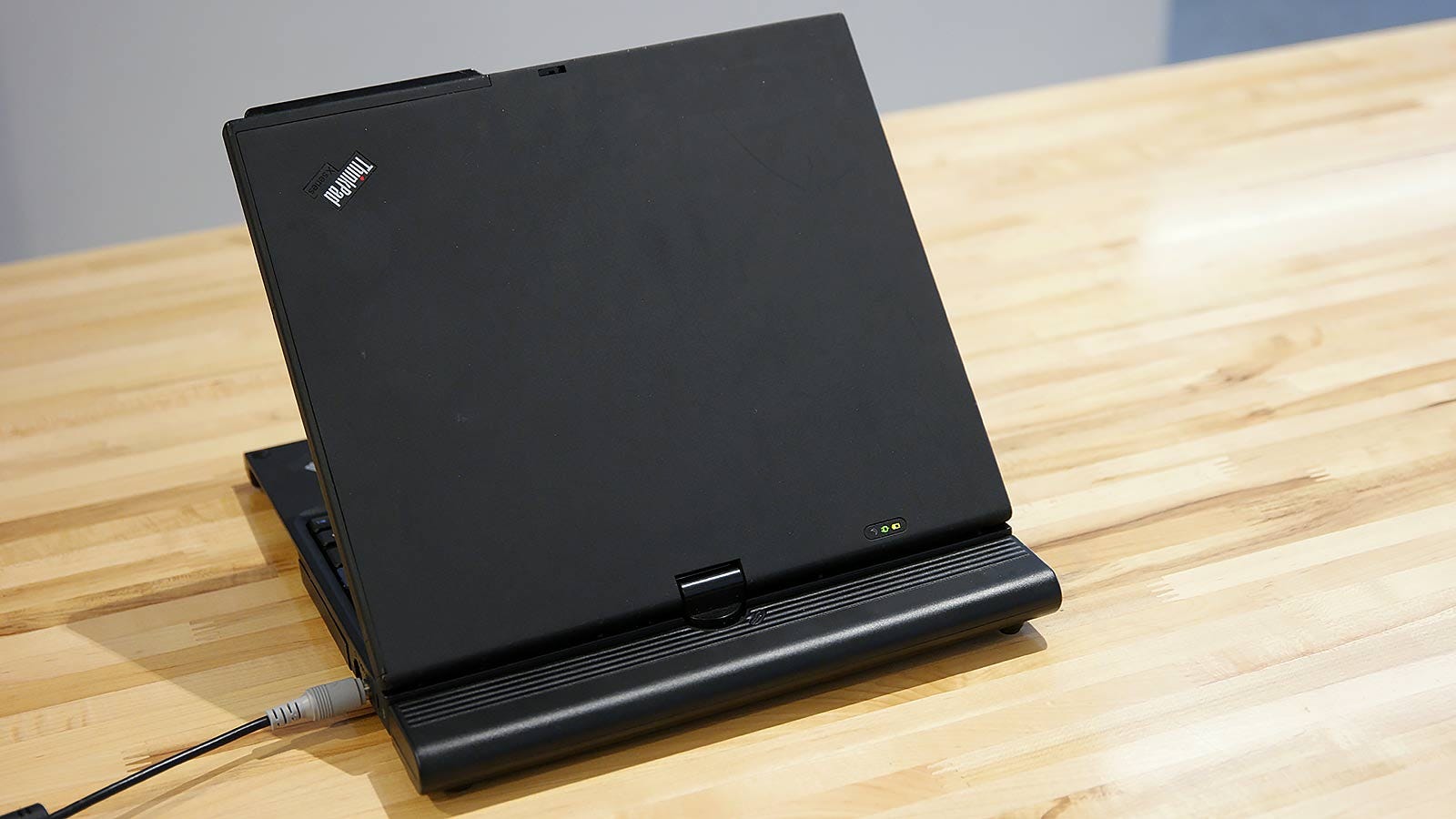 There are even HDD and battery indicator lights on the outside of the system too.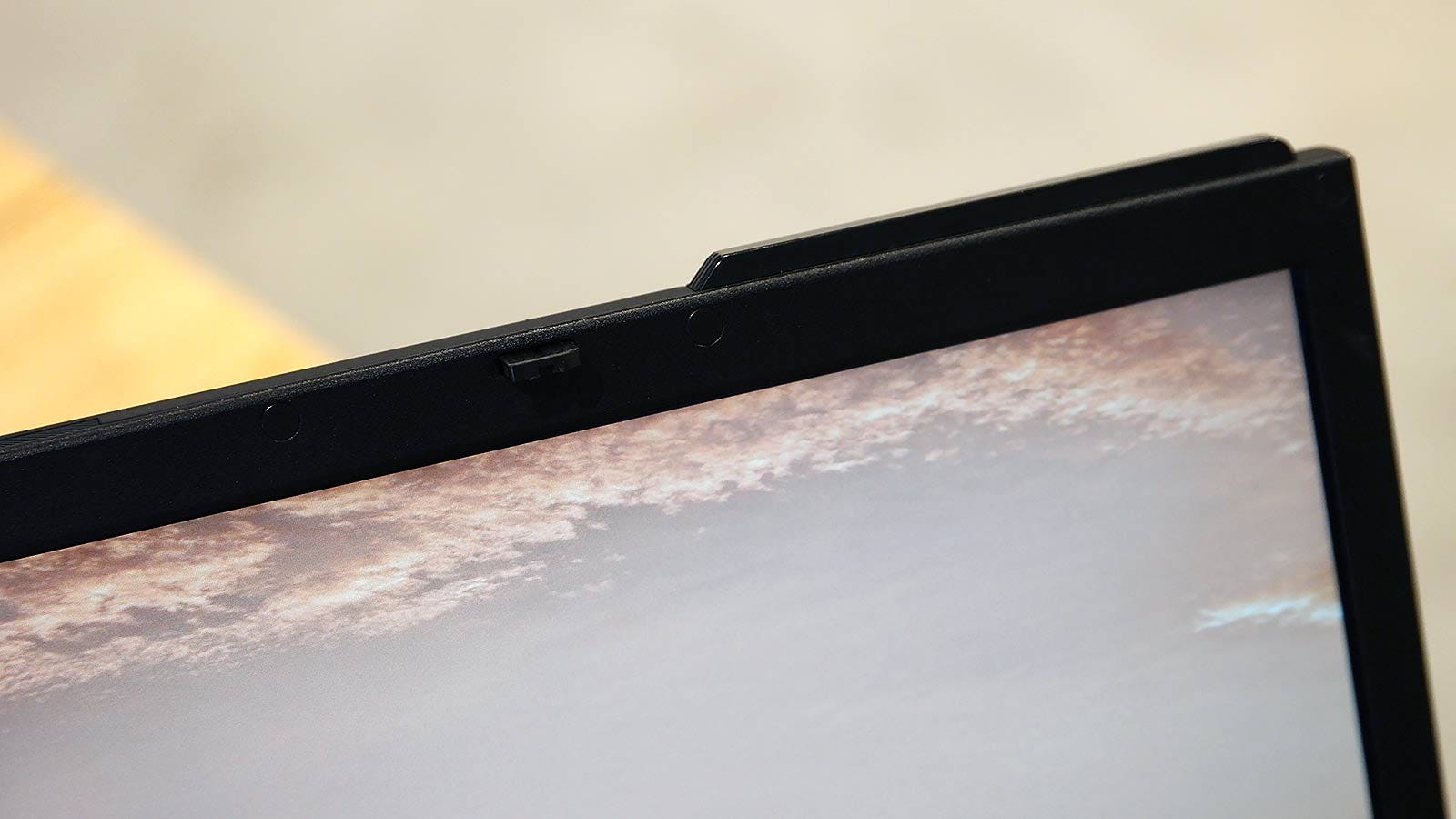 I think this is where that optional light is supposed to be, but I'm not really sure.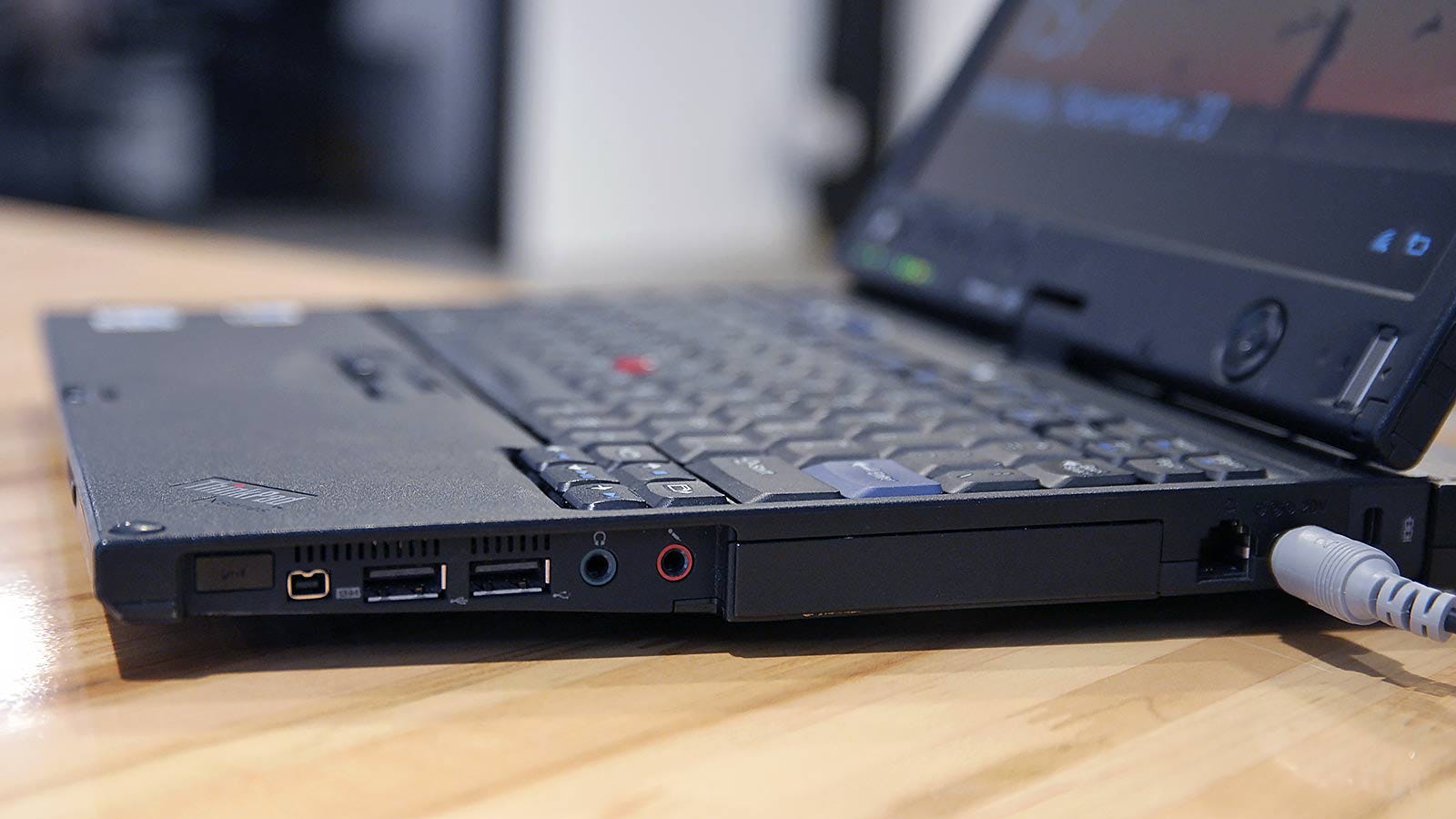 Check out the mini Firewire port. lol.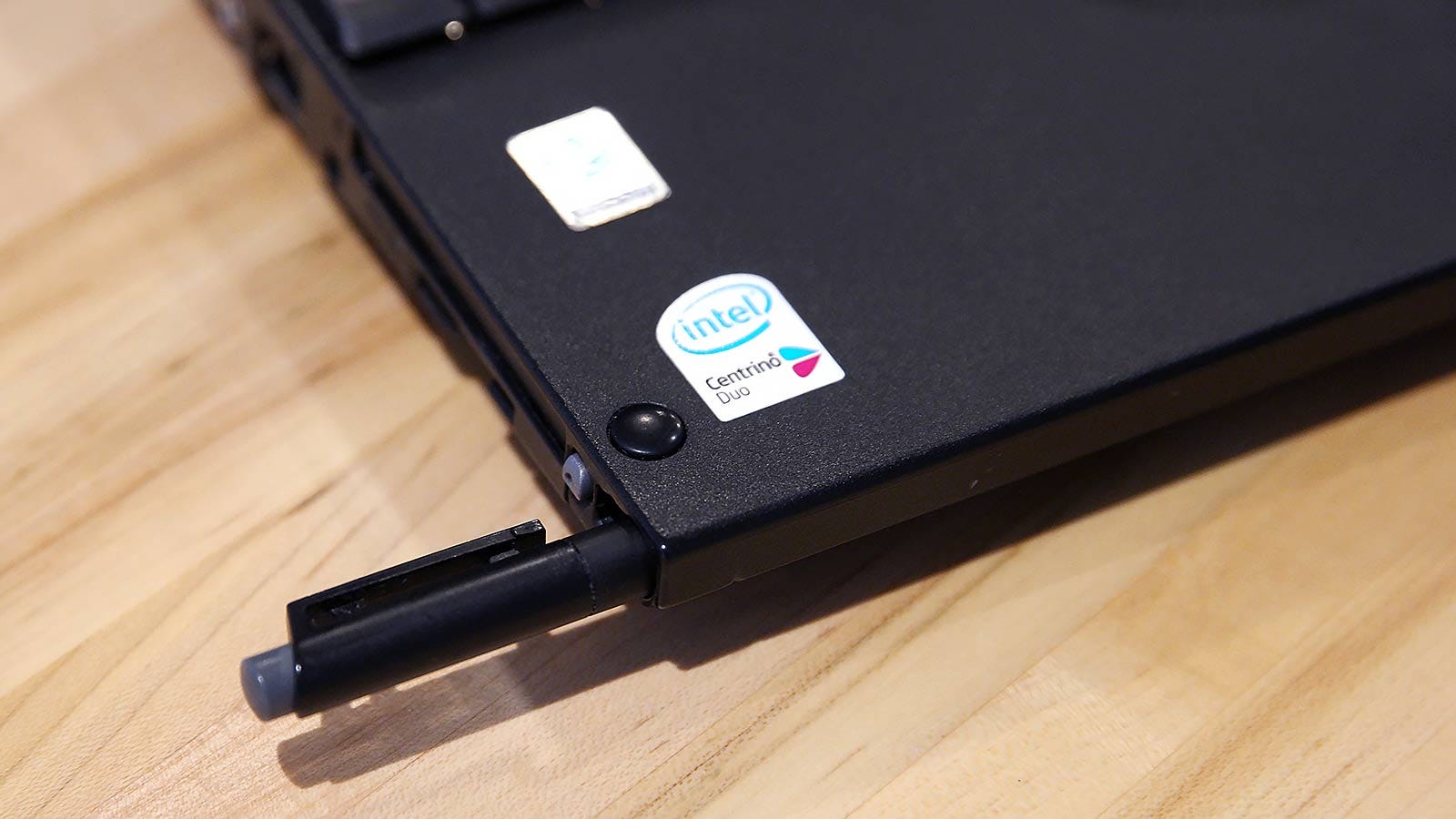 Microsoft and others could learn a thing or two from this old ass ThinkPad about built-in stylus storage.
The X60 is littered with tiny icons and status indicator lights that might as well be hieroglyphics in 2017. There's even a goddamn d-pad installed below the screen, supposedly so you can move the cursor around when the screen is flipped around.
I'll never know for sure because that functionality, like the screen rotation button and whatever the hell that briefcase icon is supposed to signify, didn't survive the X60's upgrade to Windows 10.
The computer also came with a stylus, which actually worked, until I tried to clean off what was probably 10 years of built-up gunk that was stuck inside the stylus on-board hidey hole. Once clean, the screen stop recognising the stylus.
But then again, built-in stylus storage! What a novel concept.
As a piece of outmoded hardware, the X60 is amusing enough to gawk at, but rather than just poking at it and scratching my head like Brendan Fraser from Encino Man, it was time to set this thing up as my main machine and try to get some work done. Holy crap was that a mistake. The next two days were some of the most unproductive work sessions I've ever had to put up with.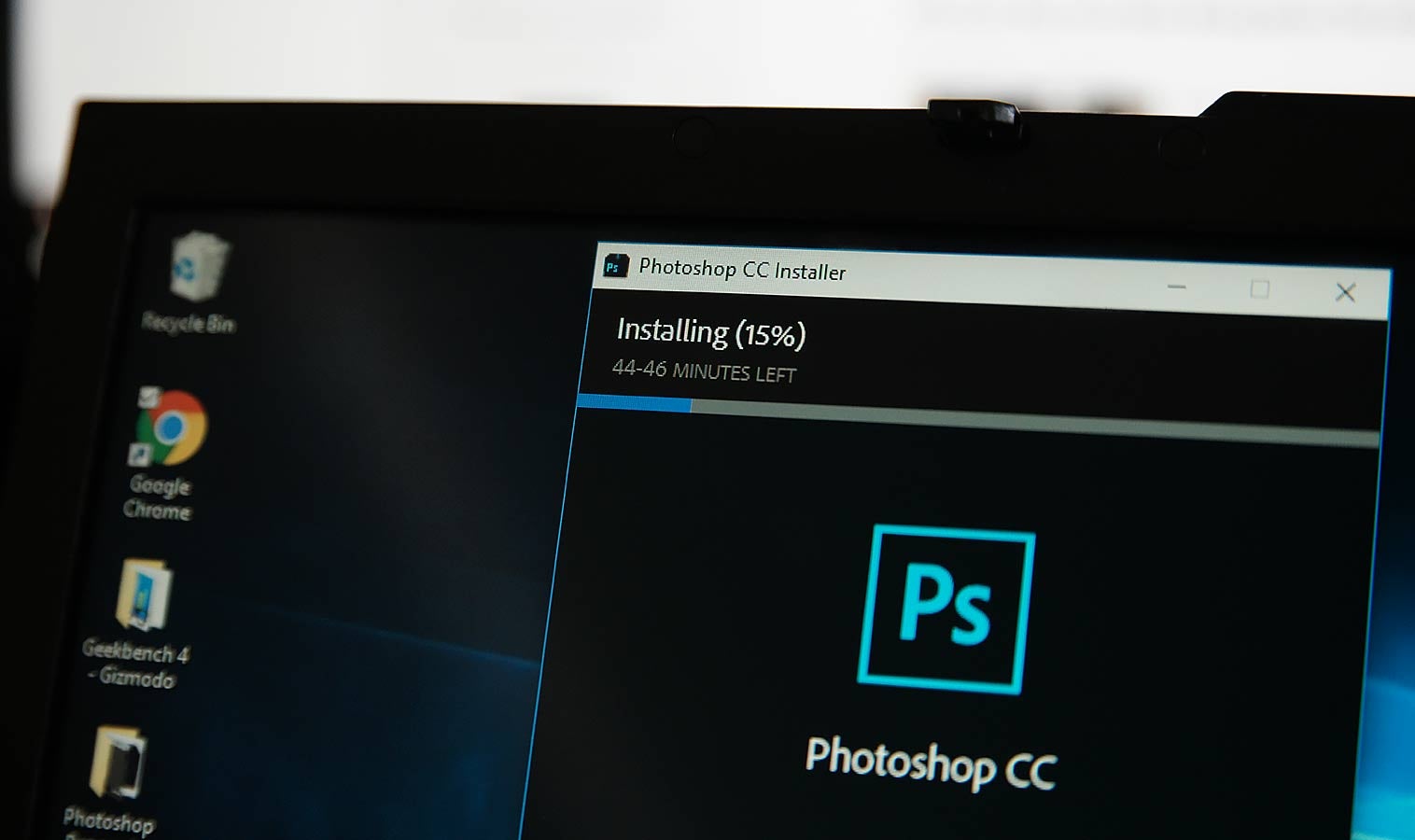 There were so many times when I had to just walk away and wait while this 11-year old laptops tried to catch up.
At first, things actually got off to a pretty decent start. I had no trouble connecting the X60 to my office's Wi-Fi network, though I clearly wasn't getting top network speeds from its 802.11 a/b network adaptor. But then things quickly went from being a fun little nostalgia trip to an infuriating sucker punch from 2006.
Everything I did, from logging into Windows to downloading Chrome or installing Slack, felt like it was happening in slow motion. It took more than three minutes for the Slack installer to open after clicking on the .exe.
Still, the real boss battle was installing Photoshop CC 2017. The program estimated it would take 44 to 46 minutes, and that was after I had already spent the previous 20 minutes downloading the necessary files.
All told, I waited more than an hour and a half before I was actually able to import a single image.
This thing ran hot ALL the time, and you can feel the HDD vibrate through the palm rest every time it spins up.
It was only after I ran the Geekbench 4 benchmark that I got a real perspective on how weak the X60's performance really was. Compared to the ThinkPad 25, on both single and multi-core performance, the X60 scored four to five times lower, and 10 times lower than the multi-core performance in the Lenovo Yoga 920 I recently reviewed.
Once Photoshop was finally up and running, the system was surprisingly smooth. Except when the X60's old-school 4:3 12-inch display and middling 1024 x 768 resolution made editing photos a serious pain in the arse. But the real problem was the angry red nub wedged in the middle of the X60's keyboard.
This is probably going to generate a lot of hate from the ThinkPad die-hards, but the Trackpoint sucks.
It's a holdover from when PC makers simply couldn't do any better, combining the worst things about touchpads and trackballs, but with none of the benefits. You could argue that Trackpoints might be less problematic as a secondary cursor control on a system with a touchpad, but as the primary way to mouse around on the X60, using this thing for every single task was tedious.
It got to the point where I was often typing while keeping the X60's stylus nestled between my thumb and index finger, so I could simply tap the screen, rather than let that demonic cat's tongue assault my digits again.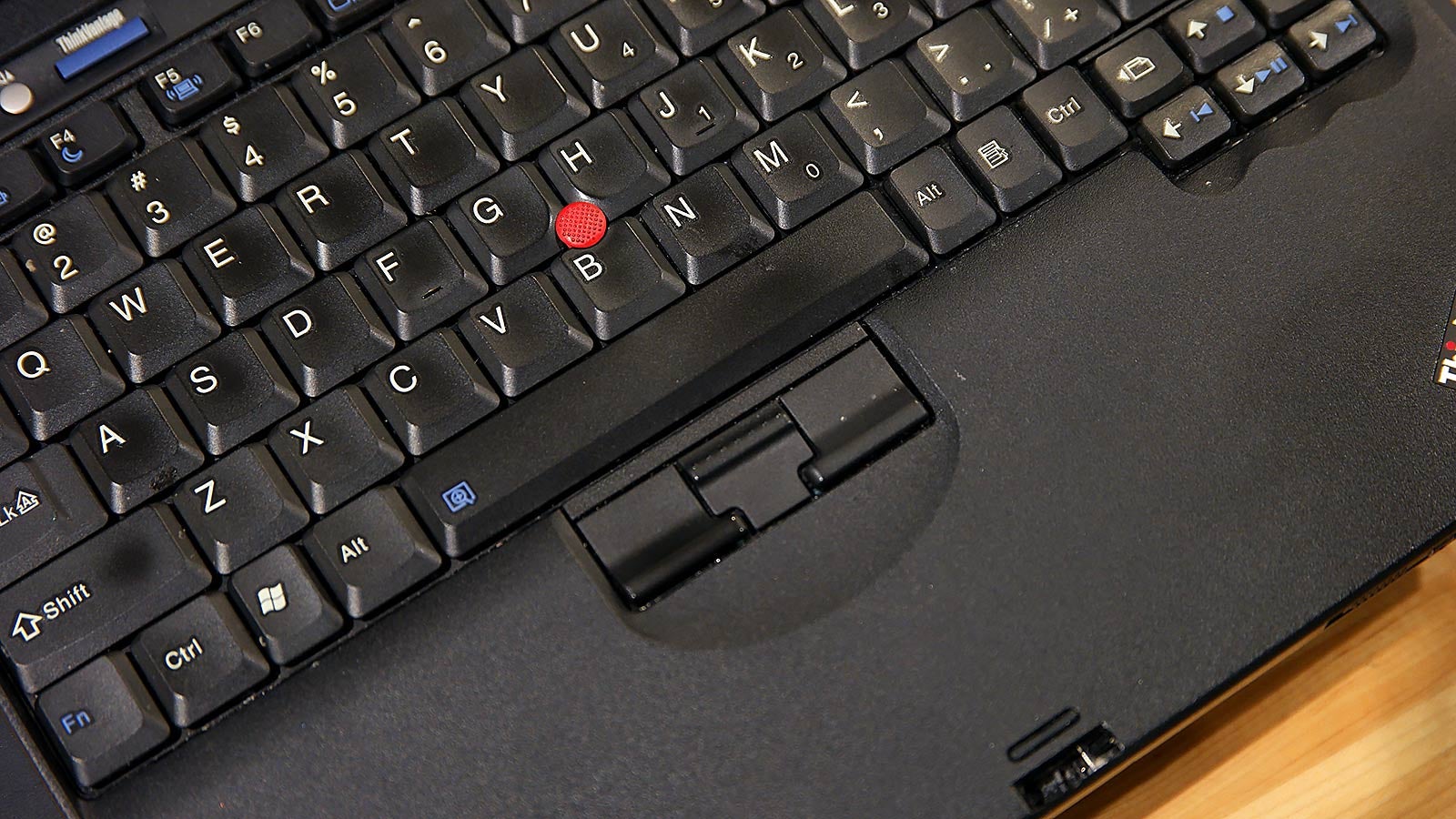 Because there's no touchpad, that little red nub became the bane of my existence.
On the bright side, the X60's keyboard was fantastic. Even after 10 years, the keys hadn't lost their spring. Still, details such as the ThinkPad's half-size Backspace key and microscopic Windows and Backslash keys remind you that there was still room for improvement.
Oh, and did I mention you can constantly feel the X60's hard drive vibrating throughout the entire machine? Also, the laptop's poor thermal control means that the wrist rest constantly measures about 100 degrees, so your're always sweating. After two days of using this decade-old ThinkPad, my hands and patience were wrecked.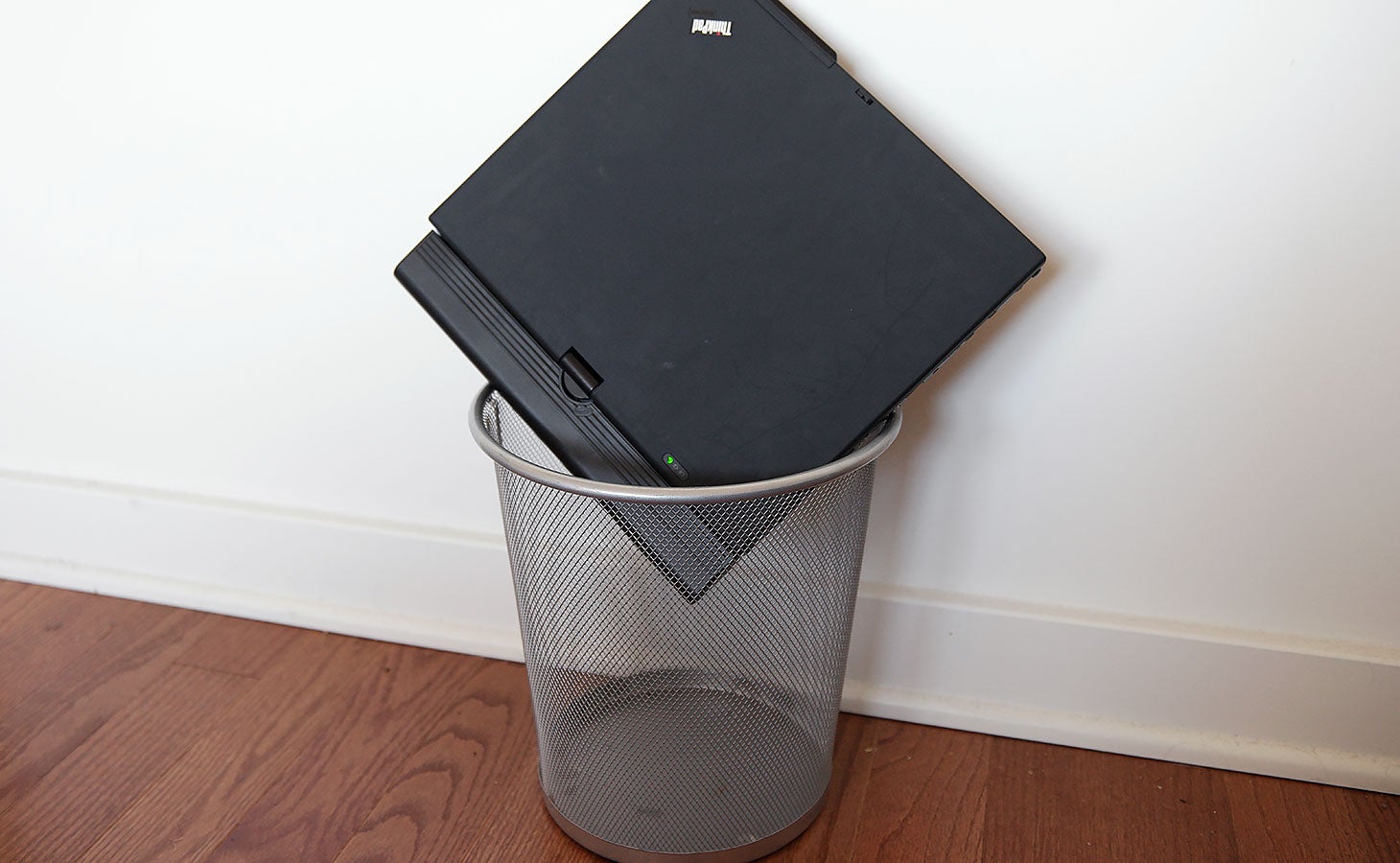 This thing won't die and it doesn't fit in my bin.
This is why Lenovo dressed up a boring T470 to create the ThinkPad 25 instead of reaching into the past and making something more authentic. Lenovo has spent the last 11 years refining and working out the kinks in its laptop design. I'm so glad they don't make computers like the X60 any more. On a related note, does any want some old ThinkPads? I'm in the market for something a little newer.