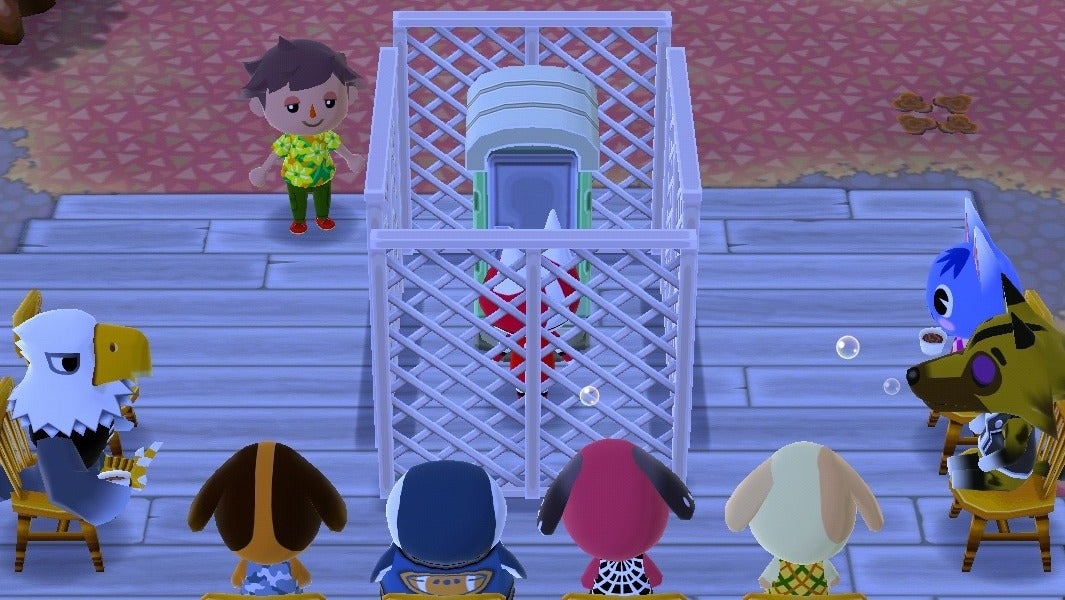 Animal Crossing: Pocket Camp has a couple of weird rules about furniture, and players are using those to make some really creepy camps.
Image Source: bubble-dreams
There are a couple quirks to how furniture works in Pocket Camp. If you place a lamp down, villagers will stand in front of it and turn it on and off. If you put an instrument down, they will also stand in front of it, playing a random note at random intervals. If you put a chair down, no matter if it's accessible or not, a villager will sit in it. You can even get villagers to spawn inside a maze of fences, as long as they're on your campground. Using this knowledge, you can make some fucking spooky-arse camps. Check out these lamp cults, for example.
The things you see on Animal Crossing: a lamp shade cult camp pic.twitter.com/ycgpobyoTv

— beth (@nefitune) November 26, 2017
A lot of players have taken to imprisoning some or all of their villagers within a series of fences. Game developer Hidetaka Suihiro, also known as Swery65, seemed pretty happy to get all his villagers in "animal jail".
Animal Jail.#どうぶつの森ポケットキャンプ pic.twitter.com/CQprRGrMse

— HidetakaSwerySuehiro (@Swery65) November 23, 2017
This theme is definitely popular among other players as well.
All according to keikaku. (Translator's note: keikaku means plan) pic.twitter.com/xOwp8EEMt2

— :yadi loves hayner ???????? (@saintlucios) November 25, 2017
He escaped and now he mocks me... pic.twitter.com/jma7mSrDSU

— :yadi loves hayner ???????? (@saintlucios) November 25, 2017
I promise if you visit my campgrounds, all the villagers will be living free, like God intended. Thank you.