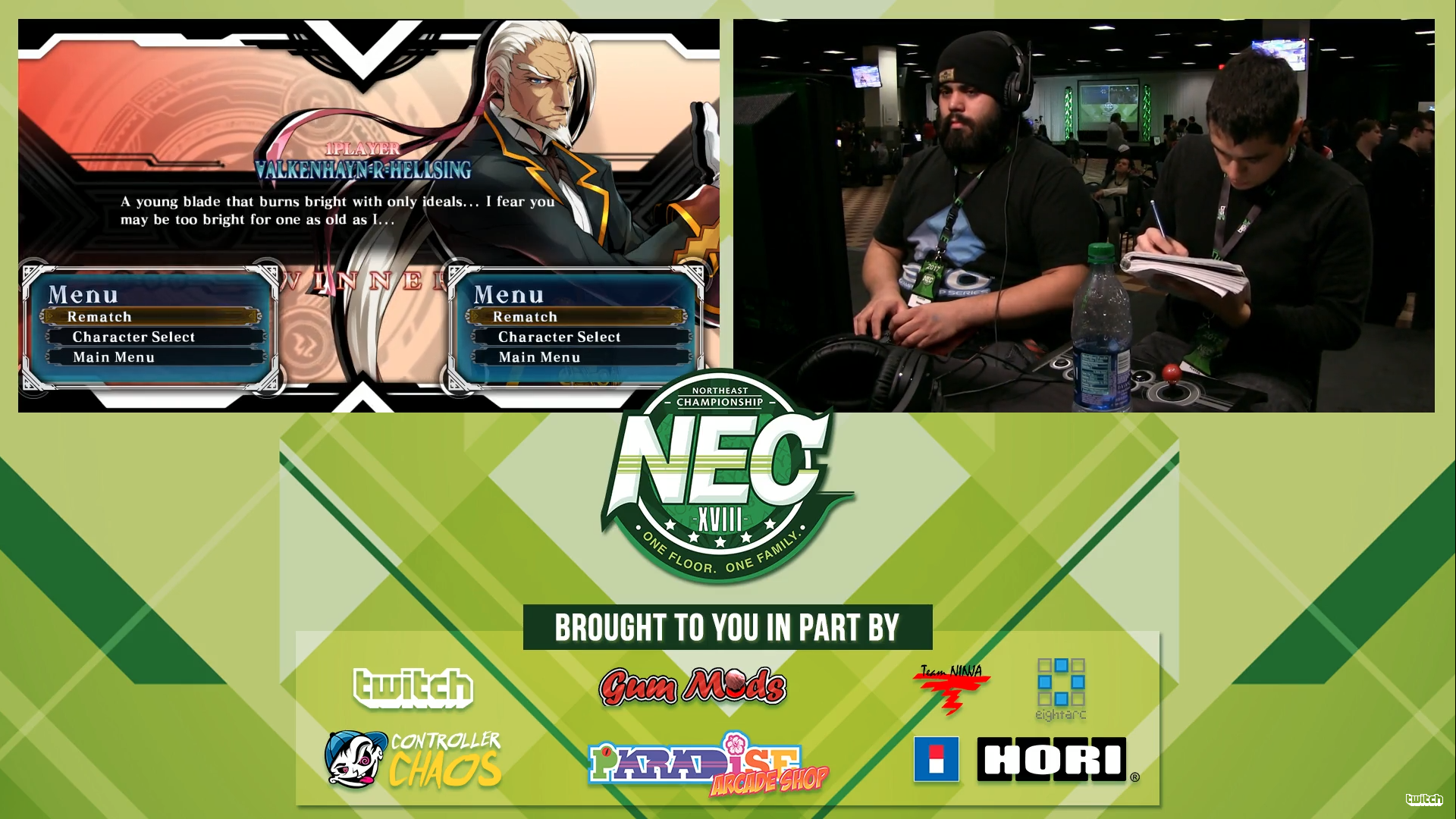 During yesterday's BlazBlue matches at the Northeast Championships, after a hard-earned win, one player decided to keep some thoughts on his mind the old-fashioned way: with pen and paper.
TCr Dolfy, a Valkenhayn R. Hellsing player, started scribbling immediately after he went up 1-0 on Serpent in their pools set. Some online speculated as to what this might be — as Twitter user Redcyber put it, "when you got pools at 6:00 but an essay due at 7:00."
After the set, Dolfy took to Twitter to explain why he takes notes on paper.
In case you're wondering what it is I actually write:

It's usually just small adjustments/notes and positive encouragement.

I struggle w/ short term memory and attention, physically writing out thoughts between games helps. https://t.co/lgMF7NwQdj

— TCr | HoliDolfy @ NEC (@DolfyIB) December 17, 2017
Additionally, it may be helpful if you have ADHD or a similar condition that affects your focus in-game. This made a world of difference for me (even if I look quite silly doing it)

— TCr | HoliDolfy @ NEC (@DolfyIB) December 17, 2017
Though it initially seemed silly, taking notes can be really good for memorization and internalization. Personally, I still keep a memo pad around for writing down stray thoughts and to-do's.
Dolfy would lose the set to Serpent, who was pretty psyched to pull off the win.
So maybe in this one case, the pen was not mightier than the (virtual) sword. Still, Dolfy's lesson is a good one to take to heart.
If you want to follow the rest of this weekend's BlazBlue action at the NEC, you can check it out over at FunkyP's Twitch channel.