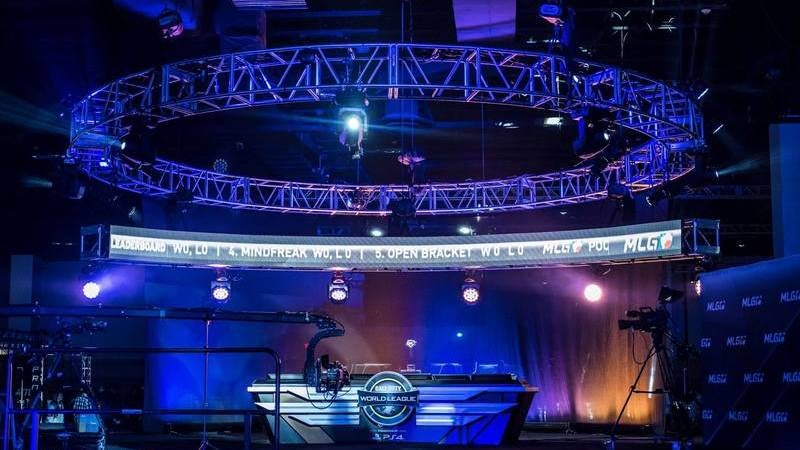 The Call of Duty Dallas Open was put on hold yesterday when the officials on site evacuated the the Kay Bailey Hutchison Convention Center. According to the city of Dallas, the Dallas Police Department received a "call about a bomb threat" there.
Image credit: MLG
Local TV reporter Rebecca Lopez says that a security guard called Dallas police, which had separately received a bomb threat:
Dallas convention center has been evacuated. Sources say a security guard called DPD saying he saw a back pack that looked like it had dynamite in it. Bomb squad called in. Sources say Crime Stoppers also got a calling saying Convention center would be blown up in 30 minutes.

— Rebecca Lopez (@rlopezwfaa) December 8, 2017
MLG, the organiser of the Call of Duty event and Vitality, one of the teams competing, both posted short statements saying that the event is delayed and that the current plan is to eventually resume play.
The Dallas Open is the first major event of the 2018 Call of Duty season, bringing many major teams to Texas.
At least some of the gamers on site aren't too traumatized, as a few are spending the delay making themselves into a dick to go with festive lawn ornament balls for the news.
In the meantime enjoy this perfect photo from #CWLDallas pic.twitter.com/hh6Rp3cI7F

— Auto Jake @ #CWLDallas (@BlessedJakee) December 8, 2017
Update: MLG has announced that the tournament will not resume and will continue as scheduled tomorrow morning.
CWL Dallas will not resume this evening and will continue as scheduled on Saturday December 9 at 10am CT. Doors open at 8am.

— MLG (@MLG) December 9, 2017
The Dallas police are currently still searching the convention center.
Update: The Dallas police department says it has completed a search of the convention centre and "determined there were no explosive devices".
Update: Bomb Threat at Convention Center

Explosive Ordinance Squad completed their searched of the convention center and determined that there were no explosive devices. A Hoax Bomb Threat offense will be generated on case number 279086-2017.

— Dallas Police Dept (@DallasPD) December 9, 2017