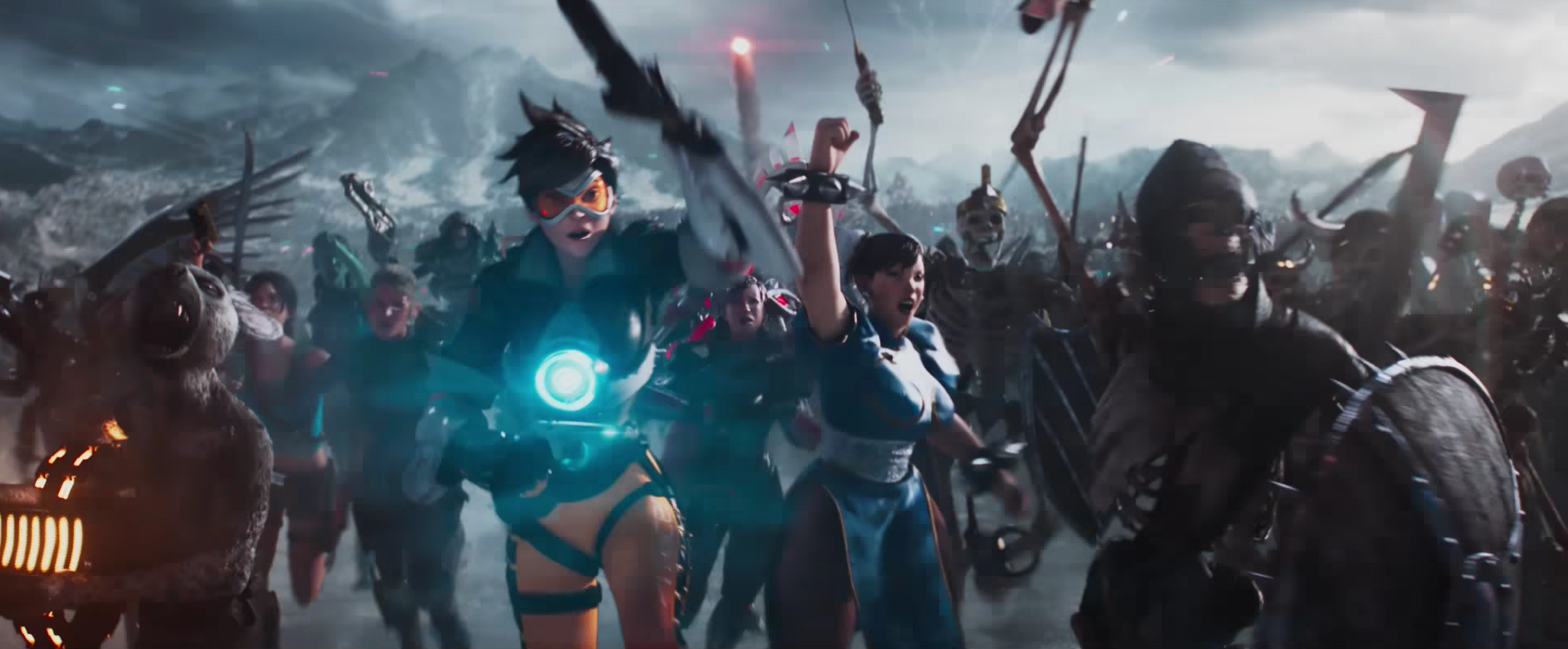 The first Ready Player One preview had a load of cameos and pop culture references, so it's no surprise that the latest one does, too.
The new trailer features Chun-Li and Overwatch's Tracer. There are also other cameos, with characters from games, anime and comics showing up.
Let's have a look!
Well, looks like it's confirmed: Gundam is having its Hollywood film debut in Ready Player One. Wild. pic.twitter.com/yvZfGY0OwS

— Tom Santa-znable (@TomAznable) December 10, 2017
ICYMI: Here's the moment Chucky appears in the #ReadyPlayerOne trailer.
Wonder if we'll see @JenniferTilly's Tiffany pop up in the OASIS? pic.twitter.com/Xgsbu6Zqms

— Raven Banner (@RavenBanner) December 10, 2017
Joker and Harley ????#ReadyPlayerOne pic.twitter.com/ZYAW3zqkJ6

— Navin*ALL IN (@Navinpraveen93) December 10, 2017
#LaraCroft #TombRaider in ready player one trailer , maybe a hint outfit for #shadowofthetombraider => https://t.co/18v8zEP6D3

— razorxc (@razorxc) December 10, 2017
Watching the @readyplayerone trailer, time for a new #battletoads game! @RareLtd #difficultgames #readyplayerone #raregames pic.twitter.com/MQQdHzUrvm

— Ryan Lord (@RyanCLord) December 11, 2017
Casual appearance from Ryu in the Ready Player One trailer. Still bare feet. Still walking. pic.twitter.com/EatgdrMRpB

— Tamoor Hussain (@tamoorh) December 10, 2017
Is that Battleborn characters in Ready Player One?! pic.twitter.com/28bcDzpgut

— Anime Outsiders (@animeoutsiders) December 11, 2017
more cameos from the Ready Player One trailer:

Deathstroke, Blanka, Joker & Harley Quinn

— Reeg // reegmatic (@nicregis) December 11, 2017
TRACER FROM OVERWATCH IS IN #ReadyPlayerOne!! Lara Croft and Chun Li are next to her. This movie is going to be amazing. pic.twitter.com/i89BF4AJBe

— Austin (@AustinCTweets) December 10, 2017
Expect endless camos and pop culture nods in the final film.
ready player one pic.twitter.com/VVUSCMNVng

— SungWon Cho (ProZD) (@prozdkp) December 10, 2017