Meet Nintendo's latest toy: a quirky combination of console and cardboard. It's Nintendo Labo, and the internet is already having a blast with it.
Announced earlier this morning, Nintendo Labo was basically billed as an interactive way for kids (and "kids at heart) to play with the Switch. What it ended up being was a crazy concoction where people could build cardboard tools and toys that interfaced with the Switch, ranging from cardboard pianos to fishing reels to a mecha suit.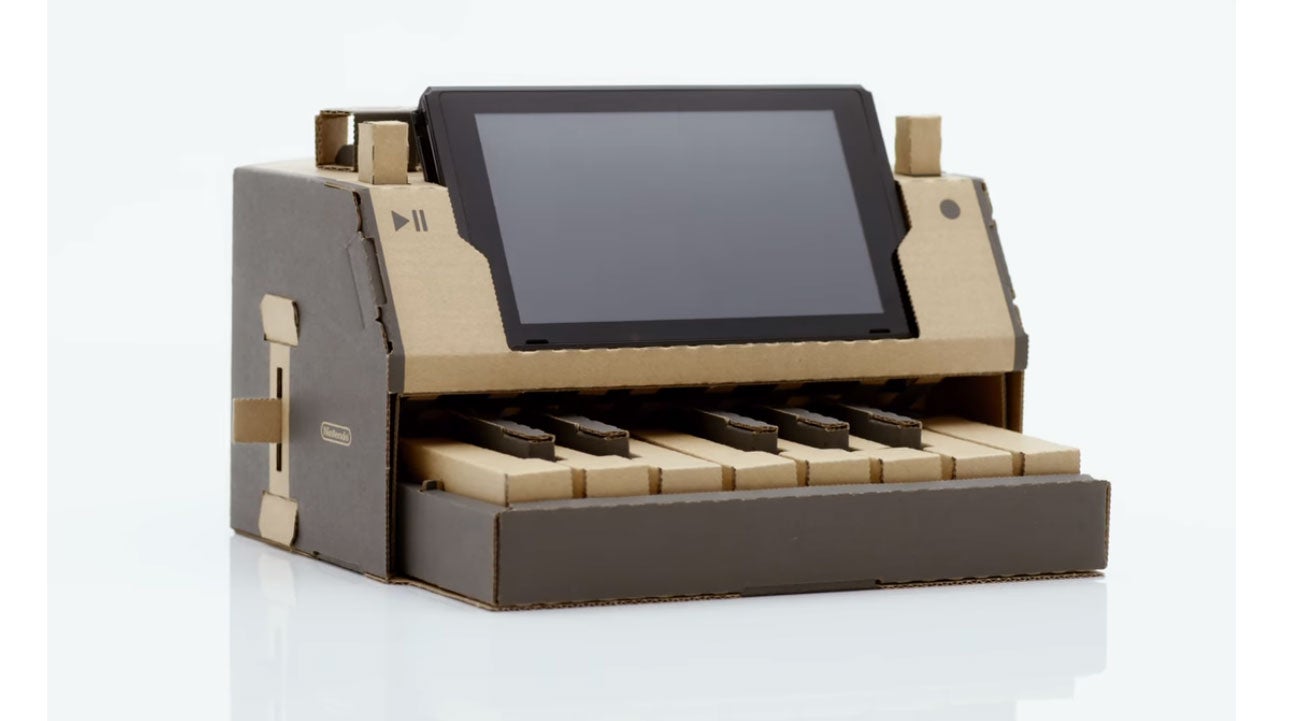 Nintendo today announced Nintendo Labo, a wild new experiment for the Switch that will allow players to insert the console into cardboard, creating items like robots, fishing rods, and foot pedals.
Read more
The internet's first move: recreate the Labo, by more or less labelling anything in the nearby vicinity.
Nintendo Labo (2018)

(developer Nintendo) pic.twitter.com/LRdinV4cjE

— Simpsons Videogames (@simpsonsvgames) January 17, 2018
Nintendo Labo (2018) pic.twitter.com/HHPRttTyDl

— Thom Coldman (@ColdmanHot) January 17, 2018
Mi gata después de ver el tráiler de #NintendoLabo @Eurogamer_es pic.twitter.com/gusHNsw9NI

— Jorge V.F. (@Yosoyelpeligro) January 17, 2018
Snake genießt schon lange Nintendo Labo pic.twitter.com/BUQykHN4jJ

— Altan (@ThcAltan) January 17, 2018
come play in my nintendo pic.twitter.com/mmb8SkT4Lq

— zack kotzer 2010 (@ZaaackKoootzer) January 17, 2018
got my Nintendo Labo dev kit pic.twitter.com/9W0nwR1lqw

— SRI | EXLemmy (@exlemmy_) January 17, 2018
a Kotaku sneak peek pic.twitter.com/NUK9h71Six

— Cecilia D'Anastasio (@cecianasta) January 17, 2018
its not working pic.twitter.com/BU477gyVcy

— Chris Kohler (@kobunheat) January 17, 2018
Nintendo has its new solution for Switch Voice chat pic.twitter.com/WOdSKt1eBG

— CEO Kaz Hirai (@KazHiraiCEO) January 17, 2018
Nintendo's new Labo just announced… pic.twitter.com/M00LKWTDEU

— …Since Spacies???? (@sincespacies) January 17, 2018
Playing Nintendo Labo on day 1 vs playing Nintendo Labo on day 30 pic.twitter.com/kU6HvJimJw

— Nibel (@Nibellion) January 17, 2018
Is this how the Nintendo Labo works? @NintendoUK pic.twitter.com/vFTP7eLoEG

— Game-Smack (@GameSmack_IRL) January 17, 2018
And if that wasn't enough, cheekier gamers took note of Labo's release date: April 20.
Nintendo Labo is priced at $69 and launches on 4/20 pic.twitter.com/to3WacFNtW

— David Rayfield (@RaygunBrown) January 17, 2018
Nintendo is launching the Labo on 420 my day couldn't get any better pic.twitter.com/Jf4W6PLlcN

— Pixel (@Pixelbyte__) January 17, 2018
Nintendo Labo is priced at $69 and due to release on 4/20.

…nice.

— ???? Canada's #1 Counterfeit Pronoun Trafficker ???? (@RewhanPottinger) January 17, 2018
And others couldn't help but draw comparisons back to the Wii era:
I think Nintendo just finally said, "You know what? This time with Nintendo Labo, you do it yourself!". pic.twitter.com/XAu3IFe4Lv

— raith (@1raith) January 17, 2018