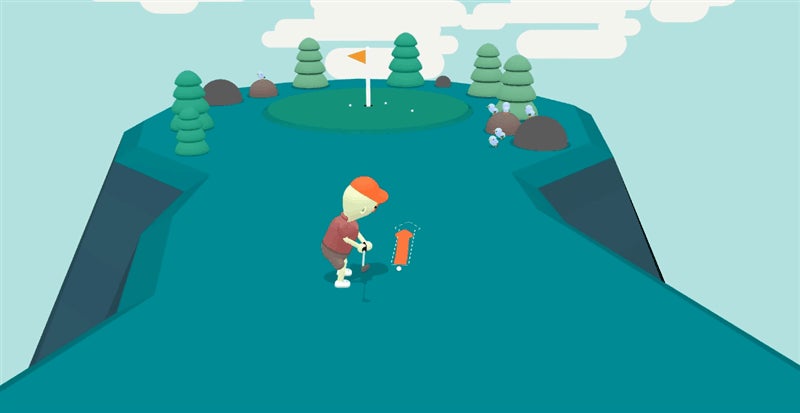 I like golf video games but detest the actual sport of golf. And so here I am, very excited to see a game catering specifically to this set of interests.
The brief for WHAT THE GOLF? opens with "Golf is boring - Help us fix it!", and I am 100% down for that. The game takes the absolute basic premise of golf - hit a thing with another thing to push it toward something else - and blows it up, with stages like this:
Valentine's golf is tough! #gamedev
- WHAT THE GOLF? - Back us on https://t.co/gPH1evvC5C pic.twitter.com/80nbXjYX5f

— Tim Garbos ⌨️ ????️‍♀️????⌨️⌨️⌨️ (@timgarbos) February 14, 2018
And this:
What is the difference between a Golf Club and a Golf Club?
At least you can play golf with both. #gamedev pic.twitter.com/zhOx3f0qa4

— Tim Garbos ⌨️ ????️‍♀️????⌨️⌨️⌨️ (@timgarbos) January 30, 2018
And this:
Is soccer/football a golf game? Double YES!
All games are golf games and we'll prove it! #gamdev pic.twitter.com/6EHX5ZV1b4

— Tim Garbos ⌨️ ????️‍♀️????⌨️⌨️⌨️ (@timgarbos) January 30, 2018
Wonderful.
WHAT THE GOLF? is being developed for PC, and is currently up on fig looking for funding.
Below is one of the funniest video game trailers I have seen for a long time.