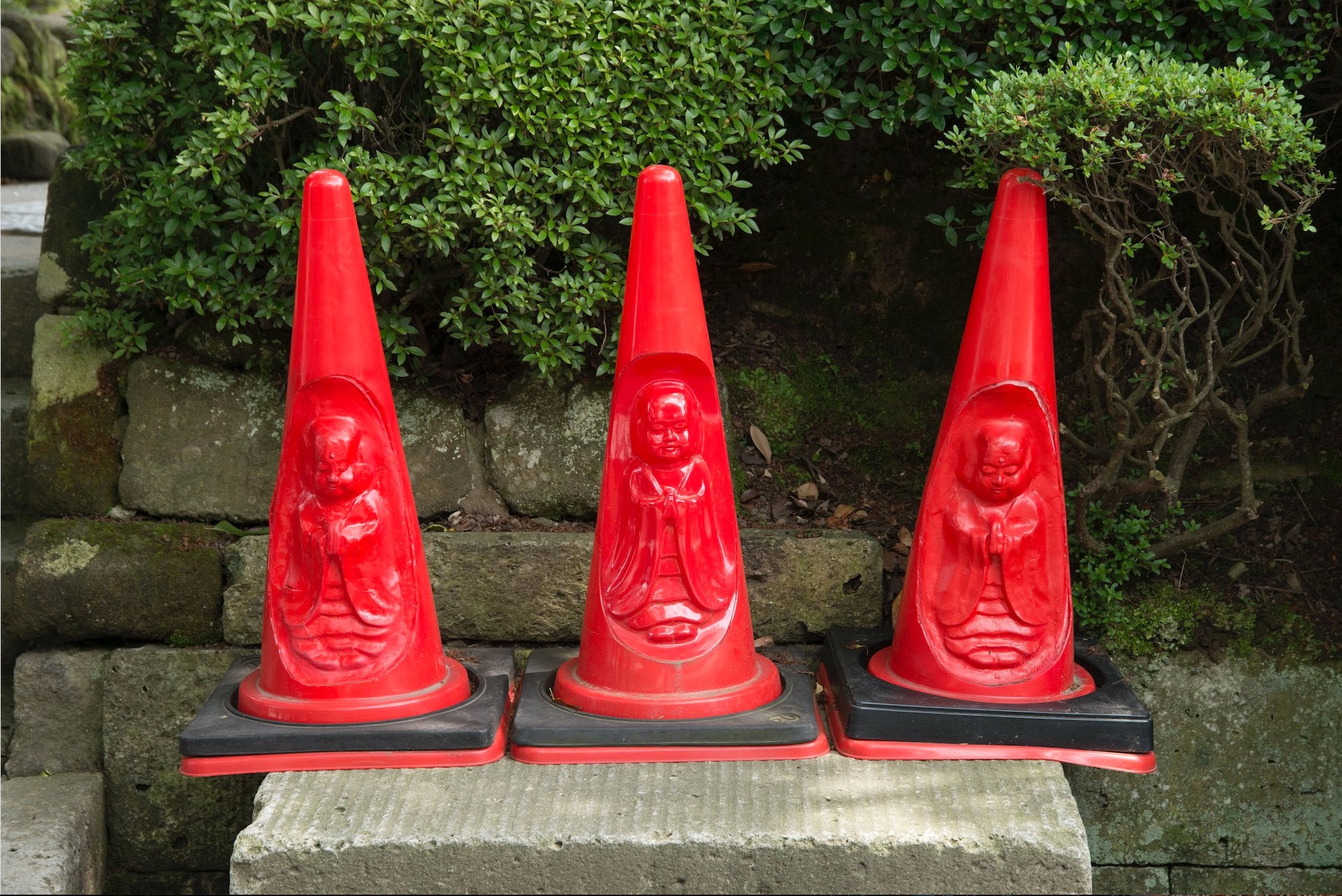 Traffic cones are roadside eyesores. But in Japan, there are spiritual ones, depicting the guardian of travellers and children.
[Image: Hanako_magazine]
On Japanese roads, stone Jizo Bosatsu statues are ubiquitous. If you've taken a walk in the city or a hike in the countryside, you've come across a Jizo statue, often wearing hats or bibs.
津田散策その3
ミニお遍路さん。
山をぐるっと回る道にお地蔵さんが並んであり、それぞれ四国八十八ヶ所に対応しているそうな。 pic.twitter.com/UkWp1M84cS

— 幻狐幽現 (@yuugenfox) April 22, 2017
同じく増上寺にて。かわいいお地蔵さん#RX10M4 pic.twitter.com/ranYJfKkUN

— 当局 (@himajin_tenjin) January 14, 2018
当山の霊園のお地蔵さんがニット帽をかぶっておられました。お参りの方がかぶせてくださったようです。なんだかほっこりします(執事) pic.twitter.com/R3KgQTkrxY

— 眼の観音さま 柳谷観音 (楊谷寺) (@youkokuji) January 19, 2018
Few deities are more beloved in Japan than Jizo, a favourite of adults and children alike.
お供えはいりません お地蔵さまがコーンに転身(カナロコ by 神奈川新聞) https://t.co/7QF2JtzCsL pic.twitter.com/pTt09BtnvZ

— 江の島が好きな人 (@enoshimaotoko) December 5, 2015
Artist Fusao Hasegawa created the first Jizo traffic cone over 10 years ago. Since then, over a hundred of them have been created and are available in different colours.
地蔵コーンの一般販売開始です。値段は八千円。色は赤、青、緑、黄。ご購入の方はメールください。JIZO-CONE is now on sale. Price = ¥8,000-. Contact me if you want it. pic.twitter.com/5mW4YMhtBX

— Hasegawa Fusao (@hasegawa_fusao) August 2, 2016
カラーコーンの地蔵が、今年の夏頃から製法・素材を一新した第4世代になります。仕上げのクオリティも耐久性も、従来のものより大幅にグレードアップ。顔もツルツル。ご注文受け付けております。 pic.twitter.com/MroHuBwpLo

— Hasegawa Fusao (@hasegawa_fusao) May 19, 2016
ラジオでお地蔵さんのカラーコーン(パイロン)を紹介していたのでググってみた。 pic.twitter.com/4ZXBQrzwUR

— 瑠唯(るい) (@positiv65174587) October 4, 2016
Considering how common Jizo statue statues are in Japan and their associations, adding the guardian to traffic cones makes perfect sense.
"I want them used exactly as regular traffic cones," Hasegawa told IT Media, adding, "I'm going to keep making them until they become a regular part of the typical Japanese landscape."
お地蔵さまコーン初めて見た。ちょっとこわい……:(´◦ω◦`): pic.twitter.com/qOGjGdGJE8

— みっちょん@足袋ーず|ω・)و ̑̑༉ (@micchoooin) March 26, 2017
【日帰りでも、泊まりでも。鎌倉】
周辺を山々に囲まれた鎌倉は、自然の地形を生かしたユニークなハイキングスポットがわんさか。今回「歴史探訪ロングコース」と名付けた、建長寺を起点とした「天園ハイキングコース」もその一つ。写真は、建長寺境内にあったお地蔵様コーン!! #Hanako pic.twitter.com/DxcKfoD3hm

— Hanako (@Hanako_magazine) June 20, 2017
昨日、北鎌倉円覚寺で発見したお地蔵さん付きコーン pic.twitter.com/9ejeeLuT0h

— 『プリニウス』ヤマザキマリ+とり・みき (@plinivs) January 21, 2018
Do other countries have this much fun with pylons? Or is it just #Japan? pic.twitter.com/l8i4xot1Yt

— Kamakura By The Sea (@Kamakura_By_Sea) February 1, 2018