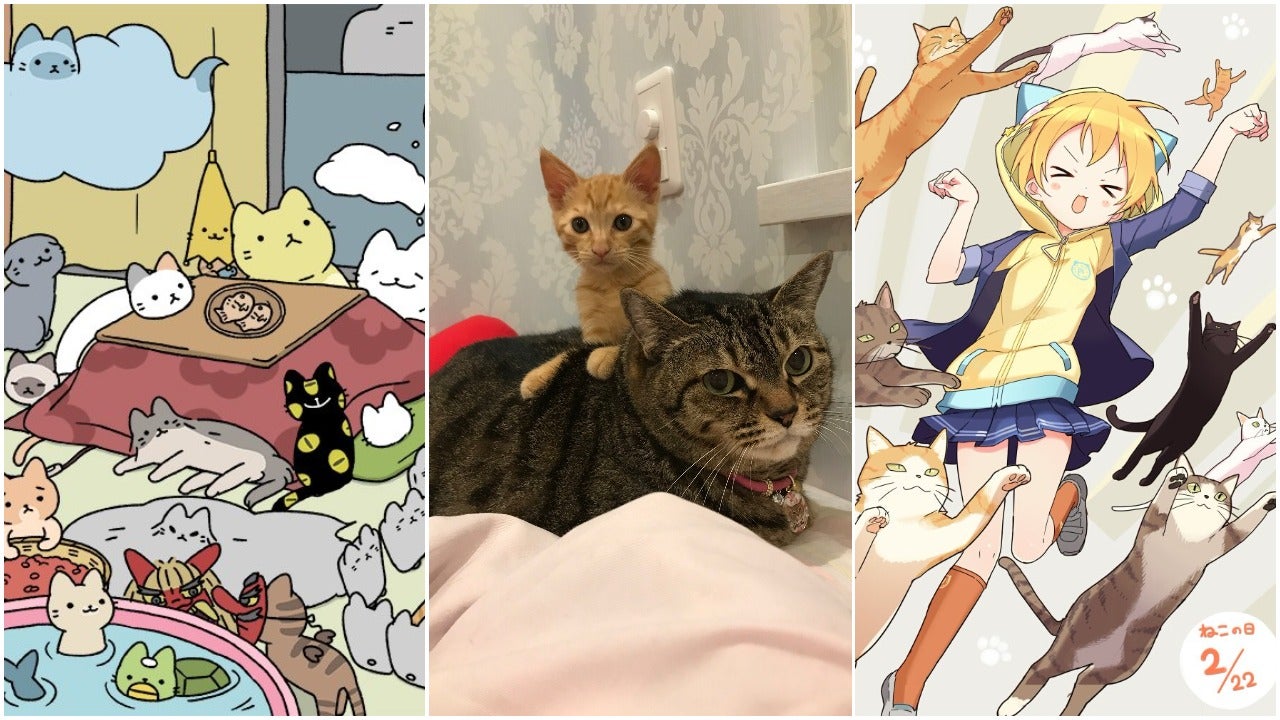 Around the world, National Cat Day is on October 29. But in Japan, it's held on February 22.
Images: pandania0 | shoko55mmts | rassie_s
While not a national holiday (you still have to work, cat lovers!), the game has been marked in Japan since 1987.
Why is Cat Day on February 22 in Japan? According to Matome Naver, it's a wordplay on the Japanese for "nyan" (meow) and the number "ni" (two). "Nyan nyan nyan" is 2/22, or Cat Day in Japan.
On Twitter, Feline fans are posting pictures and art under the tag #猫の日:
2月22日は猫の日
世界中の猫たちが
幸せになりますように pic.twitter.com/Z7eOj8WF2n

— 中川翔子???????????????????????? (@shoko55mmts) February 22, 2018
猫の日です!
本日『おじさまと猫』第1巻が発売しました!
皆様ありがとうございます!(*´∀`*)#猫の日 pic.twitter.com/cYdqHm5lJR

— 桜井海 (@sakurai_umi_) February 21, 2018
おやすみなさい(^^)????
あっ!
今日は #にゃんにゃんにゃんの日 らしいです????????
友希那、今日あなたはどう過ごすのかしら?(*´꒳`*)????#バンドリ #ガルパ #猫の日 #猫と友希那 pic.twitter.com/oswuUAYg2X

— 相羽あいな (@aibaaiai) February 21, 2018
???? #猫の日 pic.twitter.com/7CDc2DbCf3

— ねこ助 (@m_oxo) February 21, 2018
みんな少しでも暖かく過ごせますように。 #ねこの日 pic.twitter.com/xAMGewqNzQ

— 元祖ふとねこ堂 (@mojugiso) February 21, 2018
2/22 猫の日記念!ネコ勇者で星ドラやってみたにゃ???? 動画公開中!
コチラ???? https://t.co/kNNUiViWSl#星ドラ #猫の日 pic.twitter.com/EwVj3Im70F

— 市村 龍太郎@星ドラ スキャバト (@RyutaroIchimura) February 21, 2018
にゃー!!#猫の日 pic.twitter.com/0Ck0CA8G44

— らっす (@rassie_s) February 21, 2018
#猫の日 なので、ねこが手伝ってくれるこんな職場があったらいいのになっていうイラストを置いていきます。 pic.twitter.com/s9sIgkdh1m

— ちいさんぽ (@chiisanpo62) February 21, 2018
ねこようかい単行本、2月22日発売です。よろしくお願いします! #ねこようかい  #猫の日 pic.twitter.com/emFpURSJQr

— pandania (@pandania0) February 21, 2018
A few doodles for Cat's Day~
.
.#猫の日 #ハイキュー #haikyuu #kenmacat #catday pic.twitter.com/7QVETrI6Gl

— Eddie @ monster hunting ???? (@SkettiArt) February 22, 2018
今日はいい天気だニャー ニャン ニャン ニャン ????#猫の日 pic.twitter.com/sNyLSWrBre

— いちろー (@lindaichiro) February 22, 2018
猫の日????旧图 pic.twitter.com/bARtjnKom9

— Mosan (@MosasaurSun) February 21, 2018
出かけたいのに・・・

今日は2/22(にゃんにゃんにゃん)で、 #猫の日。 pic.twitter.com/TPeq7aNuT8

— Volkswagen Japan (@VW_JPN) February 22, 2018
猫の日なので良い顔してくれないかな〜とカメラ向けたらこのきゅるるん顔。かわいいな〜も〜。@婿 pic.twitter.com/uJukKyR0bG

— ふーちゃん@ねこ休み展 (@foochan0711) February 21, 2018
#猫の日 pic.twitter.com/V5EHFFsHl4

— 石っころ (@ishikkoro) February 22, 2018
???? ???? LUNCH time????????❣️#猫の日 pic.twitter.com/tmhsiXQC7b

— 辻斬りっちゃん (@325xMITSUKO) February 22, 2018
Cat's wave#illustration #イラスト #猫 #ねこ #しろさん #猫の日 #2月22日は猫の日 #富士山の日 #2月23日は富士山の日 #Hokusai #北斎 pic.twitter.com/NIH8g5XZEJ

— 石川ともこ (@tomokoishikawa_) February 22, 2018
猫の日だそうですね、にゃんにゃん pic.twitter.com/3AvI85Pd0g

— はもーね@大盛りライブ2参戦 (@Se_zegia) February 22, 2018
Happy Cat Day.#猫の日 #CatDay pic.twitter.com/R1cxJZpjt7

— 梁原正寛 Masa.Ryohara (@ryohara_masa) February 22, 2018
今日2月22日は、猫の日????
リラックマたちも猫になってみました♪

みんな、おこしてあげて〜#猫の日 #ねこの日 #ネコの日 pic.twitter.com/1ZM87MTSp4

— リラックマごゆるりサイト【公式】 (@rilakkuma_gyr) February 21, 2018
折角なのでこのツーショットをもう一度…???? #猫の日 #MHW pic.twitter.com/ZP7WEA1PW3

— 小森雨太 (@comori_uta) February 22, 2018
#ねこの日 pic.twitter.com/WTVJsjG8kS

— 炒め (@detteiw) February 22, 2018