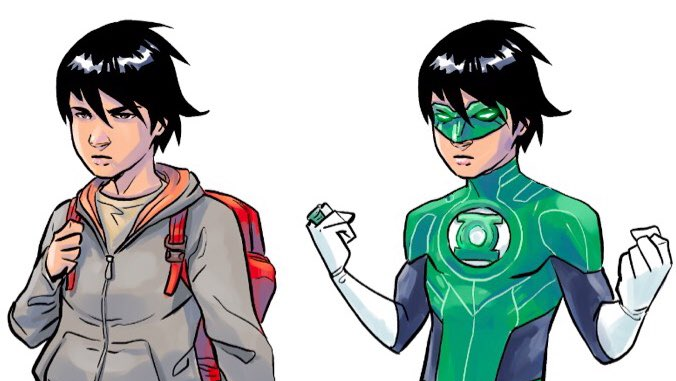 Recently, DC Comics announced Zoom and Ink, two imprints focused on putting out books for junior high school aged readers and young adult readers. Now, author Minh Lê of the upcoming DC Zoom book Green Lantern: Legacy has given a glimpse at an entirely new Green Lantern.
Image: DC Comics
That new Lantern is Tai, a 13-year-old who finds himself in possession of his grandmother's "jade ring" after she passes away. Only, of course, that's no jade ring at all: It's a Green Lantern Ring. Tai's grandmother was a hero, and now he has to carry the mantle himself.
Excited to share peek (& early concept art) at GREEN LANTERN: LEGACY at #alamw18. ????

When 13yo Tai's gma passes away, her "jade ring" finds its way to him. Turns out ring is a GL power ring & his gma was secretly a superhero. Now it's up to him to carry on that legacy. #DCZoom pic.twitter.com/zIgEQxY1pv

— Minh Lê (@bottomshelfbks) February 10, 2018
At this time, Lê, author of Let Me Finish! and Drawn Together for Disney Hyperion Books, said that he couldn't presently reveal the artist responsible for the concept art shared above (presumably the artist of the book, as well). But he did share a delightful personal connection to the work: The premise is based on his own grandmother, who wore her own jade ring, and his other grandmother, who gave him a jade ring of his own 20 years ago.
Inspired by my own grandmother, who was a hero of mine and one of the strongest willed people you could have met.

And of course, she had a jade ring. pic.twitter.com/0A2y4z8LkM

— Minh Lê (@bottomshelfbks) February 10, 2018
That's adorable.
[Twitter]