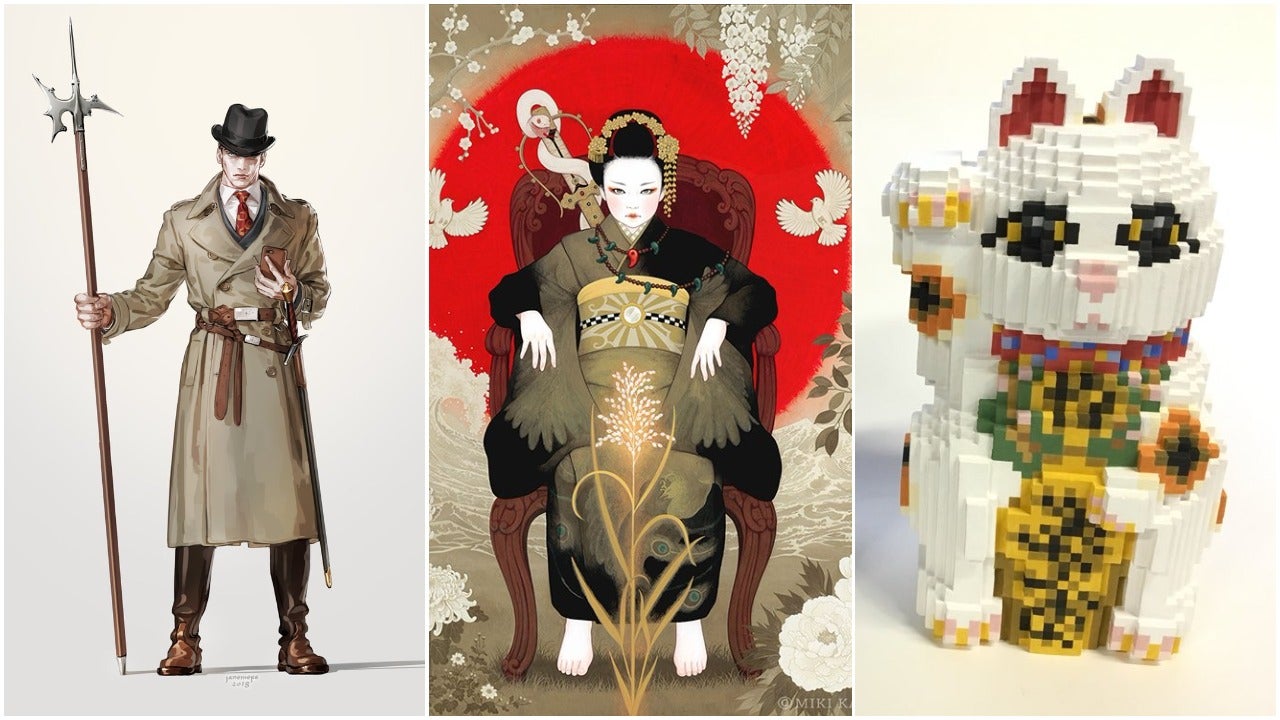 In Japan, there is a Twitter hashtag that creative types are using in hopes of getting more exposure for the amazing things they have made.
Image: toshiyamasuda, hinamokuren, janemere
The hashtag is #私の作品もっと沢山の人に広がれ祭り which basically means "A Festival To Get My Work Out To Many People".
There are some amazing pieces. Such as these, for example.
主に動くレゴを作ってます#私の作品もっと沢山の人に広がれ祭り pic.twitter.com/mGxSkQbEYQ

— はしもと (@05yattaran) March 10, 2018
#私の作品もっと沢山の人に広がれ祭り 動物と和と洋といろんなものが好きです pic.twitter.com/zzMyB7fmuk

— とびはち (@tonbippo08) March 8, 2018
油絵で、主に人物画を描いております。
写真ではなくて絵画ですよ~????
よろしくお願いいたします。
#私の作品もっと沢山の人に広がれ祭り pic.twitter.com/B7isLLn8FT

— 岡靖知 (@yasutomooka) March 8, 2018
BLUE#私の作品もっと沢山の人に広がれ祭り pic.twitter.com/AiSw5YgHY4

— loundraw (@loundraw) March 12, 2018
最近は専ら路地を引っこ抜いております。 #私の作品もっと沢山の人に広がれ祭り pic.twitter.com/fBkKKR3Str

— 猫耳工廠見習い (@nekomimikoushou) March 7, 2018
このタグ見てたらみんなすごかったので私も( ●˙∞˙● )#私の作品もっと沢山の人に広がれ祭り

京都夜景、春夏秋冬(`•ω•´) pic.twitter.com/BRawXTTjLA

— いなだのうさ氏@写真屋 (@usalica) March 9, 2018
世界設定とキャラデを考えるのが趣味です。#私の作品もっと沢山の人に広がれ祭り pic.twitter.com/F3OOor0QHs

— PALOW.(パロウ) (@PALOW_) March 10, 2018
ガッシュという絵の具で描いています。
現実と異界が交わるような刹那や
ちょっと神様寄りの世界観が好きです。
現在アートフェア東京に出品中です。
#私の作品もっと沢山の人に広がれ祭り pic.twitter.com/keiJroiPkQ

— 加藤美紀*3/21〜3/27グループ展『春』 (@hinamokuren) March 9, 2018
日本の伝統文化をロボットで表現しようというテーマで製作した茶道ロボ

パワフルです#私の作品もっと沢山の人に広がれ祭り pic.twitter.com/TvPQggweWZ

— aNo研 (@anoken2017) March 11, 2018
主に日常の風景を描いてます
#私の作品もっと沢山の人に広がれ祭り pic.twitter.com/6lzzSLrEpG

— ぼず (@boseman_AO) March 13, 2018
ポケモンバルーンアート#私の作品もっと沢山の人に広がれ祭り pic.twitter.com/WyBwnQ3rHo

— 8bitballoon しま (@8bitballoonart) March 7, 2018
色々な方の作品が見れて面白いハッシュタグですね。#私の作品もっと沢山の人に広がれ祭り

私は1/12サイズでミニチュアを作っています。
最近はアクリル棒を旋盤して彫刻する
ミニチュア切子グラス作りが楽しいです。 pic.twitter.com/cssLDGbTb4

— megu (@meguxmini) March 9, 2018
#私の作品もっと沢山の人に広がれ祭り
他の人が作らないような腕時計を作ったりします。 pic.twitter.com/yb3qyMhmMa

— フリスクP (@FRISK_P) March 9, 2018
よろしくお願いしま~す#私の作品もっと沢山の人に広がれ祭り pic.twitter.com/gxGQpkcRtA

— 友野るい Rui Tomono (@kyame) March 13, 2018
1/12サイズのドールハウス&ミニチュアを作っています。
眺めていると、小さくなってすーっと作品の中に入り込んでしまう様な空間作りを目指しています。#私の作品もっと沢山の人に広がれ祭り pic.twitter.com/VN06UfbHEa

— MERU"s studio. (@merustudio) March 12, 2018
何でもゴージャスに登場させる箱
かなり需要はありそうだったので、
剛性とゴージャス度の高いモデルを今年作る#私の作品もっと沢山の人に広がれ祭り pic.twitter.com/jDCA7MUKV1

— 柴田和弥 (@86siba) March 9, 2018
広がるといいな(o^^o) pic.twitter.com/65Vr7xURBv

— きよちゃん (@kiyochan1227) March 8, 2018
#私の作品もっと沢山の人に広がれ祭り
1/150ARCHITECTURE。 pic.twitter.com/CO7ag7w46S

— hiro (@hruchrak) March 10, 2018
久しぶりにタグ失礼します。
水彩画でおもに風景など描いてます。#私の作品もっと沢山の人に広がれ祭り pic.twitter.com/o61N8bZqZ1

— Ame (@Ame_watercolor) March 11, 2018
#私の作品もっと沢山の人に広がれ祭り
(わ、私も便乗…!) pic.twitter.com/eDoawy6O7D

— 錠マヱ (kumano) (@shellm1988) March 7, 2018
全部やきもの(陶芸)です〜

LEGOじゃないよ〜(死ぬほど言われる) pic.twitter.com/F0qO7ysPp9

— 増田敏也 (@toshiyamasuda) March 7, 2018
イラストボードやキャンバスにアクリルとガッシュで描いてます。美しいカワイイを伝えるのが目標。5月に個展やりますのでお願いだから来て#私の作品もっと沢山の人に広がれ祭り pic.twitter.com/og4orqm8Ez

— 撫子凛 (@nadeshicorin) March 10, 2018
#私の作品もっと沢山の人に広がれ祭り 最近はSci-Fiと女性をよく描きます pic.twitter.com/yxc2WzJaEX

— EVILVIT (@evilvit) March 11, 2018
優しい(?)いきもの#私の作品もっと沢山の人に広がれ祭り pic.twitter.com/HG6b3Xohuz

— もの久保 (@13033303) March 9, 2018
今年はおっさん中心にしてる。
現代騎士シリーズ、その1:Swordsman、Archer、Halberdier。#私の作品もっと沢山の人に広がれ祭り pic.twitter.com/0ybOtUmQJq

— JaneMere (@janemere) March 10, 2018
食べたものを描いてます!
#私の作品もっと沢山の人に広がれ祭り pic.twitter.com/kMDdVCH3sY

— たじ まこと (@taji_makoto) March 11, 2018
紙を切って貼ってドラゴンや幻獣を作ったり。 #私の作品もっと沢山の人に広がれ祭り pic.twitter.com/LzUptSRwIE

— ????アッシュ???? (@Ash_garm) March 10, 2018
#私の作品もっと沢山の人に広がれ祭り
粘土とアクリル絵の具で頑張って作ったんです見てくれオギャ〜〜〜〜〜〜〜???????????????????????????? pic.twitter.com/RvpdY7vYnJ

— BENIO???? (@popopo2017) March 10, 2018
背景含め全て普通のカラーボールペンで描いてます。#私の作品もっと沢山の人に広がれ祭り pic.twitter.com/8ZNNTBzQW8

— 磯野キャビア (@isonocaviar) March 10, 2018
#私の作品もっと沢山の人に広がれ祭り
服のしわ好きです pic.twitter.com/hNVGHuF9Fv

— あいこ (@aikohi_ji_ki) March 9, 2018
#私の作品もっと沢山の人に広がれ祭り
サラサクリップで幾何学模様のボールペン画を描いている者です。 pic.twitter.com/q9fxQXZqji

— 歪宮憂 (@sleep_sputnik) March 9, 2018
ぜひ!#私の作品もっと沢山の人に広がれ祭り pic.twitter.com/5193bPTLl0

— まめふく (@mamefuk) March 9, 2018
和風が好きです#私の作品もっと沢山の人に広がれ祭り pic.twitter.com/FZKvRuGtX1

— キツネ (@kitsuneiro) March 10, 2018
#私の作品もっと沢山の人に広がれ祭り
立体的に見えるかもしれない絵とか描いてます。 pic.twitter.com/0Umcy9216m

— 水鳥なや@きらら4月号掲載 (@mina_naya) March 11, 2018