Say hello to Enfys Nest (allegedly), a Destiny-arse-lookin' villain from Solo: A Star Wars Story.
We've barely seen anything of Solo: A Star Wars Story, but one of the most striking groups of characters that we have is an alien gang that Han will seemingly go up against in the film. It turns out that gang may have a really weird and lovely nod to Marvel's earliest Star Wars comics.
As it is wont to do ahead of any official release date, Solo: A Star Wars Story merchandise has already started hitting shelves across the US. One particular toy, recently posted to the Star Wars Leaks subreddit, features the above bad guy riding a Swoop Bike, the mode of transport of choice for the discerning low-life in the Star Wars galaxy.
Most intriguingly, the toy gives this character a name and some background detail: Enfys Nest, apparent leader of a gang of bikers known as the Cloud-Riders.
Now, hear us out – we love to dunk on "spoilers" that come from toys, because they're usually wildly inaccurate.
But that typically comes from toys being based on premises or moments that may not actually be in a film (cough cough, Joker-Batman in Suicide Squad) rather than details like character names or little bits of worldbuilding. So maybe take this with a pinch of salt, but we're inclined to believe it's accurate given that the description of Enfys on the back of the box actually has a weird, wonderful, and very obscure throwback to the old Expanded Universe: the Cloud-Riders themselves.
The Cloud-Riders came from the planet Aduba-3, and in the EU, were lead by a guy called Serji-X Arrogantus, which, lets be honest, beats "Enfys Nest" as a dumb-good Star Wars name hands down.
They terrorised villagers on the planet so much that one of them hires Han Solo and Chewbacca to defeat the gang and protect Aduba-3's crops. Han and Chewie accept, putting together a motley crew of mercenaries who name themselves the Star-Hoppers to fight Serji-X and his men. Think Seven Samurai, but they were eight of them, and one of them was a giant green rabbit … more on that in a bit.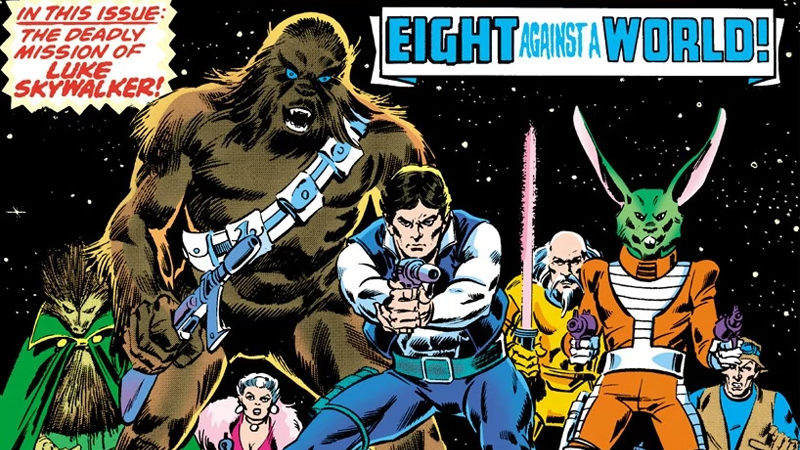 The cover art for Star Wars #8, featuring the Star-Hoppers of Aduba-3.
Yes, this story line – "Eight Against a World!" by Howard Chaykin, Roy Thomas, Tom Palmer, and John Costanza – first published in November 1977, is famous for two particular reasons. Published in Star Wars #8, it was the first issue of Marvel's Star Wars series that wasn't an adaptation of A New Hope, making it the first original tale the company told in the galaxy far, far away.
But it also introduced us to Jaxxon, a giant, fluorescent-green space rabbit (sorry, a the character, and harangued Marvel about the creation so much, Jaxxon was quickly dropped from the comics – never to be seen again outside of the butt of plenty of jokes about how weird and silly the Expanded Universe could be.
Now, like we said, take all this with a pinch of salt until something that's not a piece of merchandise mentions it. But given that Solo is bringing in Tag and Bink, Star Wars' own answer to Rosencrantz and Guildenstern, a deep cut as silly as a reference to one of the most infamous Marvel Star Wars comics probably isn't too out of place … even if, sadly, it's not actually a big green rabbit man showing up in Solo.
[Star Wars Leaks via Screenrant]