This past Thursday, a former moderator for Overwatch League's Twitch channel who goes by the handle Uncleswagg posted about having been unceremoniously demoted from his duties with no explanation from Blizzard. On Friday, former Blizzard employee and World of Warcraft streamer Cher Scarlett came forward to say that Uncleswagg had non-consensually posted naked photographs of her and other women in 2012 and 2013. The same photo album resurfaced again in 2017.
Screenshot: Overwatch League/Twitch.TV
Cher Scarlett's post includes screenshots of supposed messages from Uncleswagg in which he claims to have deleted the album, yet the 2017 photo set has the same album ID on the image-sharing site Imgur as it did back in 2013. Since publishing her original post, Cher Scarlett has added an update: "I've spoken directly with Uncleswagg about this. He says it wasn't him, and has no idea how someone could have reactivated the album. I believe him."
Uncleswagg did not respond to our inquiries about the situation before press time. Uncleswagg has not revealed his legal name online, but has said that he is from Canada. Multiple provinces in Canada have laws against revenge porn. Cher Scarlett said that she has "no desire to pursue something legally" but that "if the other women affected wish to do that, that's their choice".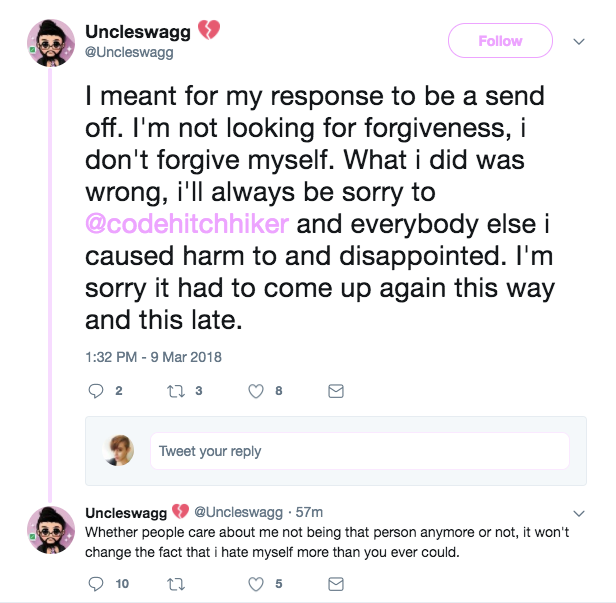 Screenshot: Uncleswagg/Twitter
Uncleswagg's removal as moderator for the Overwatch League Twitch channel may not have had anything to do with his revenge porn cache. We have reached out to Blizzard to ask about the moderator's demotion and have not yet heard back. Uncleswagg remains a Twitch moderator for the official Overwatch Contenders and Overwatch Open channels. He moderates 146 Twitch channels in total at the time of this writing, including personal Twitch channels for popular Overwatch pros such as Brandon "Seagull" Larned. Earlier today, Uncleswagg was the moderator for 155 channels, including Félix "xQc" Lengyel's channel, from which he has since been removed.
Cher Scarlett told us that she did not notify Blizzard about the situation, although she has reason to believe that many employees know of Uncleswagg's past: "As a former employee, and member of the community, many of my followers work for Blizzard. However, again, no one reached out to me from the company to discuss my tweets, and the post I wrote revealing all of this was apparently weeks after he had his moderation removed, and not something I discussed with Blizzard before posting."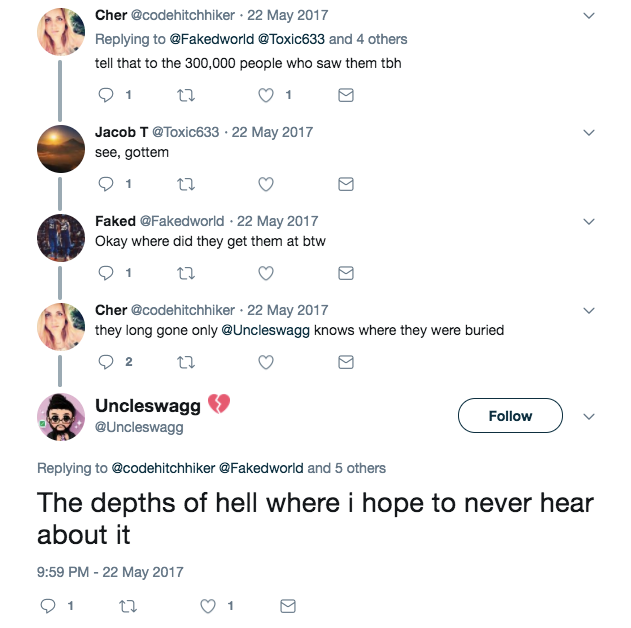 In 2017, Uncleswagg tweeted that he had sent the photo album to "the depths of hell". Screenshot: Uncleswagg/Twitter
Yesterday, Uncleswagg also posted about the situation, writing, "I have skeletons. I come from a very depraved life with no immediate family or guidance and made it worse with online communities, and that's what I was, a depraved toxic shit who hated everybody and everything and sought out to hurt people." In the post, Uncleswagg does not include any clarification about his claim that he did not intend to recirculate the photos in 2017, nor does he explain how the album link could still be active at all, given that he claimed to have deleted it.
Imgur has three privacy settings for album uploads: Public, hidden (unlisted but viewable by anyone with the URL), and secret (only viewable by the uploader). If a user changes the privacy setting from public to secret, it would appear to the rest of the world that the album had been deleted. If the privacy setting were then changed to hidden or to public, the album would appear again under the same URL.
At this point, the album does appear to be deleted. As far as we know.