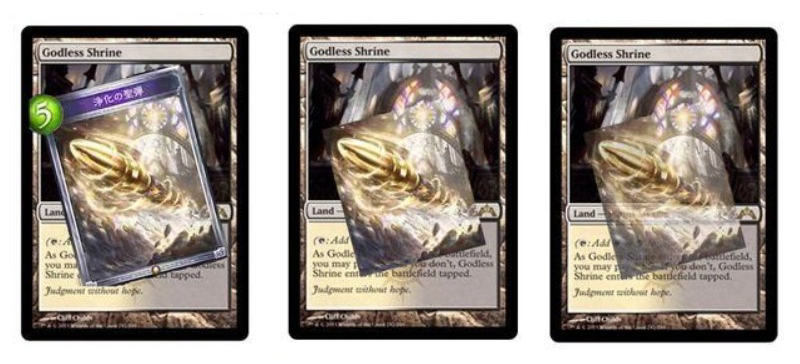 Similarities between a new Shadowverse illustration and an older Magic: The Gathering card had fans wondering about artistic infringement. Yesterday, the makers of Shadowverse issued an apology, explaining that the art in their new Holy Purebomb card was indeed taken from Magic: The Gathering.
Image: Cygames, Wizards of the Coast, LiangZimou
It's easy to see the similarities.
@wizards_magic A newly released token card from @shadowverse_jp illegally used the original illustration of godless shrine. The following image shows how similar the two illustrations are. Pls take some action! pic.twitter.com/RKVtIrhI7I

— Liang Zimou (@LiangZimou) March 11, 2018
Apparently Shadowverse is a big fan of MTG art... https://t.co/6kWFgEGuu5 pic.twitter.com/6eltQ5sJ1P

— Saffron Olive (@SaffronOlive) March 10, 2018
これ出しといて最新のPVで「始まりにして終わり」ってセンス良すぎ pic.twitter.com/qYQyXKxKzG

— キリハラインコ (@kiri8ra_mtg) March 11, 2018
あの・・・あの・・・ pic.twitter.com/rGgs25xKaW

— 凸凹@ウォーブレ (@hamunekoDM) March 10, 2018
— 梦辰娜 (@NgCVZz5zqNJy3iB) March 10, 2018
Here is the Shadowverse Team's official statement:
A Report on Holy Purebomb's Illustration

On March 9 Holy Purebomb, a card from the upcoming Dawnbreak, Nightedge card set, was revealed on a Taiwanese web program and the official Shadowverse Twitter account. Our investigation has revealed that a part of the card's illustration was taken from another company's content. Please allow us to express our sincerest apologies to players and all other parties involved, and also apologise for the amount of time it's taken us to issue this report.

A detailed explanation of the issue is as follows:

On March 9, the new card Holy Purebomb was revealed on the Taiwanese web program Shadowverse School and the official Shadowverse Twitter account. Viewers then alerted us that a part of the card's illustration was nearly identical to a card in Wizards of the Coast's game Magic: The Gathering.

Upon conducting an internal investigation, we confirmed that a part of Holy Purebomb's artwork had, in fact, been taken from another illustration.

CAUSE

Some Shadowverse cards are produced with the help of commissioned illustrators from outside our company. The card in question, Holy Purebomb, was produced by an external commissioned illustrator.

In a discussion with the card's illustrator, we were able to verify that another company's content was used in the production process. Ideally we would have been able to recognise the fact when the artwork was delivered to us, but we regretfully made the artwork public without noticing.

We believe that one major reason that this issue occurred is because the artwork was not adequately checked upon delivery.

GOING FORWARD

We are currently revising the illustration for the card, Holy Purebomb. To our knowledge there are no other cards that violate IP rights or make use of content from other companies. If any come to light, we will respond appropriately and give a detailed report like this one.

We will also notify in-house and external staff members to make a careful decision on whether legal clearance is necessary during the production process, and then act accordingly if and when it is. In addition, we will strengthen our delivery confirmation procedures and work toward the prevention of any future issues.

Shadowverse Team