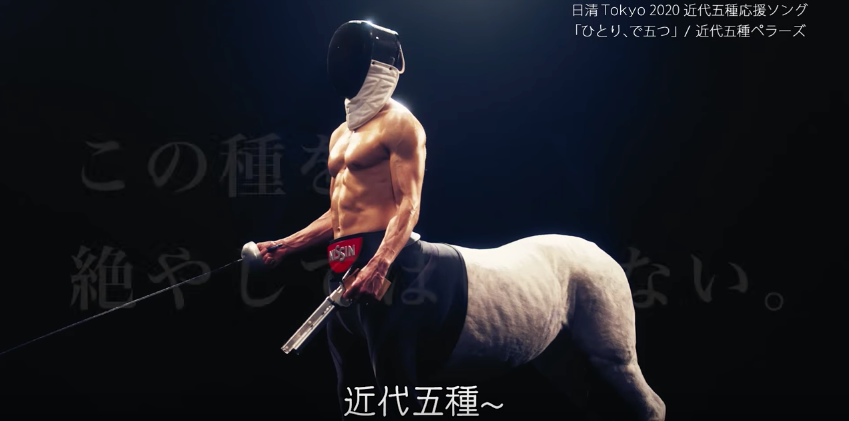 Forget the Pokémon style mascots. The one the Tokyo Olympics needs and wants is a pistol-slinging, fencing foil-wielding centaur.
Now that the 2018 Winter Olympics are over, the focus can shift to the upcoming 2020 games and the odd commercials they will spawn. This one, from instant noodle maker Nissin, celebrates the modern pentathlon with a character named "Pentaurusu-kun".
Check out Pentaurusu's debut spot, via NicoNico News:
According to research data released today, one hundred public school students were asked for their impression of Pentaurusu-kun and 75 per cent said he was creepy. 13 per cent said he was cool, while 12 per cent said he was funny.
東京五輪「近代五種」応援キャラのクセがすごすぎhttps://t.co/NG88zrKYo6

頭にフェンシングのマスク、手にはフェンシングの剣と射撃の銃器、競泳の水着を着て、足元は走りやすいスニーカー、そして馬の胴体がくっついています。まさに5競技の特徴を捉えたキャラクターですね。 pic.twitter.com/m2tat6Kmoe

— ニコニコニュース (@nico_nico_news) March 1, 2018
Cue the inevitable Pentaurusu-kun fan art.
良い筋肉、異形頭風の頭部、半獣、競泳水着、このいでたちで足元スニーカー

ぺんたうるすくん、好きです… pic.twitter.com/RAqm2BwXAu

— ????地獄巡り????5月3日超戦煌!参加 (@sutegomamodoki) March 2, 2018