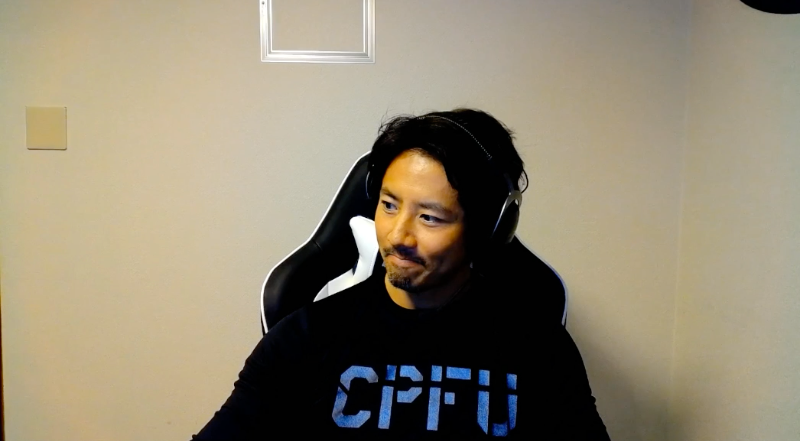 Actor Kane Kosugi recently started streaming League of Legends on Twitch. His comments section filled up with people saying "Perfect Body". On Twitter, "Perfect Body" even started trending in Japan.
Screenshot: Twitch
The US-born Kosugi has starred in an array of films, including Godzilla: Final Wars, the live-action Terraformars, DOA: Dead or Alive, and Tekken: Kazuya's Revenge. He's also done the Japanese voice for Ryu in Street Fighter Zero: The Animation, and has been the official face of Century 21 in Japan.
The martial arts actor is in exceedingly good shape, and his catchphrase is saying "Perfect Body".
Which is why his League of Legends stream was filled with people saying "Perfect Body!" over and over again.
LIVE???? https://t.co/kgWqWMw220

【LoL】わずか一歳半で空手を始めたケイン・コスギ氏「トレーニング以外の時間は全てゲームをしてます」

配信中。PERFECT BODY! pic.twitter.com/NS2DJU5NIA

— Twitch Japan (@TwitchJP) March 8, 2018
It didn't hurt that when Twitch Japan announced Kosugi was streaming it added a "Perfect Body!"
ケインコスギがLoLを配信するだけで、トレンドを2つ抑え込むという偉業を達成w pic.twitter.com/rzdlBbWWLD

— そんそん (@sonson_Ro) March 8, 2018
Kane Kosugi (ケインコスギ) also started trending on Twitter in Japan.
Perfect body!