So there I am, 10,000km from home in a foreign country (whose language I don't speak) covering a trade show by myself, and I realise the power brick on my XPS 13 is busted. This is a disaster. My laptop is my lifeblood. I need it to write stories, edit photos, and collaborate with the team back home.
Without it, I'm truly screwed. And what's even worse is that my work XPS is the last generation without support for charging over USB-C, and because Spain doesn't give a shit about Dell, there was no replacing it (trust me I tried).
But then I remember, as I nervously watch my laptop's battery tick down from 68 to 67 per cent, there is a solution. That's because in my bag, I was carrying a review unit for Huawei's newest laptop, the MateBook X Pro. OK, it's time for a real trial by fire.
While best known for its smartphones, Huawei has been slowly pushing into laptops and tablets over the past few years. Its first major success came on with the original MateBook X, which took (or borrowed) the template from 12-inch MacBook and fixed a number of issues.
But for the MateBook X Pro, the company set its sights on something bigger: the 13-inch MacBook Pro. And you know what? Huawei has totally succeeded, because for every downside of Apple's top laptop, Huawei seems to have an answer.
Like Apple, Huawei starts with a solid aluminium body and then adds surprisingly powerful speakers to the sides, a big one-piece trackpad down below, and clever power button/fingerprint reader combo in the top left – and all of it is top notch.
Then there's Matebook X Pro's backlit keyboard. While it is a bit on the shallow side, the keyboard's relatively high actuation weight and deeper key travel feels vastly superior to the garbage you get on modern MacBooks.
Huawei also smartly included two USB-C ports (one of which supports Thunderbolt 3) and a single USB 3 Type-A port, so you can live life dongle-free. I would have really liked it if Huawei had found room for a SD card slot on the X Pro, though Huawei's inclusion of of a free MateDock 2 (which tacks on an extra USB-A, USB-C, HDMI and VGA ports) might help smooth over any concerns about connectivity.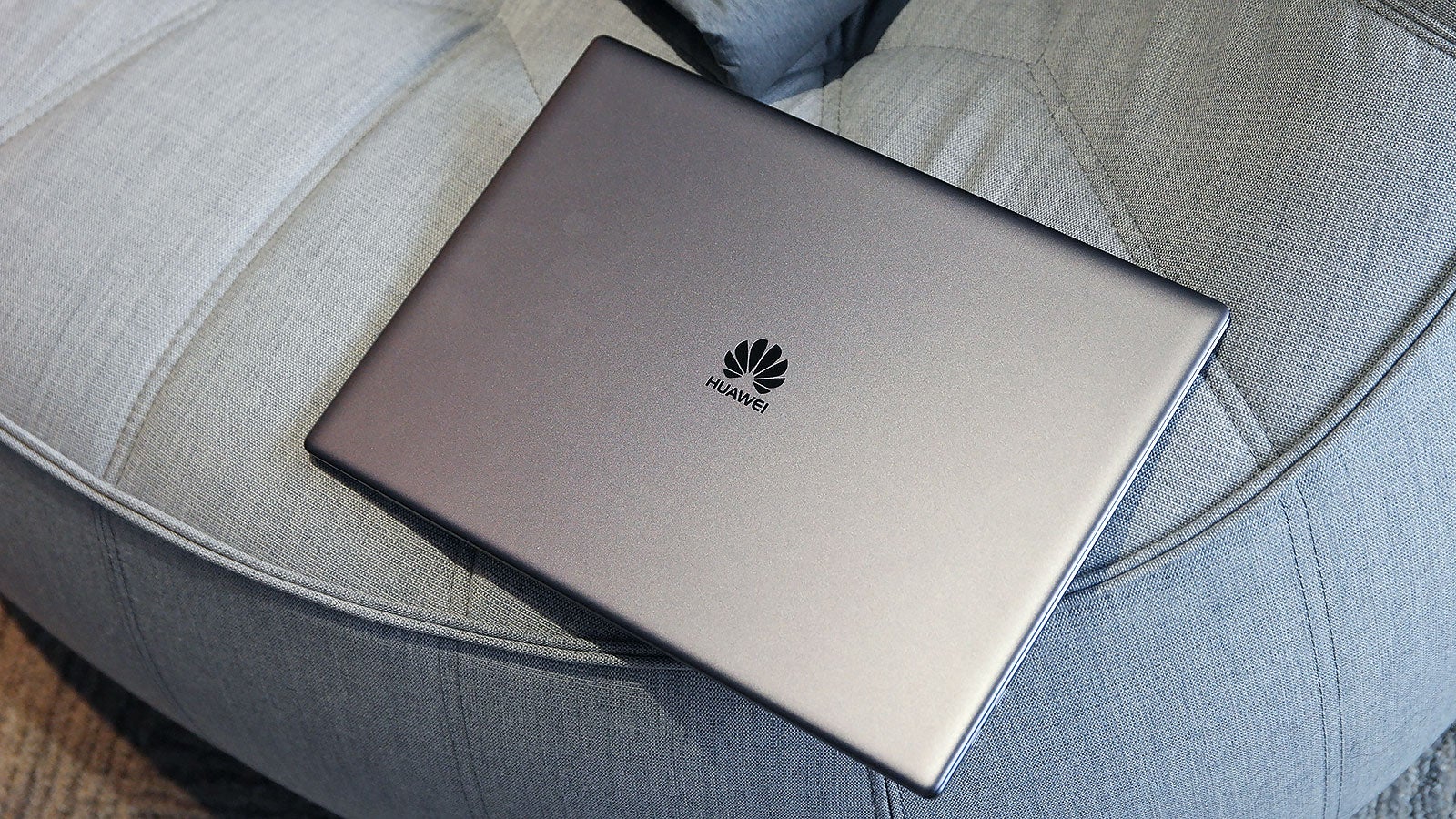 It's a handsome machine, though the similarities between the X Pro and a MBP are undeniable.
Once you're done ogling the X Pro's design, the next thing that draws your eyes in is its brilliant screen. Not only is it super bright, topping out at 485 nits, it also has the slimmest bezels of any laptop out right now. And I'm not just talking about skinny margins on the top and sides, the X Pro's chin is equally thin too, resulting in a screen-to-body ratio of 91 per cent.
That's better than devices like the new XPS 13 (80.7 per cent) and the Galaxy S9 (83.6 per cent) by a fair margin. And after more than three weeks of using it every day, I simply don't want to go back to normal laptops screens with awkward Jay Leno proportions.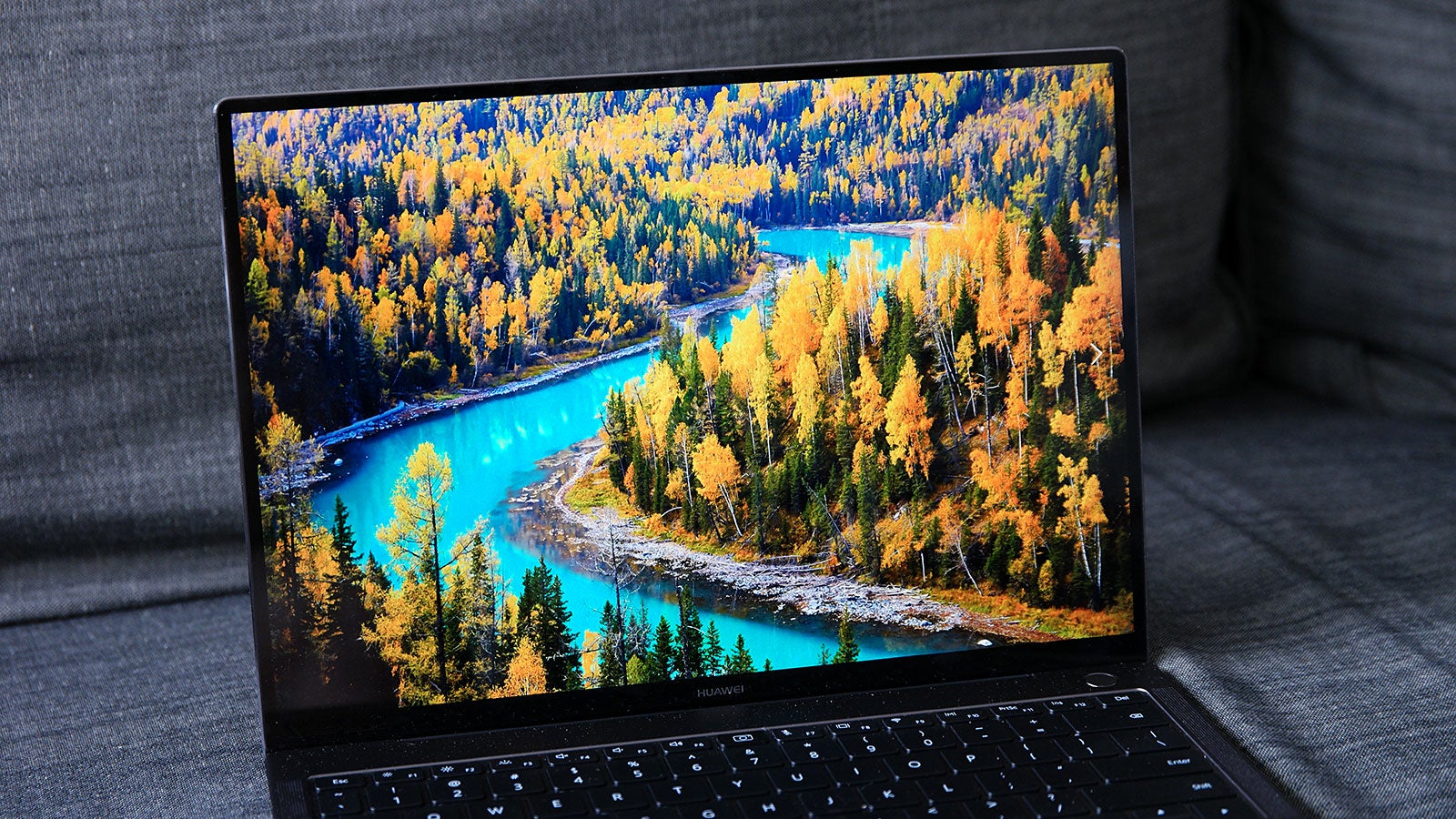 The X Pro's display is really very nice.
But that's not all, because by cutting down on bezels, Huawei had room for a bigger screen, so you get a high-res 36cm 3000 x 2000 touchscreen while most competing systems cap out at 13.3-inches. At that resolution, and with the screen's seriously good colour reproduction, pictures, movies and anything else you're viewing really pop.
Huawei even equipped the X Pro with a neat trick for how it hides its webcam. Without a big bezel above or below the screen, Huawei stashed the webcam inside one of its keys, smack dab in the middle of the function row. When the keyboard's backlight is on, it's pretty noticeable, because it's the only key that doesn't light up.
But aside from that, you normally kind of just forget it's there, which is exactly what a webcam should do when you're not using it. Another bonus effect of the webcam's location, is that when it's depressed and pointed into the guts of the system, there's no chance it can be hacked and used to spy on you unknowingly.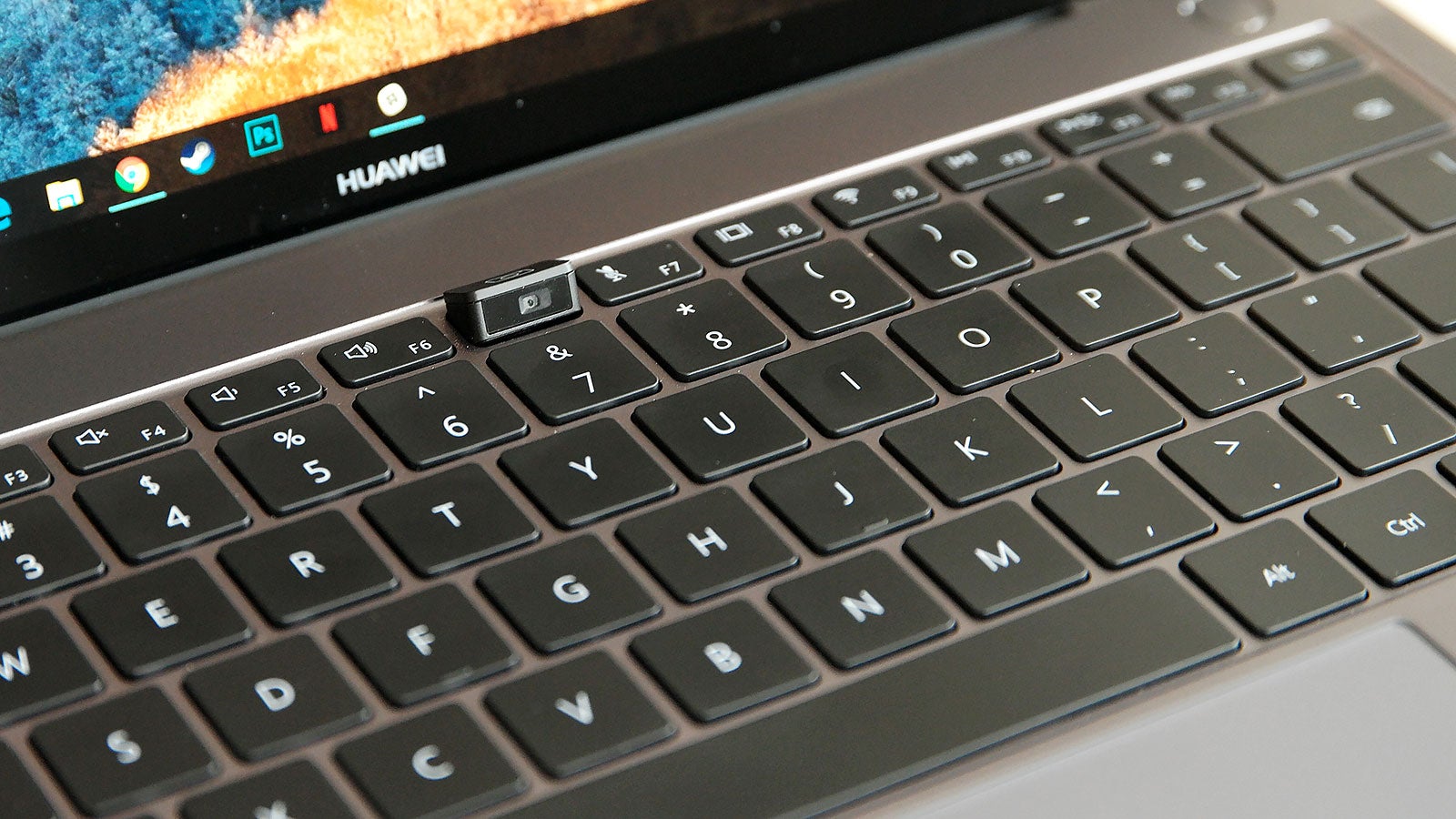 The viewpoint of the webcam isn't ideal, but if you don't video chat with people very often, it's the perfect place to make a webcam disappear.
Now for all you Mac die-hards, the fact that the X Pro doesn't run macOS might be a deal breaker. But that's really Apple's fault for not letting other companies licence its operating system, as I suspect Huawei may have wanted to ape that too. But I'm not really bothered, because Huawei did something just as good when it partnered with Microsoft to install Windows 10 Pro Signature Edition on the Matebook X Pro. There's no bloat or added bullshit whatsoever.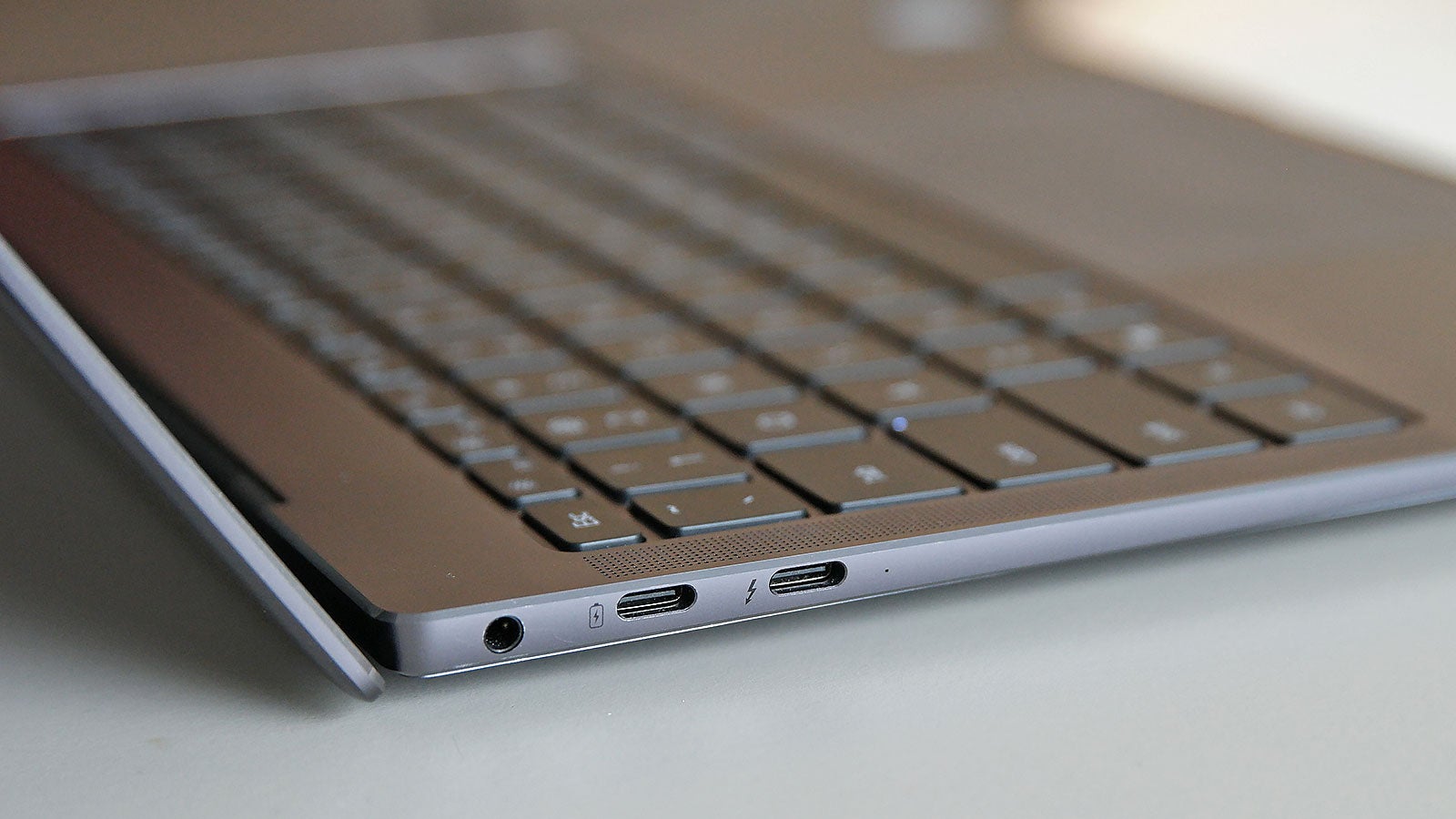 There's two USB-C ports on right along with a handy headset jack, with an extra USB-A port on the other side.
As for the specs, the X Pro has more than enough oomph thanks to a 8th-Gen Intel Core i5 or i7 CPU, up to 16GB of RAM, 512GB of SSD storage, and even a Nvidia MX 150 GPU if you want it. When compared to competing systems like the recently revamped XPS 13 and the LG Gram 15, our fully loaded X Pro review unit finished with top scores across every one of our standard benchmarks, which includes browser performance in WebXPRT 2015, a picture resizing test in Photoshop, and Geekbench 4.
You can't quite say the same for the X Pro's graphics performance, as its MX 150 is more of a step up over standard integrated graphics, as opposed to something built to game on.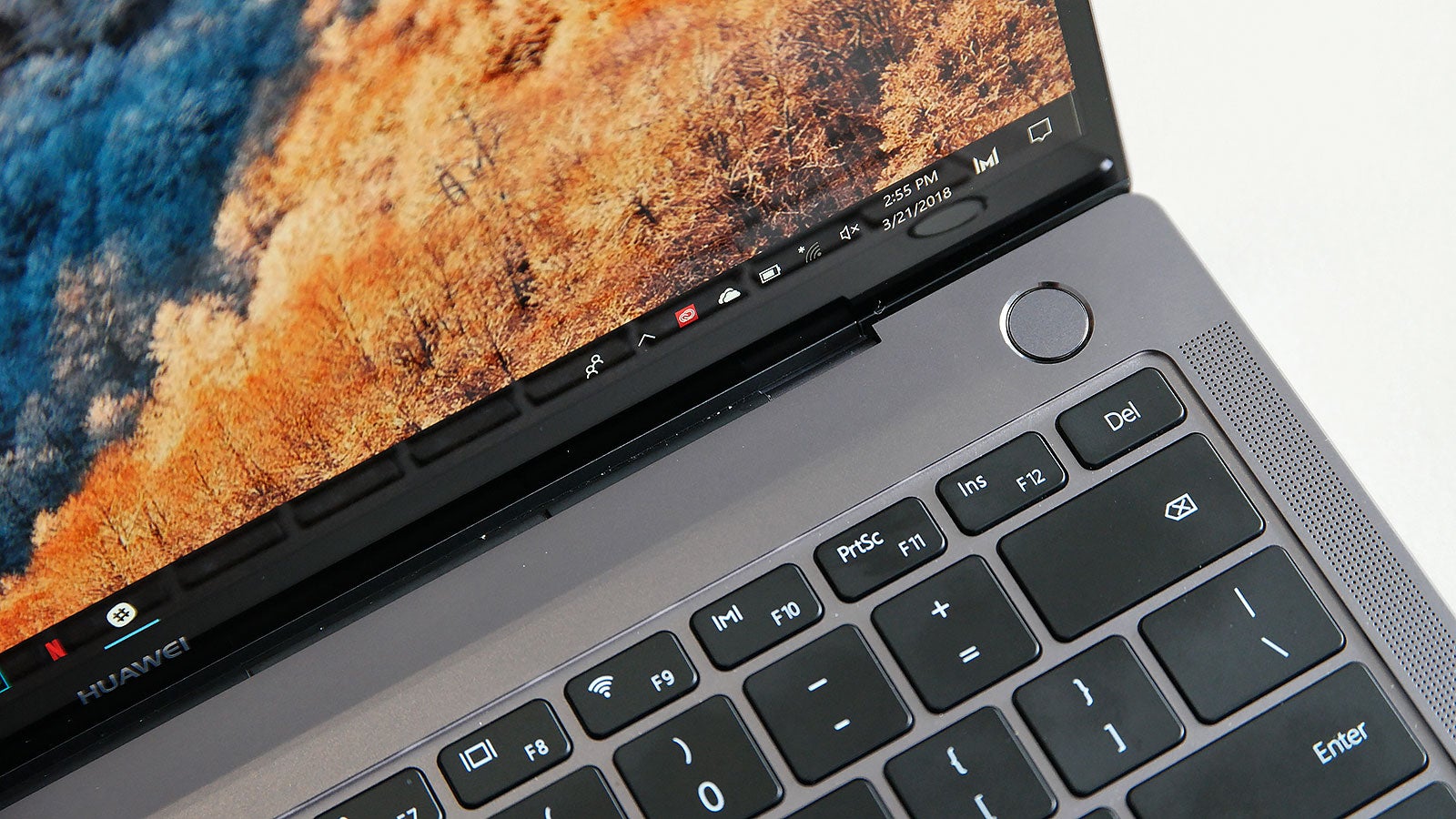 The fingerprint reader built into the power button lets you turn the X Pro on and sign in to Windows with a single touch.
Even the X Pro's battery life is pretty stellar, with it lasting 11 hours and 7 minutes on our standard rundown test. That's better than both the Dell's XPS 13, and bigger systems like the 15-inch LG Gram, which lasted 9:28 and 10:39 respectively.
One small quirk that I don't quite get is that by default – the X Pro's SSD came formatted into two partitions: a smaller 80GB section and a larger 380 GB division. It's weird because there's only one physical drive, so the system is just cutting up its storage in two for no real reason. That said, it is very minor issue.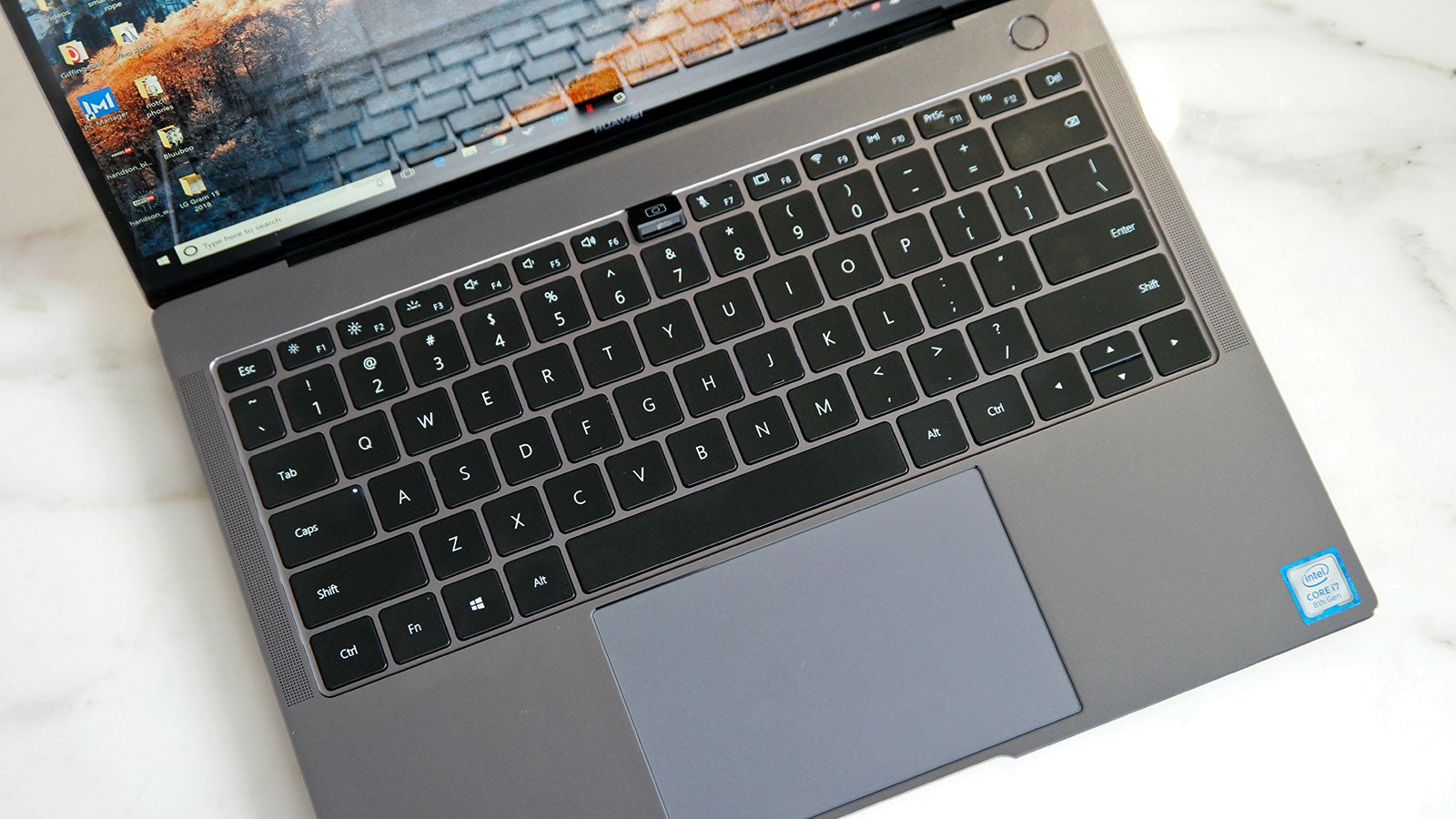 Really, trying to pick out flaws of the MateBook X Pro isn't an easy task. Regardless of how shamelessly you think Huawei has copied Apple's formula, it has absolutely improved on that template in a number of very important ways. In fact, the biggest problem with this system right now, is that it still doesn't have an official Australian release date or pricing.
We do have European prices though. They start at €1499 for the i5/8GB/256GB model with the i5/8GB/512GB at €1699 and i7/16GB/512GB model at €1899.
After using this system daily for almost a month, I'm actually not sure there's another daily driver I would rather use. It feels a little weird to say this: But what do you call a laptop that looks like a MacBook Pro, but is actually much better? I guess the answer would be a Matebook.
README
The Matebook X Pro's 3000 x 2000 screen is gorgeous and has the smallest bezels of any laptop on the market.
While the hidden webcam isn't in the ideal position, it's better what you get from an XPS13. It's also cool as hell.
The optional Nvidia GeForce MX150 isn't a full gaming-grade GPU, but it's a big boon to people who need a little extra graphics power.
Two USB-C ports and one USB-A port is just enough connectivity, but a SD card reader would have been nice.
In the US, the Matebook X Pro will come with a clean install of Windows 10 Pro signature edition, and a free dock.
Battery life is surprisingly good, despite its thinness and potent specs.
SPEC DUMP
Windows 10 Pro Signature Edition • 36cm 3000 x 2000 resolution touchscreen • Intel Core 07-8550U CPU • 16GB of RAM • 512GB SSD • Nvidia GeForce MX150 with 2GB of vRAM • power button with built-in fingerprint reader • 2x USB-C (one supports Thunderbolt 3) • 1x USB 3 Type-A • 3.5mm audio jack • 802.11 ac wifi • Bluetooth 4.1 • 1-MP webcam • 57.4 Wh battery • available in silver or grey