Dragon Ball Z villain Frieza suffering after protagonist Krillin uses a solar flare attack. Also, me after looking at Discord's "light" theme.
The long, contentious list of things that divide us – dogs vs. cats, Labor vs. Liberal, tomato sauce vs. mayo – has an entry just for gamer aesthetes. There's a war among Discord users over whether people who use the gaming chat app's "light" theme are wicked, infernal hellbeasts or normal humans who like white backgrounds.
Discord's signature look is dark. On top of a default grey background, users type in white font. Compared to other chat apps like the more office-friendly Slack, Discord's got a look that appeals to denizens of the night. It also falls squarely in line with the shadowy look popular among gaming apps like Battle.net, Epic Games' launcher and, of course, Steam.
It turns out that, underneath that doomy exterior, Discord's got a "light" theme, too. And boy, is it light. Turning it on after months of Discord "dark" feels blinding. It's a bleached, stark white with medium-grey font. It's like looking outside your window at a six a.m. sunrise after grinding on Diablo 3 all night. It hurts me: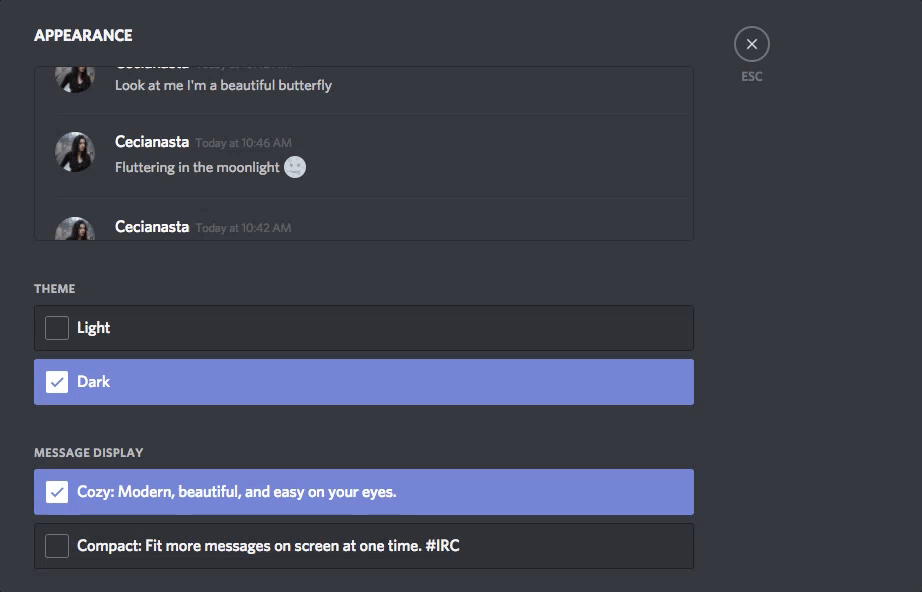 Aaah. Our eyes.
Of course, there are Discord "light" apologists. Some people just think it's easier to read (probably, they are the same people who wear sunglasses inside). The great majority of Discord users, apparently, think those people are wack:
People who use Discord's light theme be like pic.twitter.com/eNf2yqa5LP

— Deathro (@8bitDeathro) April 16, 2018
You haven't experienced true bullying until your peers find out you use discord light theme

— 飛T (@m_feiTi) March 15, 2018
Theres at least one person out there using discord light mode and that scares me.

— THE ALMIGHTY GOKU (@virgoTestified) April 2, 2018
imagine falling in love with a girl to find out she uses discord light theme

— レベン (@obscuredraven) March 8, 2018
Discord light theme in a nutshell pic.twitter.com/WVWAvg3PlT

— Jelly Fish looking fool (@LorshZontek) March 16, 2018
me: uses discord light theme
me: shows a screenshot
everyone: yells at me. manifest physically in front of me and kick me to the ground

— ????BeeBee✨ (@AstraleStella) April 9, 2018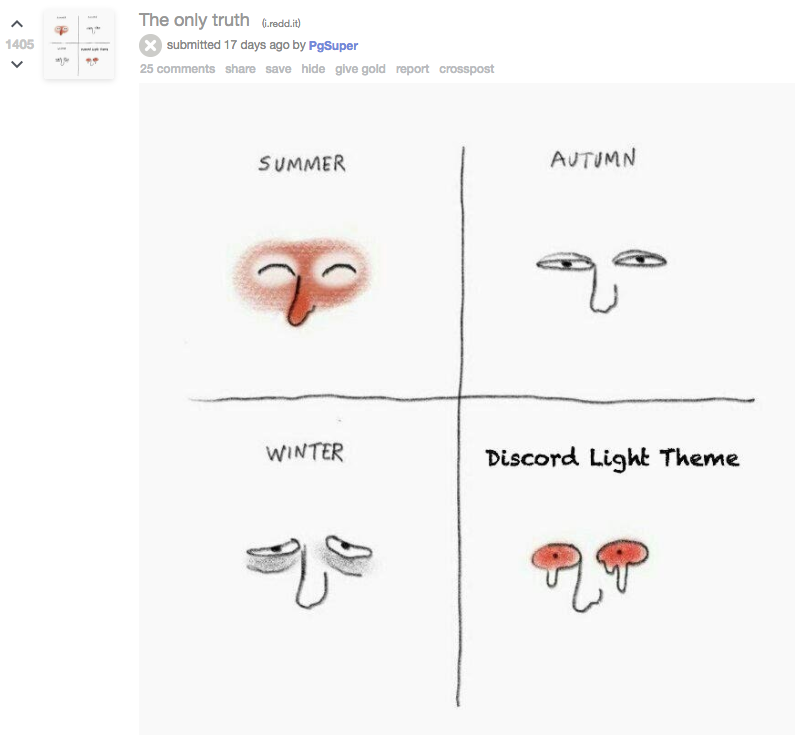 Graphic:
PgSuper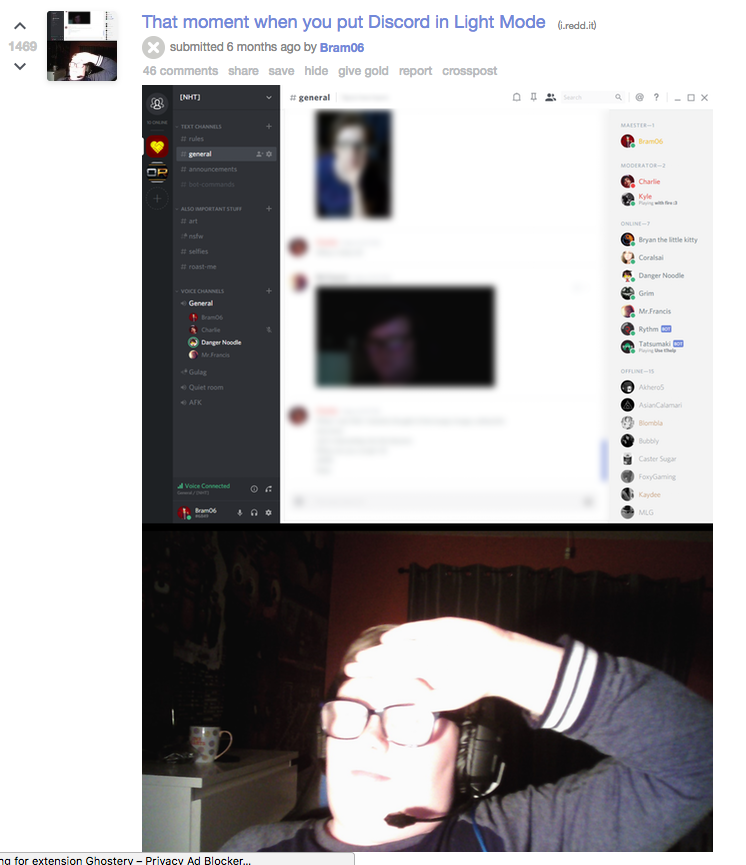 Graphic:
Bram06
(Reddit)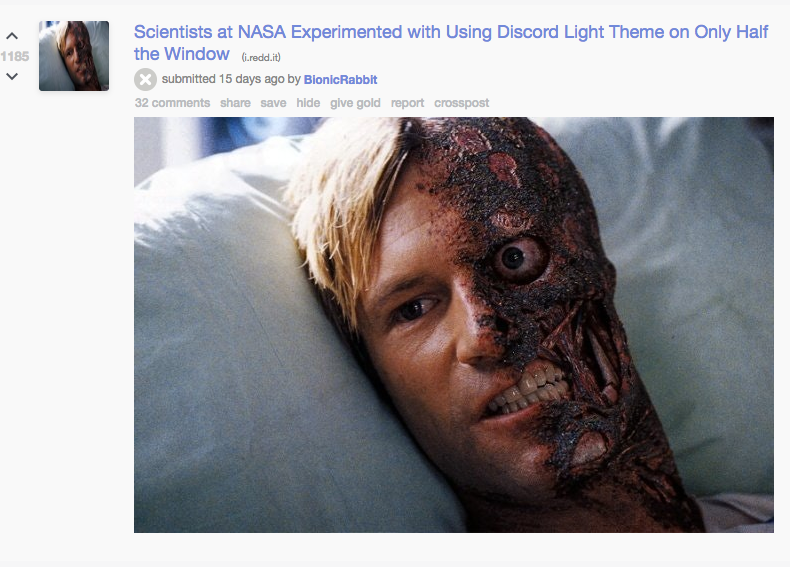 Graphic:
BionicRabbit
(Reddit)
discord light theme users pic.twitter.com/xqdAFxm8y4

— pillow II (@yummypillow) February 19, 2018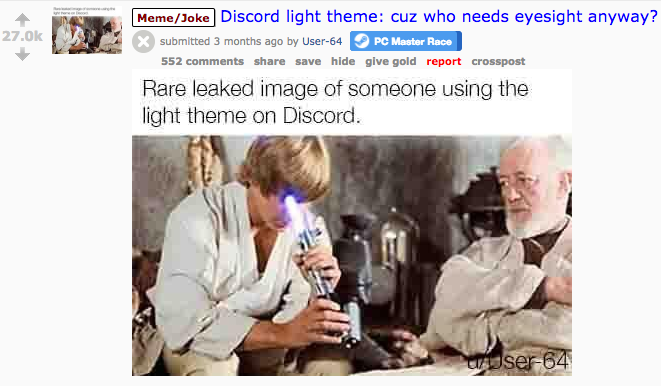 Graphic:
User-64
(Reddit)
Even Discord is in on the joke:
Rare photo of a Discord developer working on light theme pic.twitter.com/Gz9d4x0oJX

— Discord (@discordapp) March 14, 2018
Sure, someone might ask, "Who cares what colour scheme you use on your private gaming chat app?". I don't have a great answer, but I do have the truth: a lot of us.