It's no secret that Sea of Thieves, despite plenty of hype, shivered very few timbers on launch. Players pointed to a lack of content as the biggest issue, something developer Rare has decided to tackle head-on in its latest community update.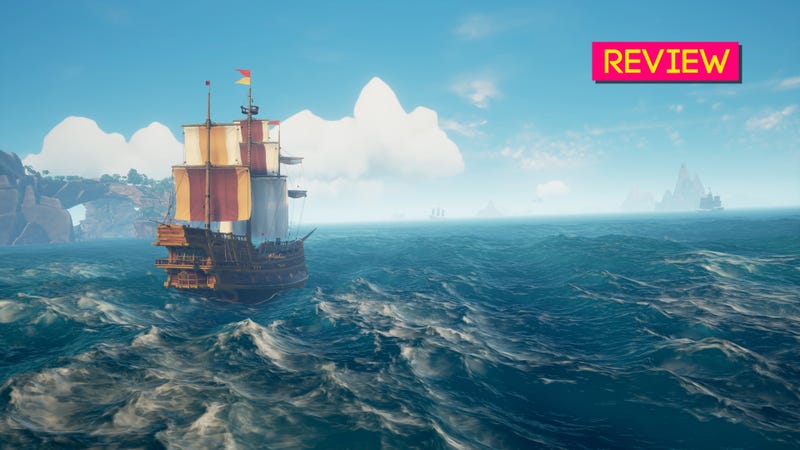 Playing Sea of Thieves feels a bit like working in a theatre before the set has been completely built. There's plenty of space to goof around and a few swords in the wings to have mock fights with, but none of its quite ready for show time.
Read more
In a blog post, published today, Rare cuts right to the chase:
Following concerns over the game's amount of content at launch, Rare last week promised to release a video detailing their plans for Sea of Thieves' post-launch experience.
And here's that video.
The rest of the post details Rare's plans for Sea of Thieves over the next few months, including weekly content updates, starting from May, with bigger updates planned for the "latter half of the year".
In the meantime, players can look forward to SoT's "The Hungering Deep" update, which will contain a "unique event" to introduce a "new AI enemy" and "new mechanics":
Design Director Mike Chapman stated that while these enemies will be added into the world naturally — so that players may encounter them during regular voyages and interact with them as they would anything else — a specific event would mark their arrival and "showcase them in a cool and interesting way".
The idea is to reward players for teaming up to take on the new enemy, which, once the event ends, be added to the world "permanently".
All in all, it's a pretty meaty post; definitely give it a read if you're interested in Rare's 2018 plans for Sea of Thieves.
Summary of Content Coming to Sea of Thieves in May [Sea of Thieves]