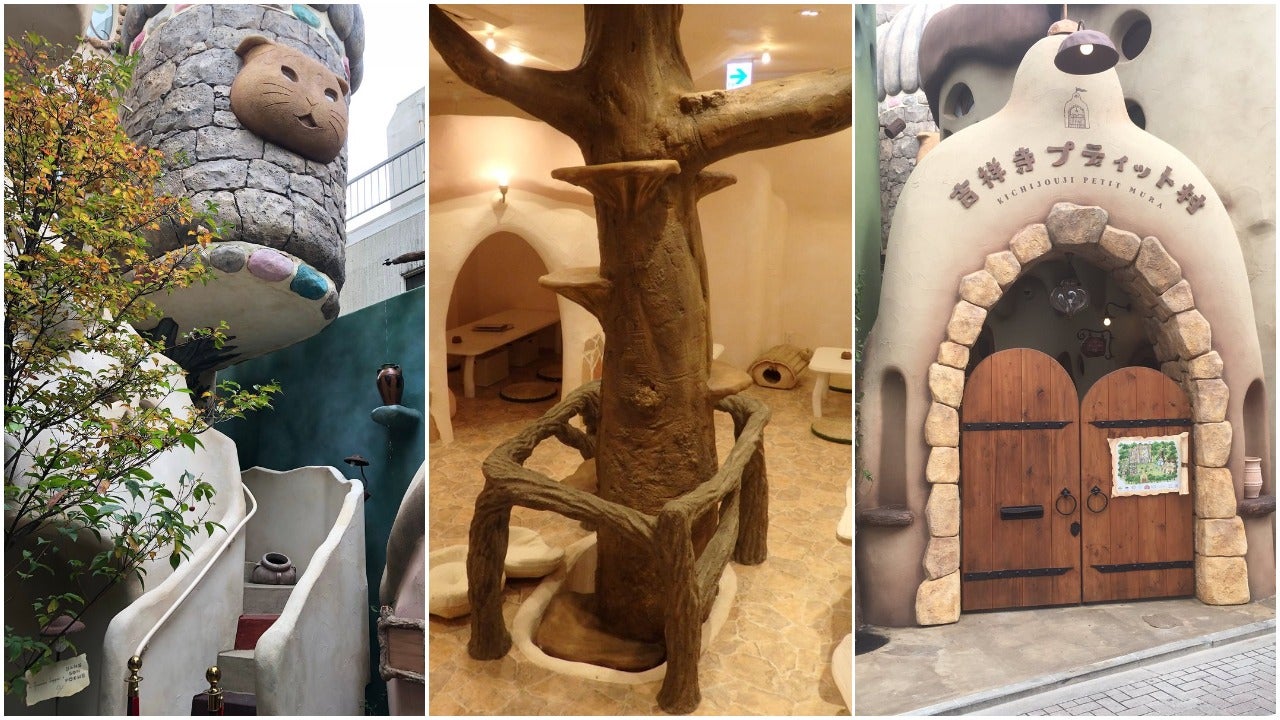 If you're going to pick one cat cafe in Tokyo, this one seems nice.
Image: metcochan, hideki27fc5, TETSU_O_METAL
Last spring, a new area opened around the cafe called Kichijouji Petit Mura ("Little Village"), turning this area into a small theme park for cat lovers. The on-site cat cafe, which is called Cat Cafe Temari no Oshiro, would be right at home in a Studio Ghibli film. It's also located in Kichijouji, about five minutes away.
But check out Petit Mura! It's magical.
吉祥寺に新しくできたら猫カフェが建物から気合い入ってて凄すぎる pic.twitter.com/PLwnlUedc3

— 四歩(しほ)@V44b (@tocca_3) April 19, 2018
昨日 てまりのおしろ 行ってきた( ◜௰◝ ) 19時からだと700円で2時間いられるのすごいし人いなくて貸切だったやばい( ◜௰◝ )( ◜௰◝ )通いつめたい( ◜௰◝ )♥ pic.twitter.com/kaJXaK8GxI

— ????Ashtaroᵺ. (@sugary_ashley) April 20, 2018
【特派員レポート】
吉祥寺プティット村の猫カフェ「てまりのおしろ」で至福のモフモフ体験 #吉祥寺 #猫カフェ #シークレットオープン
→https://t.co/e2gJjZt6kd pic.twitter.com/vscULy98zb

— リビングむさしの (@living_musasino) January 4, 2018
— 四歩(しほ)@V44b (@tocca_3) April 19, 2018
猫カフェ「てまりのおうち」系列のテーマパーク吉祥寺プティット村の「てまりのおしろ」に行ってきました~っ いくら吉祥寺とはいえいきなりこんなんあってびっくりして写真とりまくった。まじでテーマパークじゃんこれぇ! pic.twitter.com/iNU2ndR3nv

— うすく (@usuku_) February 28, 2018
てまりのおしろの中はこんな感じ。二階構造で真ん中を木が貫いています。#ねこの日 #猫の日 #ネコの日 #吉祥寺 #猫カフェ #てまりのおしろ #にゃんにゃんにゃんの日 pic.twitter.com/VaSqajiAiV

— 匕〒''キ@イシ夕'' (@hideki27fc5) February 22, 2018
ちょっと、通りの割には浮いた空間だけど、めちゃめちゃ外観からして可愛んだけど(^ ^)
とりあえず、時間まで公園でまったりするか。#吉祥寺プティット村#てまりのおしろ pic.twitter.com/Wd9RTfbnWV

— TETSU_O_HELLOWEENロス中 (@TETSU_O_METAL) November 10, 2017
確定申告終わったー!吉祥寺の中道通り。去年気になってた場所、グッズ屋さんで猫ファイルを買ったら猫カフェで会計お願いしますと言われる→猫カフェには入らなかったけど、しめじちゃんがタイプ❤️家に帰ったらグレさんをモフります。 #中道通り #吉祥寺プティット村 #micco_drops #てまりのおしろ pic.twitter.com/BM9awvcZaw

— [email protected]空とゴンドラ発売中☆ (@marble_livelife) March 7, 2018
吉祥寺プティット村!まだ全然オープンしてなかったー????
猫カフェしかやってなかった!
でも震えるほど可愛いわあ????
とことこ雑貨店のカードがあると猫カフェに入れるってことで行ってみたらまあ癒しの空間????
猫猫猫猫!!!
フランシュリッペの雑貨が多かったな????
プティット村オープン楽しみだなー! pic.twitter.com/jKj5UAQeIc

— メトロポリちゃんV (@metcochan) January 11, 2018
猫カフェ、猫雑貨のお店が新規オープンしてた!メルヘン! (@ 吉祥寺プティット村 in 武蔵野市, 東京都) https://t.co/VbEyiGLDFS pic.twitter.com/YmLpnFfn6A

— Hitoshi (@trans_curler) March 11, 2018
朝にアップした、吉祥寺の駅ちかくにオープン予定の「吉祥寺プティット村」

昨日の夜に撮った写真と朝に撮った写真。
あふれるジブリ感だけど、夜はちょっと雰囲気違うなぁ。
オープンはいつかなぁ。 pic.twitter.com/nCQpoJAPgI

— 銘菓めいか (@meika_sabou) October 28, 2017
吉祥寺プティット村②
まだ仮オープン中です☆https://t.co/pg98eKfP8e pic.twitter.com/Mk7TPVxbDR

— 米たにヨシトモ (@yonetanikantoku) December 27, 2017
【井の頭線プチッとmemo】
吉祥寺に絵本のような猫カフェもうすぐオープン????
吉祥寺駅近く「吉祥寺プティット村」の中にユニークな猫カフェ「てまりのおしろ」が近日グランドオープン????猫が自由に作ったカフェということで左右非対称へんてこ空間が興味深いですネ????(OZmall)https://t.co/pRyqoQglSo pic.twitter.com/gvOkhxOIbL

— シブきち (@ShibukichiNet) January 17, 2018
とうぜん猫たちもめちゃくちゃかわいいです。各所に猫をかわいくみれるスポットがたくさん造られてます。床暖でめっちゃあったかい pic.twitter.com/EdFpJ171Ix

— うすく (@usuku_) February 28, 2018
先日、吉祥寺プティット村のやってる時にチラッと入ってみましたが建物がカワイイ…よく見るといろんなとこが猫とかかわいいものになってますよー、今営業中なのは猫カフェだけみたいだけど。 pic.twitter.com/e91G9zzVua

— 嬉野 (@ureshiK) November 25, 2017
daidai????オープンしてます????❣️

…先日吉祥寺散歩にて発見した夢のお城????✨
絵本をイメージしたテーマパーク「吉祥寺プティット村」????????
7店舗のお店が10月上旬から順次オープン予定だそうです。
まだ建設中なのでお城の入り口にて????
ちらりと覗いたら中もとっても可愛かった〜???????? pic.twitter.com/XnOuKzaTyS

— ❁daidai❁ (@daidai_koenji) November 9, 2017
吉祥寺プティット村に行ってきました????????✨ pic.twitter.com/0mlKbCBrQe

— 胡桃咲姫 (@SakiKurumi) February 19, 2018
吉祥寺プティット村の猫カフェ「てまりのおしろ」で至福のモフモフ体験 https://t.co/3Krs2pQVcX pic.twitter.com/kpiOhOVGHF

— らき (@laki0814) April 20, 2018
中道歩いてたらジブリ美術館みたいなのが出来てて二度見した。吉祥寺プティット村…猫カフェが云々と。入ってみたい。https://t.co/jVP4d2YqT2 pic.twitter.com/IUm6TQvjLR

— 6151 (@besidecoffee) December 17, 2017
RTちなみに夜もめちゃくちゃかわいい。吉祥寺プティット村。(なまえ… pic.twitter.com/0SpdE6ngfL

— asumi (@346015799) April 20, 2018