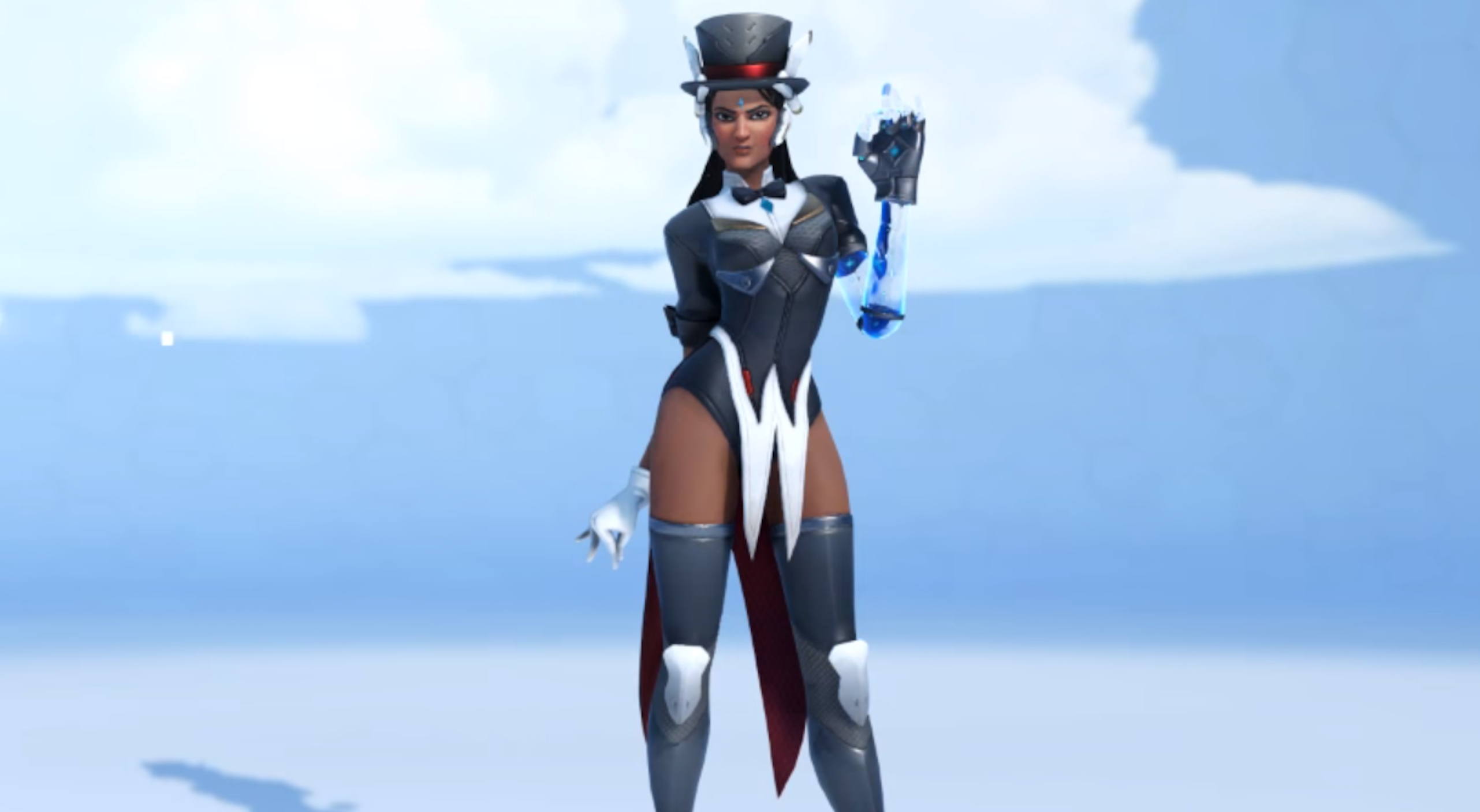 As the Overwatch Anniversary skins and emotes trickle out, fans are getting hyped over a few specific ones. Moira's new dance emote and Symmetra's magician skin are sending the fandom into a whirlwind of jokes and fanart.
Moira's dance emote was leaked over the weekend. Whether or not it's real, Overwatch fans find the idea of Moira dancing like a kid in a goth club to be particularly amusing.
why she look like one of those inflatable arm waving balloons pic.twitter.com/i4Bbl058qp

— Fuckhands McMike (@tsodmike) May 19, 2018
Moira and her particular dance mote....well Mercy is all of us pic.twitter.com/zTJYpYSbzv

— Wingsoflion (@wingsoflion) May 20, 2018
this is hands down the absolute WORST fuCKINg thing i have ever made #moira pic.twitter.com/9JJkq7x8uf

— BleachedRainbows (@Sad_Doggo) May 20, 2018
I found the real world dance the new Moira emote is based on...

Moira is canonically a cybergoth. pic.twitter.com/EIIp3ZHCqb

— ????️‍????Lulu????️‍???? ????NINE-NINE! (@luulubuu) May 19, 2018
Symmetra's magician skin was officially revealed today, and it's just as awesome as the fandom thought it would be.
We're less than a week away from Overwatch Anniversary 2018! If you couldn't catch yesterday's @OverwatchLeague broadcast, we have you covered.

Voilà: MAGICIAN SYMMETRA (Legendary) ???? pic.twitter.com/Kg3Zhmmtym

— Overwatch (@PlayOverwatch) May 20, 2018
I love how her arm is a hard-light construct and that she looks a lot like one of my favourite comic book characters, Zatanna Zatara. Overwatch fans can't stop drawing and goofing on this super cute outfit:
hat trick pic.twitter.com/4kVKMGNRvD

— luc (@deluxepeach) May 21, 2018
had to draw my girl ✨ pic.twitter.com/jkVu0Lkiot

— ♡ Milk ♡ (@Milkcubusss) May 19, 2018
♥️♣️♦️♠️ pic.twitter.com/ehkFUvsBgz

— give zenyatta lore you cowards (@greatsenpai) May 20, 2018
perfect harmony. #overwatch #symmetra
a doodle of the new skin ???????????? pic.twitter.com/UWxWrAE3ph

— lilakey (@lilamuffin2) May 20, 2018