A video of a electronic musician popular for remixing songs and samples from Disney films, Nick "Pogo" Bertke, has sparked controversy after it showed the producer talking about the reasons why he named his YouTube channel "Fagottron". Bertke would later post a second video, explaining that his "very thorough dislike" of the gay and lesbian community and description of them as abominable was "satire" and that he'd been naive.
Bertke is one of the larger YouTubers in Australia, with over 700,000 subscribers and many viral mashup videos over the last decade. His most famous videos include remixed clips of Alice in Wonderland, with 21.7 million views on "Alice" and over 15 million views on "Wishery". Only a handful of new mixes have been uploaded over the last year, but he's continued to tour and work with studios and agencies. Some of that work has included appearing at Vivid Sydney last year, as well as making remixes for Disney and The Pokemon Company.
Earlier this week, a video appeared on the Bertke Archives YouTube account, as first reported by Towlerload and then the Star Observer. The vlog features Bertke answering a question: why he named his main YouTube channel "Fagottron".
In the video, the West Australian producer describes that it was borne out of resentment for the gay and lesbian community. "I'm going to be totally straight up and down ... I came up with 'Fagottron' because I've always had a very thorough dislike of homosexuals," Bertke says.
Update 2/6/2018: The video has since been removed from YouTube.
"I've never liked a grown man acting like a 12-year-old girl, I've always found that to be quite disgusting. And so, I thought to myself: 'How best can I express to the world that gays are an abomination?' Or to be a bit more PC about it, how can I express to the world that I view gays as an abomination?"
The vlog finishes with the musician and producer saying "it's just fantastic; it amazes me to see the West actually welcoming in a culture through the floodgates that wants gays dead, I think that's fantastic."
After the video began to disseminate throughout social networks and media reports, Bertke posted a following video "Addressing Controversy". He went on to describe the above video as satire, explaining that many of his supporters were gay and that if "you or one of your friends have ended up in a bathtub, thinking and thinking until the water gets cold contemplating suicide because of something I've said in a blog or video, I'm deeply sorry for that".
In the video above, the Aussie producer described telling a Disney director that his YouTube channel was called 'Fagottron' because he chose a "stupid alias in 2005". "Where we grew up, fag or faggot was a variant of dickhead, or twat, or a prick. Sexuality doesn't enter into that term, or at least it didn't when and where I grew up. So tail between my legs moment, I'll never forget it."
"The things I've said in this video have deserved the reception that the video has had. I had recently watched a whole bunch of Andy Kaufman videos and I was amazed by this guy's completely dumbfound people. ... I love confusing people," the producer explained.
"It's one of the instances where there is no pinch of salt big enough to be taken with what I have said, it's all good and well for me to open a valve and to draw people out into the open, people I don't like etc ... but I feel very strongly it's been very naive behaviour on my part."
Bertke went on to quote a range of favoured conservative speakers and figures, including Ben Shapiro, Joe Rogan, and Jordan Peterson, saying he could only "hope to become like one day". "My naivety over the years has been underestimating the sheer detriment and damage of being edgy for the sake of being edgy," he said.
The episode is reminiscent of the turmoil surrounding Felix 'Pewdiepie' Kjellberg last year, where his attempts at humour involving Nazis and Jews resulted in Disney severing ties with the star. The Swedish YouTuber announced he would be distancing himself from making jokes around Nazi and Nazi Germany after the events at Charlottesville, partially as a way to avoid his material from being co-opted by white supremacists and actual Nazis.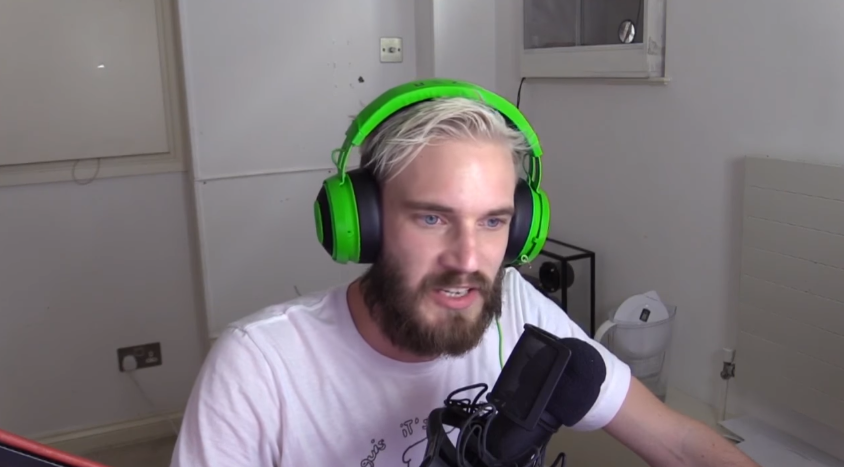 Earlier this year, YouTube's biggest star sparked controversy after Disney severed ties with him over jokes about Jewish people and Nazis. At the time, Felix "Pewdiepie" Kjellberg apologised but continued to make many Nazi references in defiance to the outrage. Months later, Kjellberg says he has a different perspective about those jokes and says he's no longer going to make them.
"I remember back when everything happened in February, I was sort of like, 'I mean, they're just jokes. There's not actual Nazis out there, what are you talking about?' And then I look at this, and I'm like oh, I see. OK!," Kjellberg said at the time.
Bertke's explanation was accepted by some fans on social media. Others questioned his sincerity and the logic behind the humour, though:
I'm not done being angry at @NickBertke - he runs his mouth, then when his followers contradict his self righteous rhetoric, he deletes his statements and pretends we don't know what we're talking about. You're not THAT smart Pogo. You're not post bigotry just cuz you say so.

— Jinkx Monsoon (@JinkxMonsoon) June 1, 2018
If you want to do offensive and mean humor, literally avoid everything @NickBertke did. You're a musician, not a comedian.

— Bystander_NY (@bystanderNY) June 1, 2018
@NickBertke, whether you were joking or not, that was very bad form, old boy. Please learn and improve, and don't rely on purely mean-spirited shock value for a 'joke'. pic.twitter.com/q2dtgIbgxr

— Joseph Label (@BrosephLabel) June 1, 2018
Bertke has found himself in hot water before, being jailed in the United States for three weeks after touring the country without a working visa. He was handed a 10 year ban from entering the US, which expires in 2021.