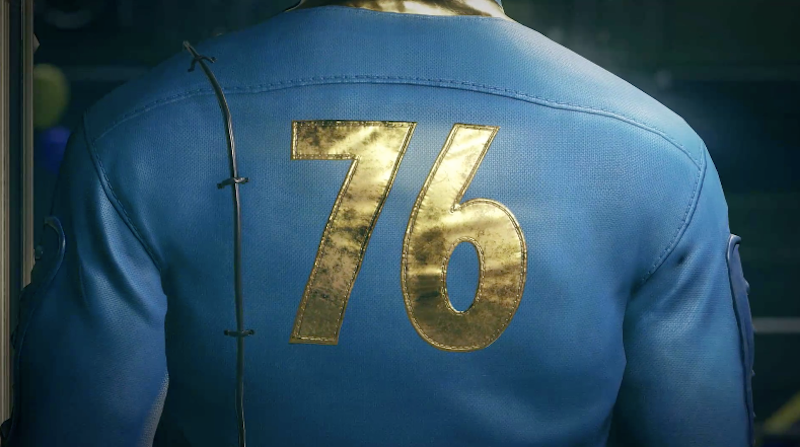 When Fallout 76 was announced yesterday, half the world immediately thought "Heck yeah, new Fallout."
But the other half - a more insidious and frankly intolerable one that includes noted individuals such as me - started cracking jokes about Soldier 76 from Overwatch. Then came the fan art.
Evidently, a whole lot of people want to see Soldier 76 bring his brand of grumbly dad chic to Fallout. And you know what? Given his backstory, arsenal, and love of vague aphorisms about war, I'm inclined to believe he'd make a pretty good fit.
Fallout: 76 reporting for duty. pic.twitter.com/hHoB6IiBWp

— Chris Bratt (@bratterz) May 30, 2018
Can't wait to play Fallout: Soldier 76 pic.twitter.com/gsDCHIVHFr

— ???????????????? ???????????????? (@AnchormanV2) May 30, 2018
h-hey @Blizzard_Ent ........ you still owe me a cool #Soldier76 skin .......... #Fallout76 #Overwatch #OverwatchFanart pic.twitter.com/uLBtpItgLX

— Hanyuu ???????? We're all dads now (@CaptainHanyuu) May 30, 2018
This is Vault Boy now, feel old yet? #fallout76 pic.twitter.com/kmKmYhtdrM

— Bnans (@BnansTV) May 30, 2018
I'm so excited for Fallout, Soldier 76 edition pic.twitter.com/IxviczWfmw

— Jimmy (@jfwong) May 30, 2018
Fallout Soldier 76, reporting for duty.

— Cat Piano Classics (@CatPianoClassic) May 30, 2018
New Fallout 76 is soldier 76 Origin story. pic.twitter.com/p2uSlq8v40

— NukemDukem (@NukemDukemz) May 30, 2018
Soldier 76 after @bethesda announcement this morning#fanart #Crossover #Fallout76 #Overwatch pic.twitter.com/Ht9ZgFmpOw

— Coco Chu (@CocoChu_Art) May 30, 2018
You know I had to do it to 'em. @Fallout @PlayOverwatch #76HYPE #Fallout76 #Overwatch #Soldier76 #JackMorrison #crossover #fanart #illustration #artistsontwitter #myart #nuclearnoa #NoasArt pic.twitter.com/NVM37gfHyk

— Noa Pines (@NuclearNoa) May 30, 2018
I hope the new fallout game finally explains how soldier 76 got so jacked pic.twitter.com/vThhEIIgzE

— Missed The Bus (@MissedtheBusPod) May 30, 2018
And lastly, from Overwatch lead writer Michael Chu:
After years of correcting people about putting the colon between "Soldier" and "76", I'm amused to see people writing "Fallout: 76". ????

— Michael Chu ????️ (@westofhouse) May 30, 2018