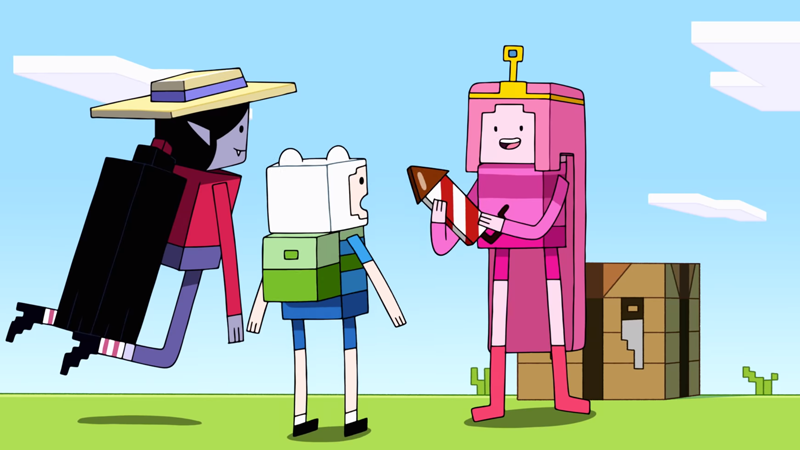 Adventure Time already came to Mojang's survival game/block building phenom Minecraft last year, and now the animated series is returning the favour with a special episode that sees Finn and friends having fun in a much more angular version of the Land of Ooo than they're used to.
Princess Bubblegum gets her craft on in Adventure Time's Minecraft episode. Image: Cartoon Network
Cartoon Network unveiled the first official clip from "Diamonds and Lemons" today, part of the channel's ongoing collaboration with Mojang that kicked off with last year's Minecraft content pack.
It is, unsurprisingly, some Adventure Time goodness with a bricky Minecraft look, as Finn, Marceline and Princess Bubblegum find themselves building creations and crafting materials... you know, like, Minecraft stuff, just with fewer arseholes trying to lure creepers to come and blow up your carefully-constructed masterpieces.
Yay, crossovers!
The episode is set to air next month, but it isn't the only thing Cartoon Network is doing to mark the occasion. It's also collaborating with Funko to release a series of Pop! Vinyl figures based on the show's noodly-appendaged take on the Minecraft aesthetic:

They... kind of work better than usual Funko Pops do, honestly? Image: Funko
Because really, would it be a hot media collab in 2018 if there wasn't a series of Funko Pops to go with it?
"Diamonds and Lemons" is set to air in the US July 20 on Cartoon Network and the Cartoon Network app, while the Adventure Time x Minecraft Funko figures will be available sometime next month, too.