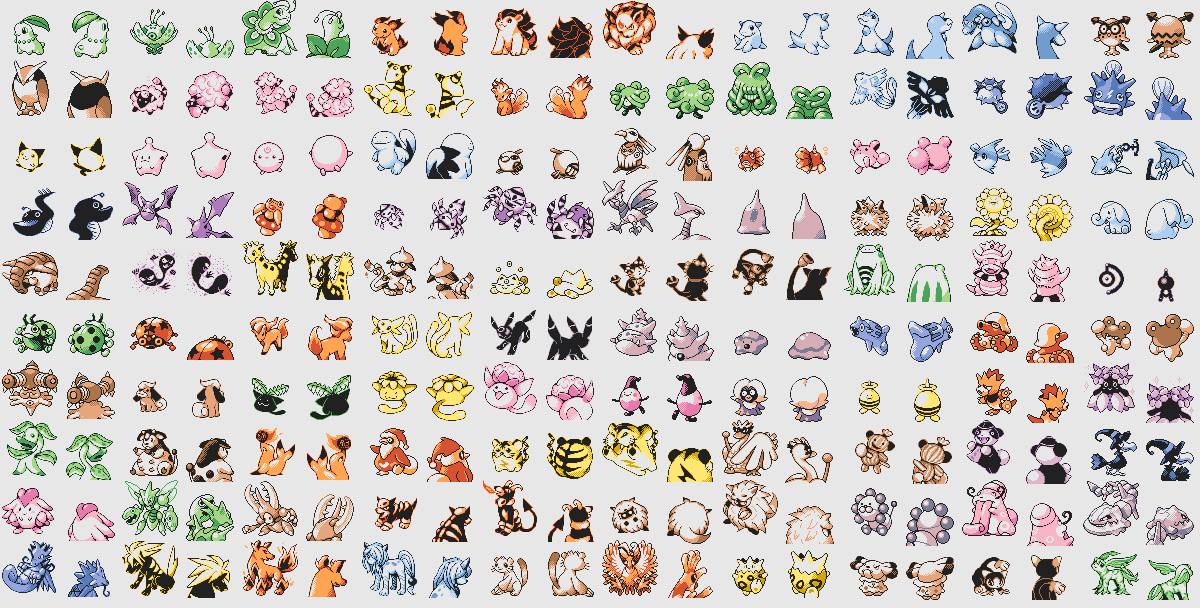 Nintendo recently announced two new Pokemon games coming to Switch later this year and one that's out now called Pokemon Quest. There's also a bigger Pokemon RPG coming in 2019.
The real news this week though is that there actually used to be a ton of weird and adorable Pokemon that were planned for Pokemon Gold and Silver which never made it into the final games, and if there's one thing the internet loves more than new Pokemon its super-pixelated old ones.
Screenshot: The Cutting Room Floor (ResetEra)
A ROM of a 1997 demo for what would become Pokemon Gold and Silver just got into the hands of the public after two decades. Included in it, among other things, were sprites for Pokemon that never ended up getting to see the light of day. Until now.
Some of these "beta" Pokemon are super cute, others are tragically monstrous. Almost all of them are baby forms of already beloved creatures such as Meowth and Tangela though, so people are understandably jacked that they exist.
bzz pic.twitter.com/EjEid5PlWB

— melty ???? buddy (@mushbuh) May 31, 2018
baby meowth!!!! baby meowth!!!! baby meowth!!!! baby meowth!!!! baby meowth!!!! baby meowth!!!! baby meowth!!!! baby meowth!!!! baby meowth!!!! pic.twitter.com/UhR5abF4uJ

— Tweets Sponsored By Charmin Ultra: Gamer Edition (@sebmal) May 31, 2018
This unofficial pokemon looks like a meowth kitten pic.twitter.com/3CzmPPgGoK

— Elliot (but gayer)????️‍???? (@NineDoodles) May 31, 2018
Beta baby meowth is adorable ????????
Isn't that a 5 yen coin on its head?? pic.twitter.com/ciPRTi6a2e

— Mi-eau ????JapanExpo - D205 (@Mi_eau) May 31, 2018
More G/S beta cuties pic.twitter.com/CQ2h1iSaAG

— ByronB (@YukaOmatic) May 31, 2018
there's some real gems in those gold silver beta leaks pic.twitter.com/yVg3S0K57P

— pea (@peabuggy) May 31, 2018
The beta design for Suicune looks like Nina from FMA. pic.twitter.com/dx9Mv8uVb5

— Billy (@_Mizumi) May 31, 2018
The beta design of Elekid looks like a freaking Earthbound enemy pic.twitter.com/rgbKVFAdiy

— PK Ben (@Ben_Faulstick) May 31, 2018
— Vivian Corwin (@viviatpeace) May 31, 2018
all my friends are like pic.twitter.com/W1P4JSLYUg

— ◒✧Φ (@sanigo_) May 31, 2018
"What if Tangela got a sweet haircut?" (from the leaked beta silver/gold pokemon) pic.twitter.com/zIZcVjuRE3

— Pseudonym Jones (@pseudonymjones) May 31, 2018
those proto-pokemon designs.... sobs pic.twitter.com/MZ0H2f2hGe

— allie (@Grind3h) May 31, 2018
Hello Hi,
These are the pokemon from that GS demo that I would immediately lay down my life for pic.twitter.com/XdHzAZbrno

— Mary Cagle (@cubewatermelon) May 31, 2018
so many good cat pkmn in the beta...i feel Robbed.... pic.twitter.com/bJrnBCqt6N

— sarah (@crapmachine) May 31, 2018
What you all were expecting: me drawing something that relates to the recently announced Pokémon titles
What is actually happening: I'm drawing scraped Pokémon from 1997 pic.twitter.com/xHzRNzYP4A

— Siplick ☆ JE Paris #P670 (@Siplick) May 31, 2018
omfg i just read about the old pokemon designs that got leaked and I'm screaming at the final evolution of the water starter allegedly being named Aquaria in english

— Aquaria (@aquariaofficial) May 31, 2018
y'all had sparkle dogs and you just cast them aside. foolish. cowardly. pic.twitter.com/vnGCKlruu4

— ????????✨clover & sealife (@cloversealife) May 31, 2018
I can't believe Pokemon almost gave us a baby meowth and then took it away from us. Took it right out of our loving hands. https://t.co/s8Scpykk2D

— ????Katy Farina????️‍???? (@Kate_Farina) May 31, 2018
My favorite Rejected Pokemon are Ragna from BlazBlue, Babby's First Neopet, and Lisa Frank pic.twitter.com/DLBlcs2k7N

— Sean Chiplock (@sonicmega) May 31, 2018
I know we are all lovin the pre-designs for the baby pokemon but can we tALK ABOUT NIGHTMARE GIRAFARIG... pic.twitter.com/TfFcca30Al

— Sam King (@SamanthaCKing) May 31, 2018
Most perfect sprite in the Pokemon beta? Yes, too perfect for this world ???????? pic.twitter.com/8szXv7v6QC

— Crisalys (@Criisalys) May 31, 2018
Sad they removed the SCREAMING CONDOM Pokemon from the Gold / Silver Beta. pic.twitter.com/DSh9dK3vbx

— Clemps ???? (@MrClemps) May 31, 2018

Screenshot: Reddit
The biggest takeaway from those beta pokemon is that this evolution line used to make sense pic.twitter.com/RB665QCgpA

— Battery Man (@Batttitude) May 31, 2018
Some of these rejected Pokemon are weird, and the text when you battle them even weirder #PokemonSpaceWorld1997 pic.twitter.com/pikHc0y8do

— ????️‍????Lulu????️‍???? @ ???????????? (@luulubuu) May 31, 2018