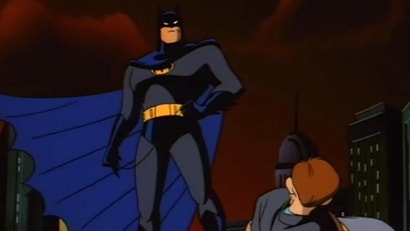 Imagine this — but, you know, cleaner. (Image: Warner Bros.)
DC Universe, the upcoming streaming service/comic book depository/fan hub platform dedicated to DC Comics' best and brightest, already has a lot of very interesting reasons to tempt us to sign up. Now it's adding another in the form of Batman: The Animated Series. But not just any version of this beloved classic: This time it's in HD.
We already knew Batman: The Animated Series would be heading to the service when it launches later this year alongside a host of other DC shows and movies, but a new tweet from the official DC Universe account today officially confirmed that, for the first time ever, the legendary Bruce Timm/Eric Radomski cartoon will be available in HD:
Experience BATMAN: THE ANIMATED SERIES like never before! The first two seasons are available for the first time in HD, on #DCUniverse. https://t.co/3sGQQSxA5I pic.twitter.com/uXMEhBZxBn

— DC Universe (@TheDCUniverse) July 6, 2018
We still don't know the specifics of just how BTAS will be making the leap into high definition — such as whether this is an all-encompassing remaster of the show or a just an increase in resolution, or whether or not the show will be in standard 720p HD, 1080p or even 4K UHD. Or if this will be fans' early chance to see the show in crisp cleanliness before it finally heads to Blu-ray sometime later this year.
We reached out to DC and Warner Bros. for more information on just how shiny DC Universe's version of Batman: The Animated Series will be, but had not heard back at time of writing.