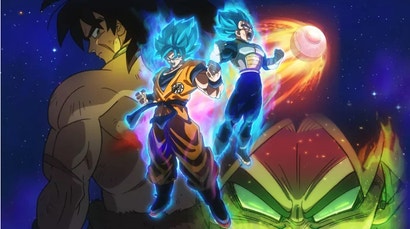 Image: (C)バードスタジオ/集英社 (C)「2018ドラゴンボール超」製作委員会
Now that we're getting better looks at Broly in the upcoming Dragon Ball Super: Broly, fans have been commenting on the character's new look and attempting to deduce what it all means.
Here are Broly's character designs for Dragon Ball Super: Broly.
おおっ…⁉️ これは映画版ブロリーの姿…⁉️ #ドラゴンボール超 #ジャンバル pic.twitter.com/VcgwTOdlrb

— Vジャンプ編集部@8月特大号発売中! (@V_Jump) July 16, 2018
悟空とベジータも! 激闘を予感させる…! #ドラゴンボール超 pic.twitter.com/cyqGxN4zuX

— Vジャンプ編集部@8月特大号発売中! (@V_Jump) July 16, 2018
New Broly is pretty cool. I like the fur and battle scars, but I kinda miss his old bling. His chest in berserk mode feels empty. pic.twitter.com/7z4gb1VE6t

— Your Friendly Neighborhood Taco Man (@KraZTaco) July 16, 2018
Did my best to clean up Broly Design by Naohiro Shintani. Enjoy internet. pic.twitter.com/mTnxuYa3bv

— Lutbarg (@Lutbarg) July 16, 2018
Le film Dragon Ball Super "Broly" by Toyotaro. pic.twitter.com/tjlTbVDopl

— Dragon Ball Super (@DBSuperFrance) July 16, 2018
New character designs & key visuals for Broly revealed! pic.twitter.com/JHLIIwF6wo

— Goku™ (@GodIyGoku) July 16, 2018
A couple things to note. It looks like Broly is wearing Frieza Force armour.
My only thing is that his chest piece is from the Frieza Force so he's gonna have to be working for or under Frieza. I'm just wondering if they will resurrect broly or will he just be some random strong individual like last time... https://t.co/RXbc8NxVPi

— CHASE (@ChaseTheGreatt) July 16, 2018
So Broly's rebooted design got reveal and I'm actually digging it. One thing though is his base form, where he has chest armor and stuff, he has some neck brace on his neck. I wonder if he's being controlled somehow.

— Daniel san ???? (@pwnsauceboss) July 16, 2018
The fur around his waist is an intriguing touch as is the scar on Broly's chest, a prominent part of the character's design.
New Broly has a scar on his chest. I wonder if it's a nod to the non canon film where Goku punches right through him. Can't wait for this to drop! #Dbz pic.twitter.com/XcSqV0ehpX

— Luis ???????? (@mechaPlatano) July 17, 2018
Interesting theory, but that seems less likely due to its placement.
I can see that I guess. And the scar on his chest throws back to king vegeta trying to kill broly as a child maybe? Both scenarios are appealing to me either way I suppose

— drew ???? (@MajinDru_) July 16, 2018
Another interesting theory, but I'm not so sure.
He's got a scar on his chest now this Broly has been through some shit https://t.co/IWC8YYbXB9

— King of the YOSHAAA (@SuperDuperJamal) July 16, 2018
I'm not anymore. Because the scar on his chest... I was reminded how Broly died in second coming.... his heart exploded...

— Saiyan Prince Tyz the Phoenix (@TyzthePhoenix) July 16, 2018
Broly's left chest with scars. pic.twitter.com/EfGln3Io2V

— Sasuke Pinckney (@Dpinckney53) July 16, 2018
A reference to Broly's heart explosion? Hrm...
Fans: WE HATE BROLY AND NEVER WANT TO SEE HIM AGAIN
Toei: But what if we gave him scars
Fans: Holy shit he's amazing https://t.co/QAOW2fPcw6

— Paddy Boy (@ItsYaPaddyBoy) July 16, 2018
Dragon Ball: Broly will be released in Japan this December and in North America next January.