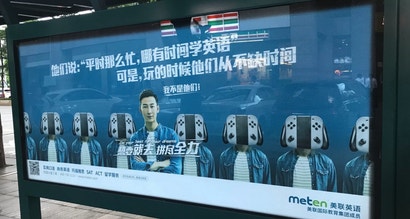 Image:
Chinese Nintendo
An advertisement for English language school Meten in China states that people have time to play video games, but don't have time to learn English.
The ad appeared on Chinese social networking site Weibo and was uploaded to Twitter by Chinese Nintendo (via Nintendo Soup).
The ad reads, "They say: 'I'm too busy every day to learn any English.' Yet, they always have time when playing video games. I'm not them!"
Umm... meten, you sure about this????? pic.twitter.com/YHqAM158g0

— Chinese Nintendo (@chinesenintendo) July 22, 2018
However, Octopath Traveller players in China point out that they've been using the game to study English.
Video games, along with comic books and manga, have always been excellent ways to learn another language!