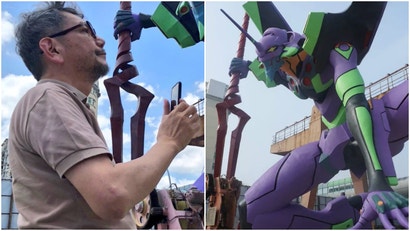 Photo: Weibo,Photo:
Khara
Evangelion creator Hideaki Anno is in Shanghai, where he's checking out the world's largest Unit-01 statue.
As Kotaku previously reported, this official EVA-01 Test Type statue measures 24.8 meters (81.36 feet) high with the Spear of Longinus.
こういうことだそうですhttps://t.co/2s8IEZ5udF pic.twitter.com/kDMUWLv3rw

— 中国住み (@livein_china) January 4, 2017
Here's Anno having a look at the statue.
in 上海(※合成ではない) pic.twitter.com/YAPZKR1FyT

— (株)カラー 2号機 (@khara_inc2) July 14, 2018
— (株)カラー 2号機 (@khara_inc2) July 14, 2018