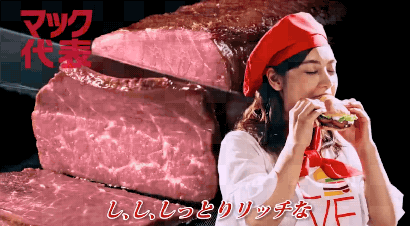 Gif:
moviecollectionjp
Last August, McDonald's Japan rolled out a "Tokyo Roast Beef Burger". The ads featured what looked like real slices of roast beef.
That wasn't necessarily true of the actual burgers. Ditto for the Tokyo Roast Beef Muffin that was sold during the same period.
According to Asahi, Japan's Consumer Affairs Agency recently said that McDonald's broke the law, misrepresenting its products and misleading customers. It warned the fast-food giant, telling McDonald's to take steps to prevent this from happening again.
やっぱり・・・・
怪しい気がした・・・
まあ、マック行かなくなって5年経つけどな。#マクドナルド#期間限定メニュー#ローストビーフ pic.twitter.com/LZhRUl2TQe

— ぽくぽく (@pokuripon) July 24, 2018
This has made the national TV news in Japan.
The commercials showed roast beef being sliced (above), but only half the slices were actually roast beef. So, this appears to be roast beef:
マックのローストビーフバーガーのローストビーフがハムとか言われてたけどそんなことなくね? pic.twitter.com/jWcFJSNIBp

— 休日ニートの遠南さん (@tonan_0817) August 17, 2017
The rest were "processed and reformed meat". Like so:
OK、これはローストビーフではない業務スーパーの切り落としハムだわ pic.twitter.com/fYFVG5ucLA

— 恐山のストゥージス狂 (@r_u_still_in_2_) August 9, 2017
ローストビーフバーガー頼んだけどこれってローストビーフなの??ハムにしか思えんのやけど???? pic.twitter.com/nrA5UXvDhy

— フェル (@Fell_0429) August 9, 2017
McDonald's is quoted as saying that it used processed meat to increase production. So why not call it the Tokyo Processed And Reformed Meat Burger? Yum!