On July 19, Nintendo filed suit in an Arizona Federal Court against the operator of two popular retro gaming sites, which had been hosting ROMS of some of the company's most famous games.
The suit alleges that the two sites, LoveROMS.com and LoveRETRO.co — both owned and operated by Jacob Mathias — are "built almost entirely on the brazen and mass-scale infringement of Nintendo's intellectual property rights".
"In addition to Nintendo's video games," the suit says, "Defendants reproduce, distribute, and publicly perform a vast library of Nintendo's other copyrighted works on and through the LoveROMs and LoveRETRO websites, including the proprietary BIOS software for several of Nintendo's video game systems and thousands of Nintendo's copyrighted musical works and audio recordings."
"Defendants also make extensive use of Nintendo's registered trademarks, including the Nintendo logo and the most recognisable Nintendo video game characters, to encourage visitors to download and play unauthorised copies of Nintendo's copyrighted works."
As you can see below, Mathias' sites made no effort to conceal the fact they were using Nintendo's property. Everything from company logos to box art to console branding was employed so that people knew exactly what they were playing when they visited the sites.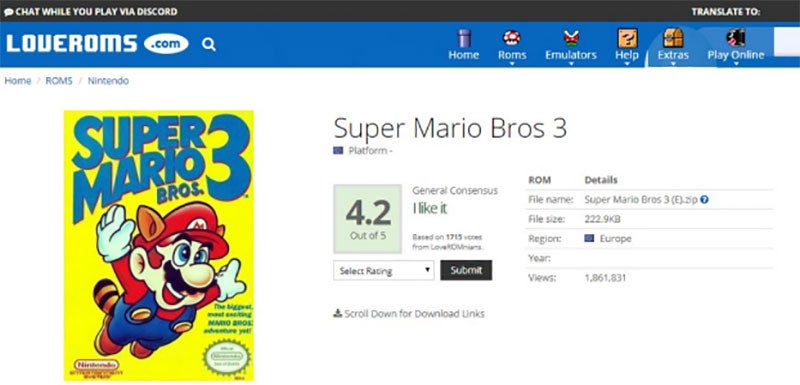 A screengrab of a Nintendo game appearing on Loveroms.com (Image: Case 2:18-cv-02282-SPL, UNITED STATES DISTRICT COURT FOR THE DISTRICT OF ARIZONA)
Nintendo claims in the suit that Loveroms "receives 17 million visitors each month", and that "Such visitors are drawn to the website by the widespread availability of free, unauthorised copies of Nintendo's video games and other highly valuable intellectual property".
The company is asking the court to award "$150,000 [$AU202,172] for the infringement of each Nintendo copyrighted work", and "up to $2,000,000 [$AU2,695,630] for the infringement of each Nintendo trademark."
With well over 100 games having been playable on the sites, that adds up to a lot of money.

Since the suit was filed last week, Loveretro has been taken completely offline (above), while Loveroms posted on its Facebook site on Sunday that "All Nintendo titles have been removed from the site".

Via TorrentFreak