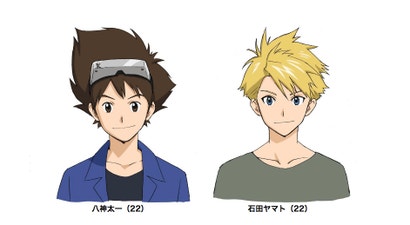 Illustration:
Digimon Adventure
In the Pokémon anime, Ash is ten years old. Eternally. But in the Digimon anime, the human characters are getting older.
The upcoming Digimon movie, which marks the franchise's 20th anniversary, stars a 22-year-old Taichi ("Tai") and Yamato ("Matt").
Digimon Adventure new movie character visual for Taichi and Yamato pic.twitter.com/wKlS21LfxT

— SPY - سباي (@Spy_0taku) July 29, 2018
When the anime started, both characters were boys and now, years later, they're adults.
NAKATSURU-sensei est de RETOUR sur DIGIMON !!! ????#Digimon #Nakatsuru #Taichi pic.twitter.com/a7cxPo0EI6

— AnimeJikan (@Jikanime) July 29, 2018
デジモン映画新作決定かぁ...
とりあえず、ヤマトの変化をまとめてみた#デジモン #Digimon pic.twitter.com/FshyPrlECi

— momotarosan (@momotar00887807) July 30, 2018
Con el anuncio de un nuevo #OVA de #Digimon, en donde se ve a Tai Kamiya y Matt Ishida con 22 años de edad cada uno, les compartimos sus cambios físicos desde 1999 hasta la actualidad pic.twitter.com/TJTLuZzILQ

— Generación Digimon (@Digimon_Gen) July 30, 2018
The fact that the characters age gives greater depth to the anime, moving out of an abstract timeline closer to reality.
They're aging Taichi and Yamato again, now to 22, and at this point I'm just constantly going to expect aged Digimon sequels, can't wait for the senior citizen sequel in a couple years

Honestly nothing wrong with this

— [email protected] Division (@zetsubouzhainu) July 29, 2018