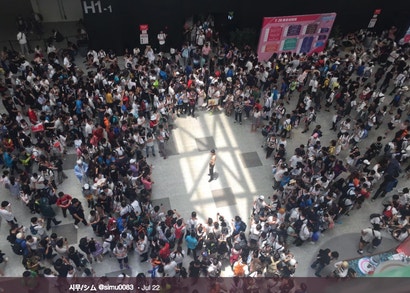 Screenshot:
simu0083
The following photos were taken at an anime and game event in Beijing. The cosplaying gent is dressed as gay porn star Van Darkholme, aka the internet meme Van-sama.
Twitter user Simu uploaded the photos to Twitter, where they've gone viral.
ㅋㅋㅋㅋㅋㅋㅋㅋㅋㅋㅋㅋ이번중국 코스행사 3컷만홬ㅋㅋㅋㅋㅋㅋ pic.twitter.com/9prUFpEuye

— 시무/シム (@simu0083) July 22, 2018
Don't think the guy is being ushered out because he's cosplaying as a porn star or an internet meme (doubt security realised either). Instead, it could be because he's created quite the scene in the convention center or maybe because the chap is shirtless in S&M gear.
@DisposableDrug
Best cosplay! pic.twitter.com/0VHSNMd34R

— sebii96 (@sebii96x) July 23, 2018
It certainly is an accurate cosplay.
VAN pic.twitter.com/PB7Td3RvvW

— となりのKAZUさぁん!? (@hokagenokazu) July 23, 2018
Or perhaps the guy had the wrong door. The leather club is two blocks down.