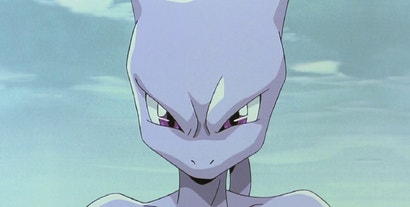 Screenshot: The Pokémon Company
Back in 1998, the debut Pokemon flick premiered in Japan. That feature film's full name is Pocket Monsters the Movie: Mewtwo Strikes Back. Yesterday in Japan, this year's Pokemon movie opened in Japan and reportedly had a preview for next year's, Mewtwo Strikes Back Evolution.
Clips of the trailer haven't yet been uploaded online and Kotaku hasn't yet confirmed this news. However, numerous Japanese Twitter users claim to have seen the film and preview yesterday, as reported on Pokemon Matome. Likewise, Serebii is also reporting the news.
Here are some Twitter users that saw the new movie and are mentioning the upcoming Mewtwo flick.
ポケモンの映画を見るのは小6の頃ツレ達みんなで映画館行って見たミュウツーの逆襲以来や????www
なんか懐かしいなぁ
息子連れちゃって変な感じ???? pic.twitter.com/gklIyySADe

— なおきん@Nking (@naoking_1223) July 13, 2018
ポケモン初日に観て来たー!良いお話だった!ウソッキーに泣いた…
ポルノのブレスも、雰囲気ぴったりで観る前は歌詞が大人っぽすぎるかなと思ったけど、とってもあってた…またEDで泣いた…
ポルノのブレスをお願いします!歌詞良いからみんな買って!
そして来年のミュウツーの逆襲楽しみすぎ! pic.twitter.com/dtPLkMtvcn

— まな????繁忙期リターンズ (@hayatomato_pg) July 13, 2018
Long-running Pokemon site Dogasu's Backpack has the most in-depth breakdown of the trailer. According to the site, the trailer starts with a black screen. Text appears on the screen, stating that the legend is back.
Bubbles start floating up.
A voice says, "What is this place? Who am I?" Dogasu's Backpack believes it's the voice of Masachika Ichimura, the original voice of Mewtwo.
Then, there is a close up of Mewtwo opening his eyes.
The logo flashes on the screen, reading 劇場版ポケットモンスター ミュウツーの逆襲 Evolution or Pocket Monsters The Movie Mewtwo Strikes Back Evolution. Dogasu's Backpack reports that it looks like the Japanese movie logo from 1998 with "Evolution" written in the back right-hand corner.
The trailer was apparently in CG, Dogasu's Backpack adds.
2017's Pokemon movie was a reboot of the first anime episode, so going back to the first movie makes sense. Whether the same is true of CG, we'll have to wait and see.