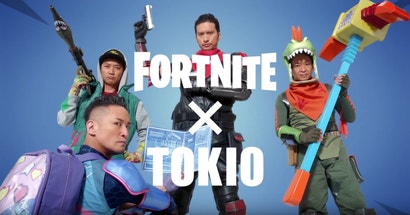 Screenshot: Epic Games Japan
Tokio, one of Japan's most famous boy bands, experienced a shakeup this past autumn when member Tatsuya Yamaguchi was kicked out of the group, turning the five-member group into a foursome.
A scandal broke earlier this year with Yamaguchi apologising for forcing himself on a schoolgirl at his Tokyo residence. "She probably could not decline the invitation to come over to my place, and to a minor, a male adult was probably intimidating to deal with," Yamaguchi was quoted as saying at the time by the BBC.
"An adult should be fulfilling the responsibility of a guardian, but I invited her and caused harm."
In early May, Tokio's agency ended Yamaguchi's contract, and the group became a four-piece. The first commercial Tokio has done since then is a Fornite commercial.
Tokio has a history with video games. The group did ads for the Xbox 360, when Microsoft thought there was a chance the console could find mainstream success in Japan.
On Japanese bulletin board 2ch and YouTube, commenters pointed out how Yamaguchi was missing in the new Fortnite spot.
"There's an unnatural space in the lower right corner," wrote one commenter, while another added, "Squads are four-person, right? How convenient."