This is Enako. As Kotaku previously reported, she's making some serious cash as a cosplayer. She's also drawing massive crowds.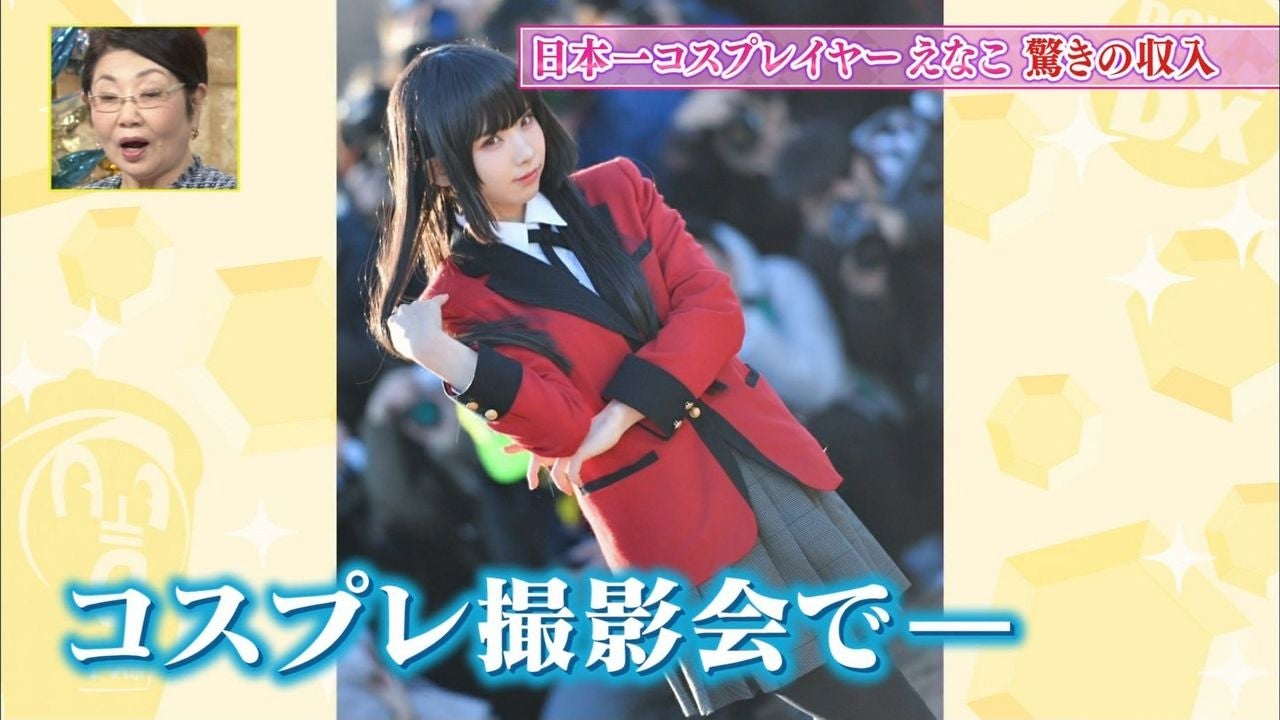 Since around 2012, Enako has been a popular cosplayer, but in the past few years, her popularity has exploded. Last night, she appeared on Downtown DX, one of Japan's most popular variety talk shows, and astonished all with her sizeable salary.
Enako appears on mainstream Japanese television (here and here, for example) as well as in-game advertisements (below). She is making a name for herself as Japan's most well-known cosplayer.
【 #ユニティア秋葉ジャック Part3】
最後はラッピングトラックです!
秋葉原を中心に、新宿、池袋、渋谷を走行します。
リュインのコスプレを担当している #えなこ さんオリジナルボイスも収録!

走行期間:8/13(月)~8/19(日)

※撮影の際は、通行の妨げにならないよう十分ご注意下さい。 pic.twitter.com/2ZBlqc4YtE

— 【DMM】UNITIA(ユニティア)公式 (@Unitia_Official) August 14, 2018
During this year's Comiket, she participated in a photoshoot for fans. However, since she's so popular, Enako held a big photo scrum, encircling herself with photographers.
That meant photos like this were possible if you zoomed in.
201808
コミックマーケット3日目

えなこさん:@enako_cos #コミケ94 #コスプレ #cosplay pic.twitter.com/0X5KlxxeRO

— GEORGE @じょーじ (@george_7777) August 13, 2018
But if you zoomed out...
えなこ台風完成@防災公園待機中 pic.twitter.com/KgpyAKN7xi

— ひろきち (@hirokichid) August 12, 2018
【速報】えなこさんの囲みが未だ見たことがないほどの大きさ???????? pic.twitter.com/bmFbsgOVe2

— なんてこったパンナコッタ@C94全日 (@pannacottan5) August 12, 2018
えなこのサークルヤバw pic.twitter.com/Mkrm9iCljT

— タ ツ ル (@tatsu_INAKA_ru) August 12, 2018
えなこさん360°囲い撮影 pic.twitter.com/UBOSMigleM

— [email protected]/11東ス22b (@AA_COS) August 12, 2018
えなこりんの囲みがすごい!! pic.twitter.com/rnU03u2BaY

— ????ともみん❄️ (@tootle__3) August 12, 2018
コミケ94(3日目)のえなこりんの囲みである。
えなこりんも凄いが、防災公園の端まで大砲のようなカメラを持って集まった野良カメコ諸君も凄いと思う今日この頃である。
元祖有名レイヤーの乾曜子さんとえなこりんのツーショットもレアであった。#C94コスプレ #cosplay pic.twitter.com/dcKGBWHrHI

— だよね@コミケ全日 (@dayonesoudayone) August 12, 2018