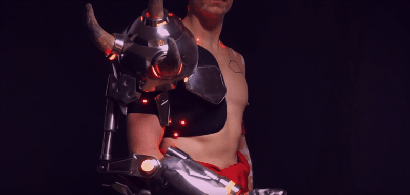 Cosplay by
Zibartas
Or, more specifically, just look at the metal arm on this guy.
This is Zibartas with a truly astonishing piece of work, replicating Doomfist's artificial limb from the lights to the mechanics.
????After a year of crafting, it's the first time I'm wearing my entire #Doomfist outfit!! ???? What do you think?? ( You can find the full version of vid here: https://t.co/7iJNWrNJkG )❤️ #overwatch #overwatchcosplay #doomfistcosplay @PlayOverwatch #cosplay pic.twitter.com/Ui303c0JhK

— Zibartas Cosplay (@zibartas) July 27, 2018
Yes, I know it isn't the same size as Doomfist's actual arm. But this is the price you pay to actually make the thing work while remaining wearable!