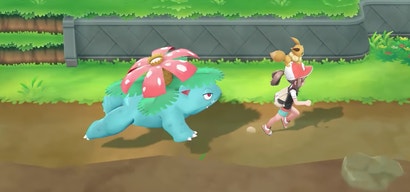 Screenshot:
ポケモン公式YouTubeチャンネル
Venusaur has been around since Pokémon Red and Blue. Yet, the latest footage from Pokémon: Let's Go, Pikachu and Eevee! gives a very good look at how the character gets around. It's freaking some people out!
Have a look for yourself.
Its legs don't look that strange in motion but look closely...
フシギバナの足こんなに長いのか…
なんか知りたくなかった… pic.twitter.com/1b6LyRrwuE

— 鯵のり (@ajinori_00000) August 3, 2018
OOF. Seeing Venusaur's legs stretched out while it's running feels extremely cursed pic.twitter.com/KauH6BI2r7

— Crowboy ( Open Commissions!) (@BillSpooks) August 3, 2018
Lolololol Venusaur is #1 trending in Korean Twitter rn & they're all just freaking out about the way it walks. I'm very much enjoying this https://t.co/XOLFBITqXB

— Seo-Yeon Park (@spark4350) August 3, 2018
See? They're very long!
people on my tl keep freaking out about venusaur's legs but like. did no one else realize it's a fucking horned frog.. pic.twitter.com/AJYwwHQqAV

— Just Dance 2019 for Nintendo Wii (@arclightquinn) August 3, 2018
This shouldn't freak you out though.
if you saw this thing in a dark alleyway bounding towards you at a fast 80 miles per hour and quickening still what would you do pic.twitter.com/4c4tCEH0QH

— EM (@Emdasche) August 3, 2018
Were Venusaur's legs always this long?
— うりゅうさん (@uryu1995) August 3, 2018
Here is an official toy.
Venusaur's legs always worked like that btw pic.twitter.com/pzeRD8Nz7x

— Kumoppu (@Kumoppu17) August 4, 2018
Nobody freaked out in the past, though! 
#フシギバナ
足こうなるやろ常考 pic.twitter.com/rTHYpQPDJL

— ちくわ2.0 (@chikuwaoe) August 4, 2018
With those legs, shouldn't Venusaur look like this?
フシギバナの連れ歩き、走りモーションの脚の長さに驚いた人多いですね。
普段膝曲げて折りたたんでるので、決して短足では無いんです。
とは言えすごいビジュアルでしたね… pic.twitter.com/i7l86qUoq8

— Let'sGo!たかさおじさん (@ikiro_pkmn) August 3, 2018
No, says this Twitter user, who provides this visual.
Uh oh. I feel like this is way beyond my power to help if bad so....Um...Have a dabbing venusaur pic.twitter.com/f5O8kdcNof

— Venusaurus (@venusarus98) August 6, 2018
I will never look at venusaur in the same way ever again.. pic.twitter.com/29qyNl7RPZ

— doodlelotl (@Doodlelot) August 4, 2018