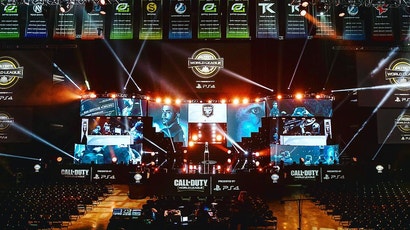 Photo: Call of Duty World League,
Instagram
Stay inside, turn on the heater, and watch gamers pwn one another to your heart's content over the weekend, because there are a crap ton of high profile esports tournaments going on.
Call of Duty: WWII
Call of Duty's annual championship takes places this weekend in Columbus, Ohio at the Nationwide Arena. For those tired of the series' double-jumping futuristic incarnations, this year's $US1.5 million ($2 million) event marks a return to the game's less frenetic roots with WWII. That means even if you aren't the most astute CoD expert you'll still probably be able to make sense of what's going on.
Last year's winners, Optic Gaming, have already fallen during the event's initial group stage earlier this week. Matches for the bracket stage, meanwhile, began earlier today at 2:00AM AEST and will go through 9:30AM AEST. Sunday follows the same schedule with the eventual grand finals taking place at 6:30AM on Monday.
You can find a complete breakdown of the schedule and teams here, with all of the matches streaming live on Twitch and in the feed embedded below.
Rainbow Six: Siege
Ubisoft's tactical shooter also has a tournament going on at the same time at the Paris Major this weekend. Competitive Rainbow Six always puts on a good show, in part because the asymmetric nature of the modes and maps means you get to see teams play interesting games of cat and mouse with one another.
PENTA Esports, who won the Invitational back in February, has since been acquired by G2 Esports and is set to face off against Team Secret in the semifinals at 10:30PM AEST on Saturday. The finals, meanwhile, are set to begin on Monday at 1:00AM AEST.
The tournament will be streaming live on on Twitch, where new details about the game's upcoming season will no doubt be revealed as well.
Dota 2
At long last the 2018 International is here. Matches in the group stage began on Thursday with a great showing by a number of teams. Almost all of the over 100 heroes in the game so far have been chosen at least once.
The meta is looking extremely healthy and fun to watch, especially when it comes to teams such as Evil Geniuses, who just seem to play like they don't give a fuck. It's been working though, with the team who struggled all throughout the lead-up to the annual tournament being the first to qualify for the double-elimination bracket stage in a distant first place among Group A. EG have a penchant for massive throws, but they look unstoppable at the moment.
Matches are ongoing throughout Saturday morning, with the final series of matches getting underway at 12:00PM AEST. Games then resume on Sunday at 2:00AM AEST before taking Monday off. Liquipedia has a complete list of all the matches and times, but you'll have to sort out which Twitch Dota channel they're streaming on for yourself.
League of Legends
It's the last week of the NA LCS summer season this weekend. As per usual, games start on Sunday at 7:00AM AEST when Team Liquid take on Echo Fox to try to hang on to the number one spot. Matches resume on Monday at 5:00AM AEST with Optic Gaming vs. 100 Thieves, followed by Counter Logic vs. Golden Warriors in a contest to see which will finish last in the league.
The matches will be streaming live here, with a breakdown of the rest of the schedule over on League's esports website.
Overwatch
Twenty-four countries are currently competing for eight spots in the Overwatch World Cup tournament at BlizzCon this spring, with the first round of matches having kicked off yesterday and going into the weekend. Six teams in group one, currently led by Russia and South Korea, will battle it out to see who can claim the top two spots and make it to the main event.
After a short pause in the action, Hong Kong will pick things back up against South Korea Saturday afternoon at 1:00PM AEST. The following slate of matches begins at 1:00PM on Sunday and concludes Sunday night at 8:00PM with Chinese Taipei vs. Finland.
All of the matches can be streamed or watched after the fact on Twitch, with standings and the full schedule available at the Overwatch's dedicated World Cup webpage.
Fortnite
It's week six of Epic Games' Summer Skirmish. Hopefully by now you know the drill. Games will be played this morning and then continue tomorrow at 3:00AM AEST. You can watch them all over at Fortnite's Twitch channel.