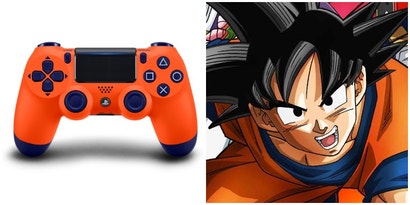 Image:
Sony
, Image:
Toei Animation
The official name of this colour is "Sunset Orange", but c'mon, let's get real. That colour is Goku.
Which new DualShock 4 are you picking up first?

— PlayStation (@PlayStation) August 20, 2018
It seems to be the most popular colour of the lot. No doubt Dragon Ball fans love it.
Who wore it better pic.twitter.com/1ulLTZO0nD

— Max Scoville (@MaxScoville) August 20, 2018
this new ps4 controller is just goku pic.twitter.com/rbHAPgjQ5q

— Jeff (@TheVidyaBum) August 21, 2018
Yeah... Gonna need this Goku controller right about meow pic.twitter.com/z39odNiGXV

— Mike Splechta (@MichaelSplechta) August 20, 2018
Big fan of the goku controller pic.twitter.com/PDGFGodUoj

— Joe Sallmen (@JWSallmenII) August 21, 2018
The Sunset Orange DualShock 4 will be available in Australia again for a limited time from September 18. It will be priced at $99.95. Everyone will call it the Goku controller.