As relaxing as turning the pages of a comic book can be, it's increasingly common for people to do the vast majority of their reading on the glowing electronic screens we carry with us at all times. And if they're already online, a person might soon find themselves drawn elsewhere — deeper into the digital rabbit hole of the internet that's just a few taps away.
This is ultimately the promise and danger of digital consumption on the open and free web. You have an entire world of information and stories at your fingertips to lose yourself in, and some of it is good and full of wonderful things. But there's also a dark side of misinformation and conspiracy theories that can suck people in with no hope of them ever escaping.
Though they have absolutely nothing to do with one another, this week's best new comics really capture the casual brushes with the best and worst parts of the internet that occur on a day to day basis — and illustrate just what it is that propels people towards them.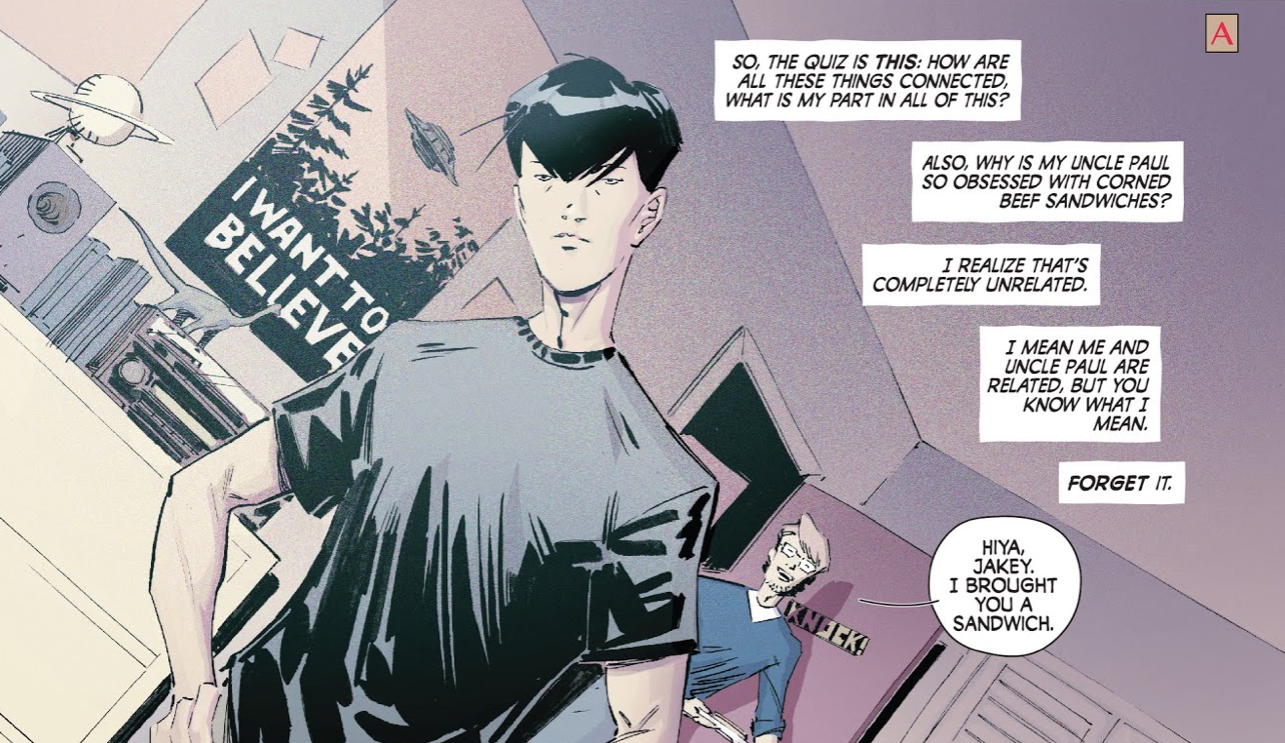 Jacob Tate thinking to himself. (Image: Wesley St. Claire, Aftershock Comics)
Beyonders
We all have that one friend (or maybe a few friends) who spends too much time in dark corners of the internet, obsessively poring over the minute details of sprawling conspiracy theories constructed to prove the existence of any number of secret, nefarious, world-controlling cabals.
From the outside, these people can come across as out of touch with reality and because, well, in many cases, it's the truth. In some instances, though, these people are just lonely and looking for meaning in a world they don't fully understand.
Aftershock Comics' Beyonders, from writer Paul Jenkins and illustrator Wesley St. Claire, is the story of Jacob Tate, a happy medium between these poles. He's gloomy, solitary kid convinced that there are hidden truths to the world, but he's also an isolated teen who doesn't necessarily mean any harm.
He has way too much time on his hands and not nearly enough people in his life to pull him out of his self-imposed cone of conspiracy — something Beyonders illustrates by giving him exactly that.
Rather than framing Jacob as a brooding, dangerous figure by juxtaposing him with "normal" kids, it instead gives him the chance to live out his fantasy. All of his conspiracies? They're true. They're true and they've turned him into a wanted man and his only hope for surviving is to listen to his super-intelligent dog who knows more than he lets on.
The thing that's interesting about Byonders is that it isn't really an outright condemnation or defence of conspiracy theorists who, when left to their own devices, can become dangerous people. Rather, it's a fantastical exercise in picking apart that kind of person's fantasies and getting at the underlying emotional needs that fuel them. (Paul Jenkins, Wesley St. Claire, Aftershock Comics)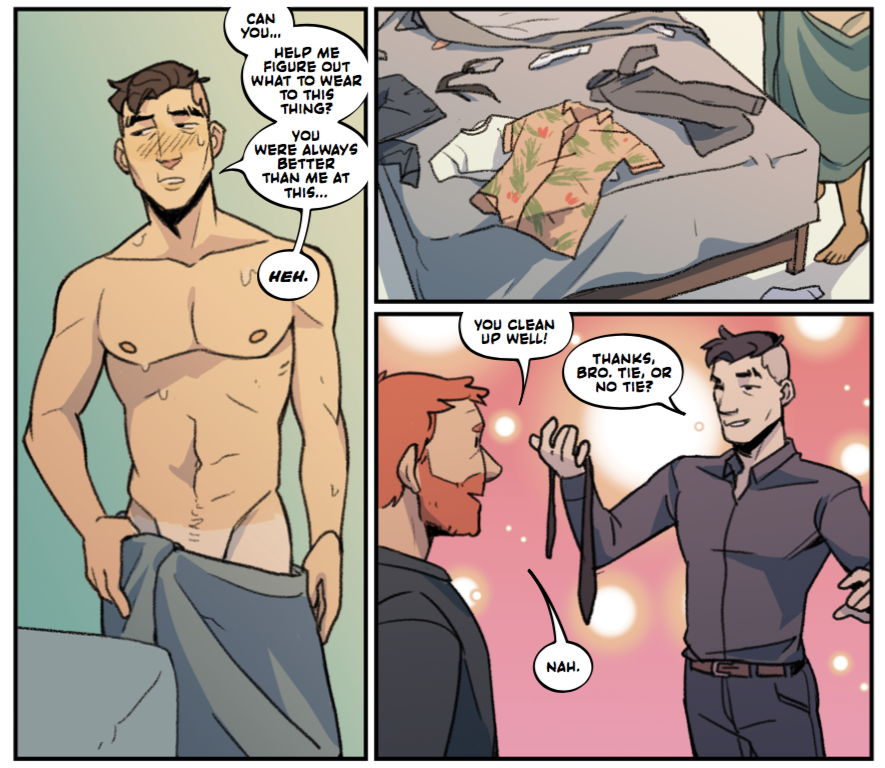 Craig the dad casually serving you tan lies while getting dressed. (Image: Ryan Maniulit, Oni Press)
Dream Daddy
Hey, bro. It's been a while since we talked about dads, bro. So let's do it, bro.
If you were anywhere near Dad Twitter™ last September, then you heard about Dream Daddy, the dating sim from Game Grumps in which you, a single dad, play through different scenarios in which you meet, mingle, and potentially fall in love with a bunch of other hot dads.
This week, Oni Press surprised everyone with an announcement that the game is being adapted into an ongoing comics series exploring the many potential paths available to you, Dad.
Though the original Dream Daddy game was a fairly straightforward dating sim, a complicated debate developed around the game as to whether its soft-focus, generally desexualised depiction of gay men was, at its core, somewhat voyeuristic and misguided.
The first issue of the Dream Daddy comic deftly splits the balance between fans of the original game and those who felt as though Dad deserved a narrative decidedly more independent from his daughter (who features largely in the game) where he could could have a proper dating life as a single gay man.
While Dream Daddy's first issue definitely still emphasises the "dad" part of being a single gay dad (as opposed to the whole being a a grown gay man part), the shift in mediums makes you more invested in the character's narrative because the choices are no longer left up to you.
Instead, you follow as a guy goes on something kinda sorta like a date, get a sense of the kind of person he is, and better understand why someone would ask him out in the first place.
As surprisingly non-risque as Dream Daddy's overall vibe is, there's a decidedly gaze-y energy artist Ryan Maniulit brings to the book, reminding you that you're reading a book about a dude getting it in with a bunch of other hot dudes. Even though queer representation in comics is on the rise, it's still incredibly bold to see a book centring the story of a gay man looking for love in a story where his desires aren't downplayed.
Dream Daddy's protagonist might not have the most compelling of personalities as a character, but his existence within the larger comics landscape is needed and more than welcome. (Wendy Xu, Ryan Maniulit, Oni Press)